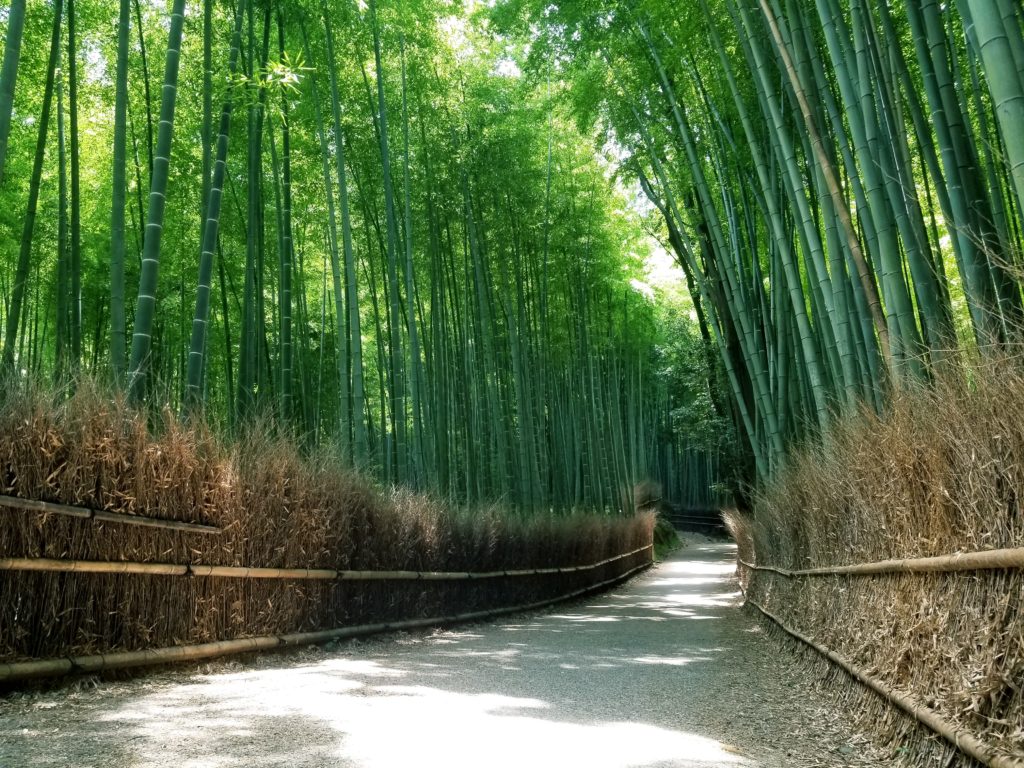 Bamboo Forest Guide (Arashiyama)
A comprehensive guide to famous bamboo forest of Arashiyama, See the natural side of Kyoto city, Learn how to access the forest by various types of transportation and what to do in the area.
---
Arashiyama
One of the most abundant bamboo forests in Japan, surprisingly located not so far away from the city, Arashiyama is a place where nature and Japanese culture blends perfectly. That's why it is often recognized as one famous representative images of Japan. It is recommended for every first-timer to Kyoto or anyone who wants to break away and be surrounded by the green.
Useful Info
Open everyday, All day, All year
No admission fee (Forest Area)
Time Spent: 1-2 hrs
Activity: Strolling, Photo Spot, Shrine
Recommended: Everyone
Access
Basically, there are 3 main ways to visit Arashiyama depending on which transportation systems are convenient for your trip.
Kyoto City Bus & Kyoto Bus
JR Line & Hankyu Line (Train)
Randen Line (Tram)
Kyoto City Bus & Kyoto Bus
Bus is the most accessible and economical method to travel around Kyoto. Since coverage area that the bus goes is almost the entire city, you can visit all major sightseeing spots using the bus including bamboo forest in Arashiyama.
FYI, there are several bus systems available in the city. Kyoto city bus and Kyoto bus are two separated systems. However, Both can take to bamboo forest. Make sure that you get on the right line and get off the bus at the right bus stop (Nonomiya Stop). Both systems cost 230 per ride through all the system.
JR Line
Train is another option that you can take. JR line is the first train system that give you access to the bamboo forest. Saga-Arashiyama sta. of JR Sagano line is the closest JR station. After arrival, you have to take a little the walk around 10 minutes (Walking map from Saga-Arashiyama sta.)
JR line allows you to travel from other major cites in Kansai (Osaka, Nara, Kobe, Wakayama, Himeji) to the bamboo forest. However, you have to take JR train to Kyoto sta., then transfer to JR Sagano line for Saga-Arashiyama sta. Please see route suggestion below.
(1)
Osaka → Kyoto
(Rapid Express 30 min)
Nara → Kyoto
(Miyako Rapid 50 min)
Sannomiya (JR) → Kyoto
(Rapid Express yen 1 hr)
(2)
Kyoto → Saga-Arashiyama
(JR Sagano Line 16 min )
Train route finder, Time table and Ticket Price
Hankyu Line
Hankyu line is another train system you can take. The closest station is called Hankyu-Arashiyama sta. and it is located far away from Saga-Arashiyama sta. of JR line.
If you choose to come by this system, you have to take approximately 20 mins walk to reach the entrance of the forest. However, it provides you closer access to other sightseeing spots in the area such as Arashiyama Monkey Park or Togetsukyo Bridge.
Walking map from Hankyu-Arashiyama sta.
Hankyu Line has the coverage area from Kobe city, Osaka Uemda area and all the way to the west side of Kyoto. Please check the location of accommodation and list of places you plan to go if they are close to this system or not. Here are some route suggestions from Kobe and Osaka.
(1)
Kobe-Sannomiya → Juso (Osaka)
(Limited Express 25 min)
Osaka-Umeda → Juso (Osaka)
(Any train 3 min)
(2)
Juso → Katsura
(Limited Express 25 min)
(3)
Katsura → Arashiyama
(Any train 7 min)
ค้นหาตารางเวลาและราคาตั๋วรถไฟ
Randen Tram
This local transportation system will give you the different feels of Kyoto. It is the tram system that covers central and west part of Kyoto city. The coverage is not so wide like city bus or other trains but it is recommended if you stay near Shijo-Omiya area. The closest station of this tram is called Arashiyama sta., then take only 10 mins walk to the forest.
Walking map from Arashiyama sta.
Route map of Randen tram (220 yen per ride for all system)
Activity in the area
You might have seen this Rickshaw cart when you visit other sighting cities such as Tokyo or other parts of Kyoto. Personally, Arashiyama is a perfect place to try the service if you never experience it before. You can enjoy the ride among the green while listening to the story from the runner in English. This is a great way to learn more about this forest from the locals. Lastly, you can pay a visit to the Nonomiya Shrine which is located inside the forest.
That's it for this blog.

---
Latest Contents

Enjoy travelling Kansai with KTIC
Tourist Information / PASS / WIFI / Day Tour
Kansai International Airport (KIX) T1
Open Everyday 9.30 – 17.30
Kyoto Tower 3F
Open Everyday 10.00 – 17.00