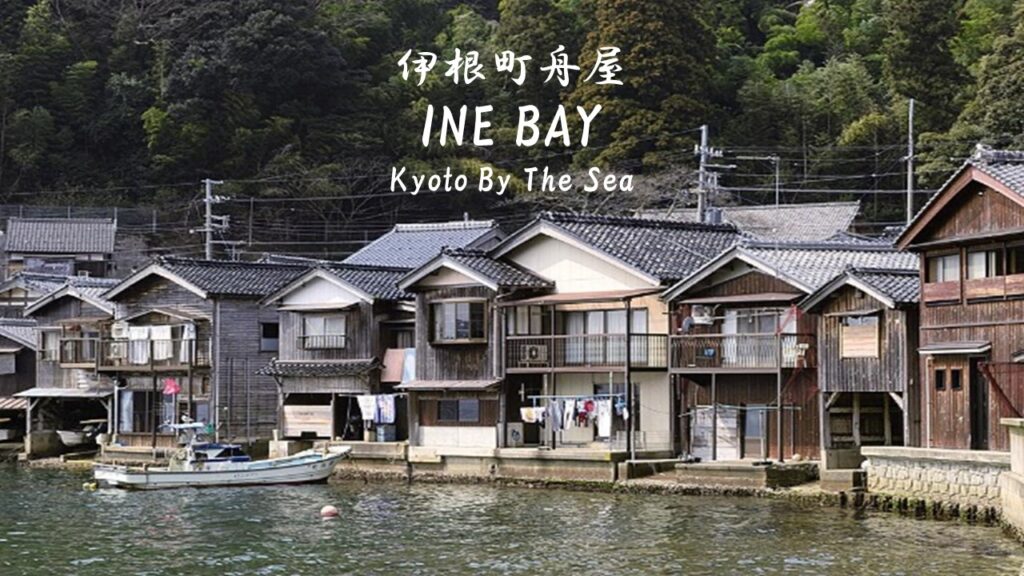 Ine Bay: Kyoto's Important Preservation District By The Sea
When Kyoto is mentioned, the first thing that comes to mind for a lot of people are probably temples, shrines, and matcha green tea. But this article is going to introduce a little less mainstream side of Kyoto that has been gaining more and more popularity among tourists over the recent years. Find out more about Ine Bay in this article and consider putting it on your next travel itinerary to Kyoto!
SUBSCRIBE AND BE THE FIRST TO GET NOTIFIED ON NEW POSTS AND DISCOUNT COUPONS
---
Kyoto
📍Where is Kyoto Prefecture?
Kyoto Prefecture is located on the sea of Japan Coast and borders Nara prefecture and Osaka prefecture to the south. It is known as the cultural capital of Japan and rich with famous, scenic, historical landmarks such as The Bamboo Forest, temples and shrines, and beautiful natural landscapes.
🚗Traveling from Tokyo to Kyoto
Plane: Around a 1hr 30mins flight.
Bullet Train: Around 2hrs 30mins to 3hrs.
Bus: Around 6hrs to 9hrs.
🚗Traveling from Osaka to Kyoto
Car: Around a 1hr drive.
Train: Shinkansen Bullet Train takes 15 mins, other trains take around 30 mins or more.
⭐Kyoto City Tourism Association Website: https://kyoto.travel/en/ (English)
---
A Glimpse of Ine Bay
⭐ Ine Tourist Information Official Website: https://www.ine-kankou.jp/en (English)
📍Where is Ine Bay?
Ine bay is located in the northern part of Kyoto and takes around 2 hours by car from Kyoto city.
🚗Traveling to Ine Bay From Kyoto
Car: Around a 2 hours drive
Public Transportation: Around 3 hours of Train + Bus
🚗Traveling to Ine Bay From Osaka
Car: Around a 2 and a half hours drive
Public Transportation: Around 3 and a half hours of Train + Bus
⭐ Access Information: https://www.ine-kankou.jp/en/access
Ine Bay
Ine Bay is a beautiful place surrounded with traditional buildings that line in close proximity to the seashore. The first floor which faces directly towards the sea, is functionally utilized as a place to load and unload cargo. The second floor is often used as a living space or made into guesthouses.
Ine-ura district is where about 230 Funaya Homes (traditional boat houses) are beautifully lined up. This is the first fishing village in Japan that has been selected as an important reservation district for groups of historical buildings.
You can enjoy a panoramic view of the area from the sightseeing boat or the observation deck, and also get in touch with the local life surrounding the Funaya Houses by strolling around the area. Spending the night at one of the local homestays and guesthouses is also recommended.
---
Recommended Activities Around Ine Bay
🛥️Ine Bay Sightseeing Ferry
This sightseeing ferry will take you around the calm waters of Ine Bay. The views of the Funaya Boat Houses as well as Aoshima Island an be enjoyed from the ferry. In addition, bird food is available for purchase on the ferry for feeding the black-tailed gulls and seagulls from the ferry deck.
⭐800¥per person
⭐25 minutes
⭐Regularly departs every 30 minutes

⛵Ine Bay Sea Taxi
Slightly more personalized experience than the sightseeing ferry as it is operated by local fishermen.
⭐1,000¥per person (requires at least two people)
⭐30 minutes
⭐Departs on call
🏠Local Guesthouses & Inns
It is highly recommended to spend the night at the one the local guesthouses or inns to fully experience the local lifestyle in the area.
You can find out more about accommodations in the area with this link: https://www.ine-kankou.jp/en/inns
Other Activities Around Ine Bay
🍣Sashimi Making
🚴‍♀️Cycling
🍜Soba Noodle Making
🎣Fishing
🚣‍♀️Kayaking
---
Nearby Area
---
LATEST CONTENTS

Enjoy Kansai with KTIC
Tourist Information / PASS / WIFI / Day Tour
Kansai International Airport (KIX) T1
Open Everyday 9.30 – 17.30
Kyoto Tower 3F
Open Everyday 10.00 – 17.00