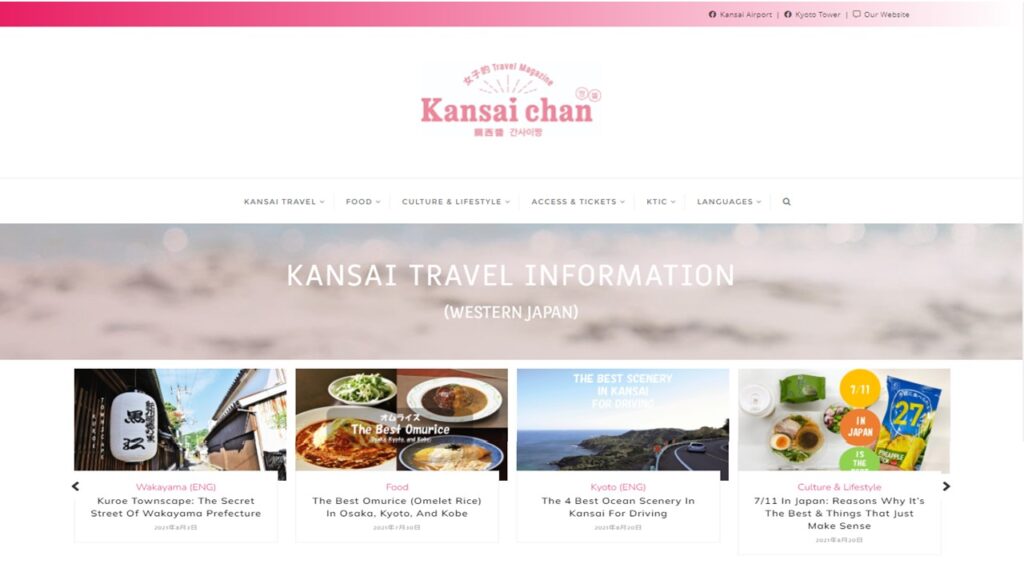 Our History
"Kansai chan" which was first published in 2017, is a free, girly-themed travel magazine mainly targeted to women who visit Japan. The magazines were mainly handed out at the Kansai Tourist Information Centers with the aim to elevate the traveler's experience by providing travel information about the Kansai region with a familiar and friendly touch.
Later, "Kansai chan Guide" travel blog was launched in October 2020 by JTB Global Marketing & Travel Inc. (Western Japan Inbound Department) to introduce the beauty of the Kansai Region to the people of the world.
The website does not only provide information for travelling but introduces the charms of Japanese culture for readers to enjoy as well.
---
Our Mission
Kansai chan Guide aims to make its readers feel friendly and familiar while exploring the wonders of the Kansai Region through "Japanese Kawaii" culture.
The magazine version of "Kansai chan" is still handed out at the Kansai Tourist Information Centers.
🌸 Kansai Tourist Information Center Homepage
Kansai chan Guide provides plenty of information for planning the perfect trip to the Kansai area of Japan.
(Osaka, Kyoto, Nara, Hyogo, Wakayama, Shiga)
You will find useful information about sight seeing, gourmet, and transportation on our website that is essential for your trip!
Interesting information about Japanese culture and lifestyle could also be enjoyed on our site. We provide information about Kansai's unique culture and lifestyle through real experiences. And even if you don't have plans to visit Japan in the near future, you can learn and emerge yourself deeply in Japan's and Kansai's culture!
---
Subscription
Be the first to know about the latest posts by subscribing to Kansai chan Guide!
Not only will you get notified by email when a new post is uploaded, but you will also receive exclusive coupons!
Join us and be a part of the Kansai chan Guide family now!
---

Enjoy Kansai with KTIC
Tourist Information / PASS / WIFI / Day Tour
Kansai International Airport (KIX) T1
Open Everyday 9.30 – 17.30
Kyoto Tower 3F
Open Everyday 10.00 – 17.00