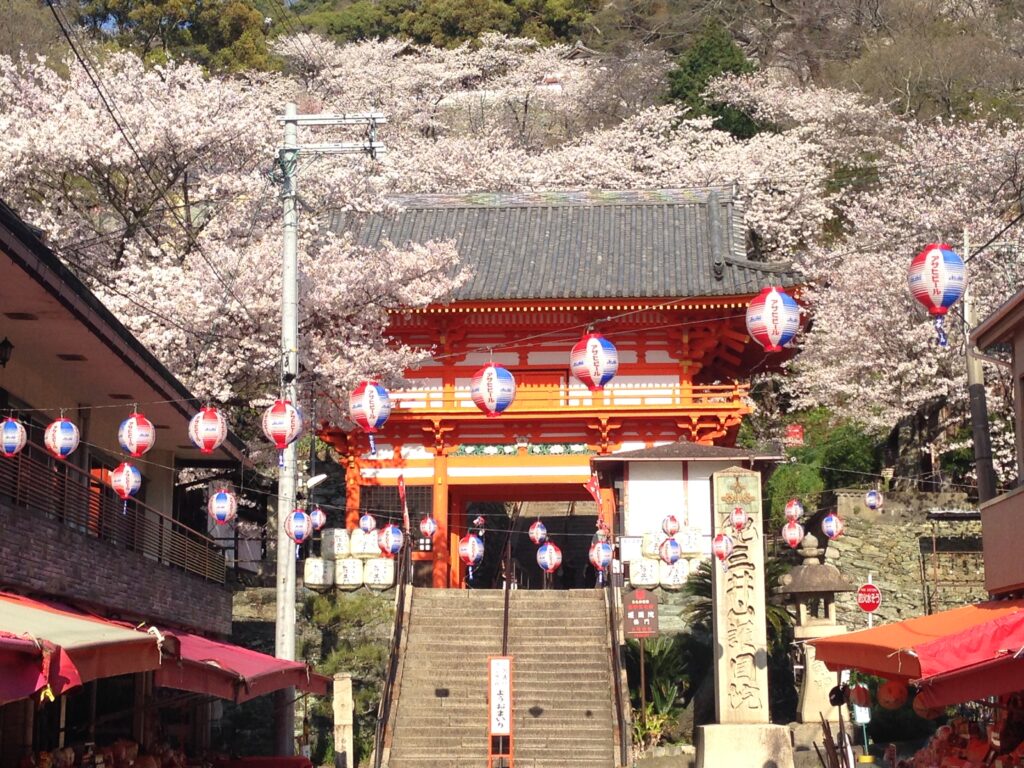 Cherry Blossom in Wakayama: Castles & Temples
Experience Cherry Blossom in Wakayama through historical and cultural locations such as castles and temples where the nature and landmark of Wakayama blends perfectly and creates an amazing scenery.
---
Cherry Blossom & Wakayama Castle
Within the grounds of Wakayama Castle, around 600 cherry trees, mostly Yoshino cherries, come in full bloom, creating a tasteful boulevard of cherry trees. The weeping cherries near Ichinohashi Bridge are also beautiful, and cherry blossoms can be enjoyed in many places throughout Wakayama Castle Park. Additionally, at the Sakura Festival held annually from late March to early April, 100 table lamps and 400 lanterns are lit up, exciting the crowd who have gathered to see the cherry blossoms at night.
The Temple That Brings Spring to the Kinki Region: Kimiidera
In the grounds of Kimiidera Temple, a cultural heritage designated as one of the components of the Japan Heritage site "Treasure House of Scenic Beauty Wakanoura" and the second stop of the Saigoku Kannon Pilgrimage, about 500 cherry trees are planted. The temple is known as a spot where cherry trees bloom earlier than elsewhere, and as the sample trees that serve as the standard for the announcement of flowering are in front of the main temple, it has drawn attention as "the temple that brings spring to the Kinki region".
https://www.mysecretwakayama.com/introduce/43/
https://www.mysecretwakayama.com/introduce/8/
Read more contents about Kansai
"Lesser-known Delicacies of Kansai"
"Traditional Craft of Kansai"
---
Latest Contents

Enjoy travelling Kansai with KTIC
Tourist Information / PASS / WIFI / Day Tour
Kansai International Airport (KIX) T1
Open Everyday 9.30 – 17.30
Kyoto Tower 3F
Open Everyday 10.00 – 17.00