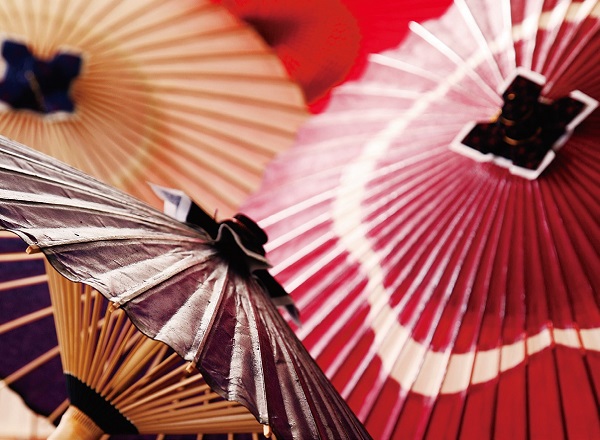 Tottori Handcraft: a treasure trove of folk art and handicrafts
Tottori handcraft is known especially for Japanese umbrellas and handcrafted pottery. There is something awe-inspiring about the skills artisans use to make these traditional crafts.
---
Feeling as One With Tradition
Tottori has a wealth of tradition. Connect with time-honored culture and the Japanese spirit through hands-on experiences. Try your hand at crafts passed down from time immemorial and engage all five senses in activities that will have you feeling as one with tradition.
It is also famous for the Misasa Onsen hot spring resort. It's certainly a hot spring worth visiting at least once, but the region is also home to Hakuro-yaki, a handcrafted pottery that is good both as a souvenir to take home and a hands-on workshop experience.
Furusato Kenkomura: Take a Pottery Workshop
Legend has it that the discovery of Misasa Hot Springs was aided by a Bodhisattva who revealed its location to a samurai, in his dream, as a reward for saving a white wolf. This gave rise to a unique form of pottery called Hakuro-yaki (literally meaning "white wolf ware") using clay from the area. Make your own masterpiece of traditional Japanese art with guidance from a local artisan, or purchase a piece to bring home. https://www.tottori-tour.jp/en/sightseeing/1699/
Wagasa Denshokan: Craft a Traditional Japanese Umbrella
In vogue during the Edo period, the traditional Japanese umbrella called wagasa is made from wood and oiled paper; to this day, it does not fail to charm with its whimsical and chic design. With a careful eye and a steady hand, craft your own Japanese umbrella in this challenging and fun make-your-own wagasa workshop. Take home your own piece of traditional Japanese culture to treasure for a lifetime.
https://www.tottori-tour.jp/en/sightseeing/1698/
https://www.tottori-tour.jp/en/
"Lesser-known Delicacies of Kansai"
---
Latest Contents

Enjoy travelling Kansai with KTIC
Tourist Information / PASS / WIFI / Day Tour
Kansai International Airport (KIX) T1
Open Everyday 9.30 – 17.30
Kyoto Tower 3F
Open Everyday 10.00 – 17.00Share