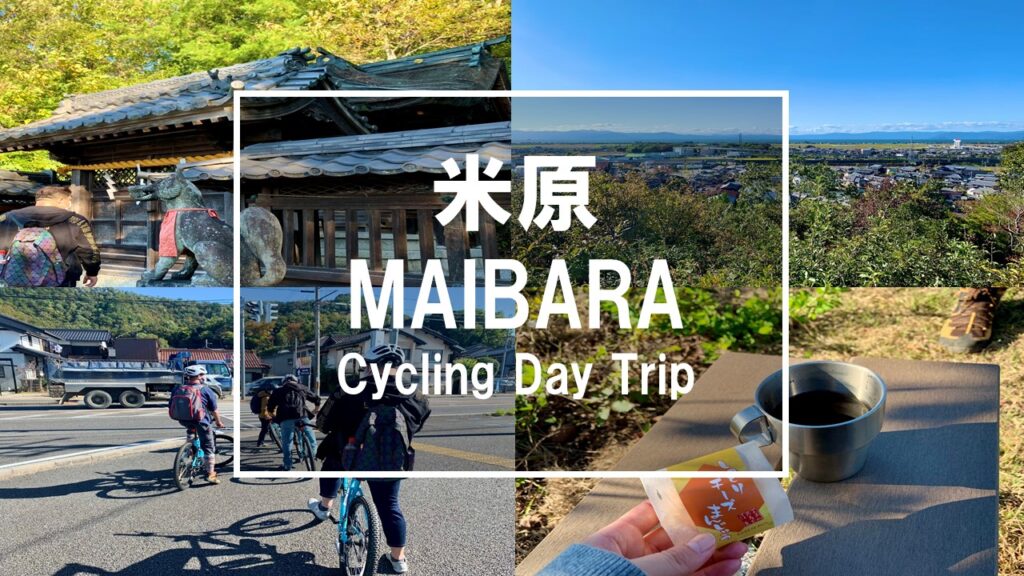 Maibara Cycling Day-Trip (Local Villages, Hikes, Tea, and Lake Biwa)
Introducing a perfect day trip from Kyoto! Explore the charms of Maibara while cycling along the villages and the coast of Lake Biwa, the largest lake in Japan. Stop along the way and hike up Mt. Iogi to take a tea break and enjoy the scenery of the entire Lake!
When mentioning Maibara, a lot of people might have an impression that it is far with difficult access because it is located on the north side of Shiga Prefecture. However, it can be easily accessed by the shinkansen bullet train so it is actually quite convenient!
Come and fully enjoy the charms of Shiga together with us!
---
⭐
Concept
"A journey that you cannot experience in famous tourist destinations. Experience the natural scenery and the everyday life of Japanese people on the northern part of Lake Biwa, Shiga Prefecture."
ℹ️
Information
🕐 Time: 9:00AM – 12:30PM or 1:00PM – 4:30PM (Around 3.5 hours)
⭐Contents: Departure from Maibara Station → Enjoy the original scenery of Maibara while cycling → Short hike → Tea time → Local village → Lake Biwa coast → Finish at Maibara Station
📍 Route Map
---
🚲
Starting The Journey & Meeting Our Bicycles @ Maibara
🕐 1:00PM
With just a short 20 minute train ride from Kyoto, we started the journey by meeting at Maibara Station West Exit Terminal for an orientation.
The local guide carefully explained the course to us and we settled on some hand signals and safety measures!
⬇️
🏡
Maibarajuku Townscape & Saienji Village Community
🕐 1:20PM
After the orientation, we got on our bicycles and started our journey from Maibara Station. The first places we explored were the Maibarajuku townscape and the Saienji village community.
Here, we got the chance to interact with locals in the community and hear about their everyday life and their connection with the village.
It was a great experience to be able to meet and talk to locals as it made us feel closer to the community and see what the real rural life in Japan is like. 🌼
Maibarajuku is a post town located on the Hokkoku Highway which has long been a transportation hub. Supplies were carried from Nakasendo and collected in Maibara, transported by ship on Lake Biwa, then transported by land to Kyoto.
To this day, the remains of the signpost built in 1846 is still available for us to see! Other than that, we can see old remains of shrines, temples, townscapes, and feel the atmosphere from back in the day!
⬇️
🚂
Iogi Steam Locomotive Evacuation Cave
🕐 2:00PM
After visiting the townscape and the village, we cycled to our next location which was the Steam Locomotive Evacuation Cave.
Not only was Maibara a convenient transportation hub for merchants, but it was also a military hub for transporting military supplies during the war.
And because it was important, it became a target for enemies to attack.
For that reason, two caves were dug on Mt. Iogi to protect against damage from US Military airstrikes. The caves were dug by hand because back then there were no heavy machinery for digging!
The evacuation cave was registered as a designated cultural property of Maibara City in 2017.
⬇️
⛰️
Mt. Iogi Hike
From the Iogi Steam Locomotive Evacuation Cave, we took a small hike up Mt. Iogi (only roughly 100 meters). When we got to the resting point, we were astonished by the beautiful scenery in front of us! 🍃
The blue sky, the silhouette of mountains from afar, the green fields, and the village made the view look like a painting on the wall. We breathed in the fresh clean air of rural Japan and relaxed our thoughts away.
⬇️
🍵
Tea Break
🕐 2:40PM
Suddenly, the guide pulled some stuff out of her bag and surprised us with some warm tea and snacks!
As if the moment couldn't get any better! 🥰
We received some delicious cheese Manju which is one of Maibara's famous desserts! It tasted like cheesecake but even better!
*Manju is a traditional Japanese confection usually filled with sweet bean paste.
⬇️
🌿
Maibara's Local Villages & Mineral Springs

🕐 3:15PM
After finishing and being fully satisfied with our tea, Manju, and spectacular views, we hiked back to our bicycles and the guide led us to our next interesting location.
We got to explore another local village which is unique in a way that it consists of natural 'cold springs' that bring the community together.
Here, the guide explained to us that "Kanabo" is a general name for wells where underground water wells up. There are around five "Kanabos" in the area that people in the community use and take care of together.
It is a natural mineral water source with an average temperature of around 16-17° C so it does not classify as a hot spring but rather as a 'cold mineral spring'.
The spring water is used for everyday life purposes such as washing vegetables etc.
⬇️
🌊
Lake Biwa Coast
🕐 4:00PM
Our last part of the trip was cycling along the coast of Lake Biwa and taking in the natural beauty of the largest lake in Japan. Nothing beats the feeling of cycling along a water line and feeling the fresh breeze on your face!
Lake Biwa and its surroundings are something magical. 💚💚
⬇️
💜
Saying Goodbye to Maibara
🕐 4:30PM
The trip ended as we rode our rental bicycles back to Maibara station and returned them. We said goodbye to our guide and thanked her for such an amazing experience!
The best part about the trip was being able to experience the natural surroundings and the local people's lifestyle through all five senses.
Also, the hike up to Mt. Iogi wasn't too hard so anyone would be able to enjoy it. You can learn about the history that is unique to the region as well as enjoy the rural scenery of Japan!
---
💡
Final Thoughts
🦋 Why we recommend this trip and who we recommend this trip to:
Everywhere is being made into a tourist destination, and places where you can experience the real Japan are becoming harder to find. However, that is something you can experience on this trip!
We recommend this tour to people who have been to Japan many times, people who want to experience and see the real Japan, people who are looking to explore new destinations, and people who are intellectually curious and interested in history.
This tour is made for a small group so it is not recommended for large groups. (We want to do our best to not disturb the local community.)
🌿 The best season to join this trip:
The best time to join this tour is when the weather and temperature is nice and stable such as spring and autumn. If you want to see the beautiful rice field scenery then the planation period (May-June) or harvesting period (August-September) is recommended.
"Come to Maibara and experience its charms with your own five senses!"
---
⚠️Please contact the business operator for the latest information regarding the tour.
---
Related Articles
---
Latest Contents

Enjoy Kansai with KTIC
Tourist Information / PASS / WIFI / Day Tour
Kansai International Airport (KIX) T1
Open Everyday 9.30 – 17.30
Kyoto Tower 3F
Open Everyday 10.00 – 17.00