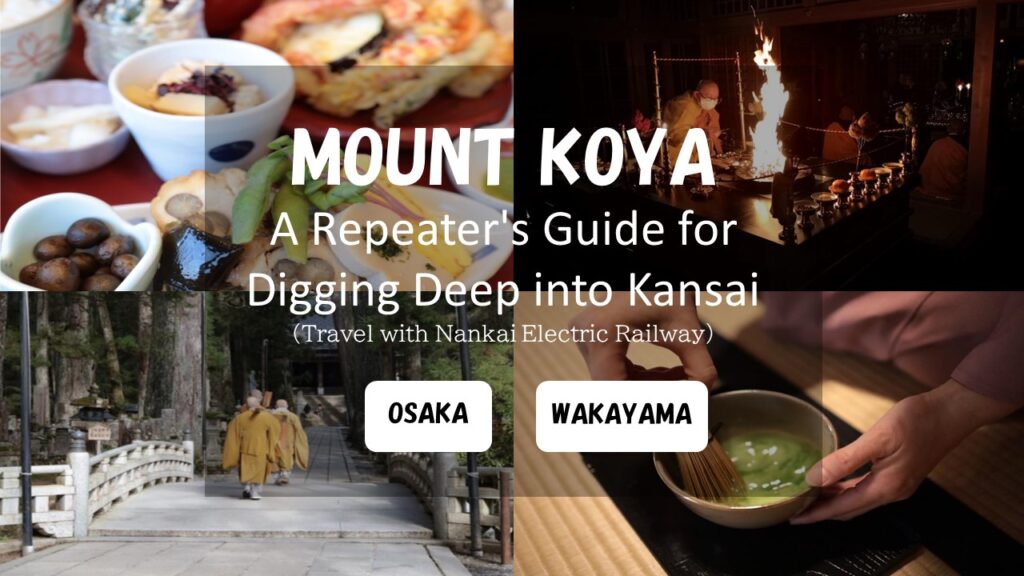 Mount Koya: A Repeater's Guide for Digging Deep into Kansai with Nankai Electric Railway
There are times when we love to go on crazy shopping sprees while travelling abroad. But there are also times when we want to just avoid the crowd and enjoy a relaxing trip, deepen our knowledge for our surroundings, and go home feeling refreshed and fulfilled.
The best thing to do when you want to take things slow, is to revisit a location that you've already been to before and discover new things! This time, we will be revisiting Osaka!
On this journey, we will be going on a deep and involved railroad journey using the Nankai Electric Railway which connects Osaka, Wakayama, and Mount Koya!
Follow us on a trip starting from Sakai, Osaka, and later heading to the World Heritage Site; Mount Koya!
---
⭐ Check out this video which was shot on-site so you'll feel like you were actually there with us!
---
🍵
The First Keyword to Remember:
Sen No Rikyu, the Tea Saint (Chasei) of Sakai
The saying goes "You should not talk about Sakai, without first being served tea".
Sakai is one of the central cities of Osaka which sits adjacent to Osaka City and can be reached in a short 10-minute train ride away, just one station from Namba Station.
When talking about Sakai, the conversations must start with the topic of tea ceremonies. This is because 'Sen No Rikyu', a descendent of the Senke tea ceremony houses who's regarded as the "Tea Saint" ("Chasei" in Japanese) was borin here!
The tea master is also known through famous war generals such as Oda Nobunaga or Toyotomi Hideyoshi. If you are a big fan of Japanese history, you've probably heard these names at least once.
---
🍵
Sakai Plaza of Rikyu and Akiko
In order to deepen our knowledge about tea ceremonies, the first place we headed to was the Sakai Risho no Mori (Sakai Plaza of Rikyu and Akiko). It's located around 10 minutes south from Sakai Station. If you walk along Phoenix Boulevard, you'll soon see the large building with a glass exterior.
Sakai Plaza of Rikyu and Akiko was opened with the intention of providing a location and a base for all things history and culture within Sakai. It has various exhibitions including both permanent and special ones containing the works and history of artisans and authors who were born within Sakai such as Sen No Rikyuu and Yosano Akiko.
📍 Sakai Risho no Mori (Sakai Plaza of Rikyu and Akiko)
Address:2-chōme-1-1 Shukuinchō-nishi, Sakai Ward, Sakai, Osaka
Open Hours:09:00~18:00(Final Entry 17:30)
Holidays:Every 3rd Tuesday(the following day if public holiday), New Year's Period
Access:10-minute walk from Sakai Station
---
🍵
Chashitsu Tearoom Tea-making Experience
If you've gained even a small interest in tea ceremonies, making and pouring your very own tea can be an extremely interesting experience!
This Chashitsu Tearoom Tea-making Experience aimed at groups of people is great for beginners because it is extremely easy to follow. You'll receive instructions from a Senke tea master such as how to bow, how to eat and drink with proper manners, how to appreciate tea utensils, and even how to leave and enter the room. It's a fully engaging experience from start to finish.
You'll also be given some sweets to try from local sweet shops in Sakai. The tea bowls used are the "Minato ware" which is a style of earthenware which originated from Sakai. This activity is the shortcut to learning everything you need to know to get you started on your tea ceremony journey!
Within the activity, you'll be presented with some beautiful and delicious seasonal treats together with kind hospitality. The one we received when we visited was a "Camellia Flower" made from white bean jam and strained bean paste! How cute! 🌺
It's interesting to watch the experienced master use the bamboo tea whisk to perform the tea ceremony up close and personal.
From the tearoom, you're able to look out onto the ruins of Sen No Rikyu House. As the name suggests, it's the ruins of the house site of Sen No Rikyu, which has the water well that was said to have been used to collect water for tea during those days.
📍 Chashitsu Tearoom Tea-making Experience
Time Slots:10:00~、11:30~、13:00~、14:30~、16:00~
Fee:¥1,020/Person(for groups of 5)
※Price may vary depending on size of group.
※If you're visiting with less than 4 people, please use the individual tea ceremony experience instead.
※The individual experience can be reserved every 3rd Sunday of each month.
※You are required to make reservations at least 1 month in advance to visitation.
---
🔪
Sakai Hamono Knife Museum
When it comes to Sakai's food culture, their knives play a big part. It's one of Japan's 3 largest production locations for knives, and there's even the Sakai Hamono Knife Museum which can be found on the 2nd floor of the Sakai City Traditional Crafts Museum.
There's also Wada Shōten, which has both a shop and a workshop close by for you to explore. In the workshop, you can see how knives are made, and even engrave your name on a knife you purchase!
Try using a knife from Sakai just once and you'll understand why they're so popular!
---
🗝️
The Second Keyword to Remember:
The World Heritage Site "Kofun"
When talking about Sakai, one of the more recent memories people might have is when the Mozu Tombs were registered as a World Heritage Site in 2019.
Counted among the top 3 largest tombs in the world, the Mozu Tombs house the Mausoleum of Emperor Nintoku and were built from the middle of the 4th century before finishing in the latter half of the 5th century.
Moreover, 44 of the total 100 mausoleums of the kings of various Japanese islands is being housed here in Sakai's north sector.
While you're not able to go into the Kofun (megalithic tomb), you can still visit the Mausoleum of Emperor Nintoku, and walk around the neighboring Daisen Park, which has many sights to see from outside of the institution.
The area that will open the curtain to our journey around Kofun is Daisen Park which is surrounded by 380,000㎡ of trees and plants. It's a great spot to not only learn about the zone's history but also to enjoy the surrounding nature as well.
In spring you're able to see cherry blossom trees and in fall the bright orange colors! This serene space with fresh air almost makes you forget that you're in the center of the city!
Exploring the entire park in one go would be pretty difficult, so when you're a little tired, take a break at the nearby Japanese garden. It boasts a total size of 26,000㎡, and is created as a stroll garden with a central pond. When visiting the park, don't forget to give the tea menu a try!
Enjoy lovely and refreshing Matcha green tea which changes depending on the month alongside some seasonal dango while looking at the pond, rocks, and surrounding plants! Not only will this relax your body, but it will relax your soul as well!
You can choose between a set of matcha tea and higashi (dried candies) (¥300) or a matcha and omogashi (Japanese sweet eaten with koicha) set (¥450).
📍 Daisen Park Japanese Garden
Address:17 Daisen Nakamachi, Sakai Ward, Sakai, Osaka (within Daisen Park)
Business Hours:
Mar~Nov 09:00〜17:00(Last Entry 16:30)
Dec~Feb 09:30〜16:30(Last Entry 16:00)
※Currently, to help in the prevention of spread of COVID-19, the last order timing is 15:30.
Holidays:Mondays(in the event that Monday is a public holiday, the following weekday will be closed), the New Year's period
Access:15-minute walk from JR Mozu Station
---
☕
Kofun-mae café IROHA
Close to the entrance of the park you'll find Kofun-mae café IROHA which underwent a renewal and re-opened in March 2021. It's becoming one of hottest spots in the surrounding area!
The cafe / restaurant menu is filled with many delicious items, but we especially recommend the volume-filled Kofun Burger. It opens at 9:00 meaning it's a great spot to visit after a lovely morning walk through the park!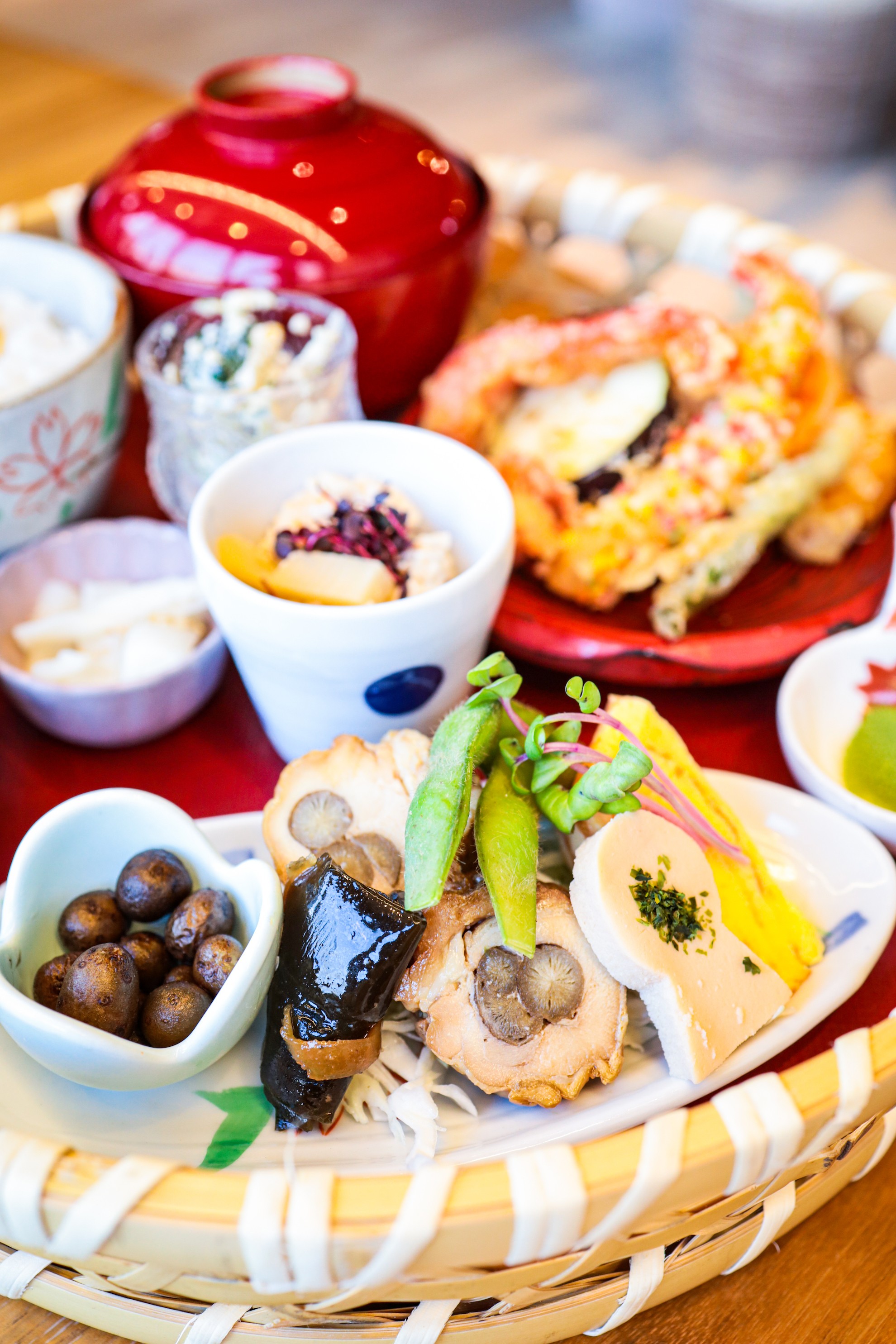 The above bento box is sold in limited quantities of just 20 per day. Pickled items, seasonal side dishes, tempura, and more can be found in these amazing packs!
While you may think the icon looks like a keyhole, it's actually the mark of the Kofun! All of the staff wear T-shirts with Kofun's mark printed on it.
📍 Kofun-mae café IROHA
Address:2-chōme-204 Mozusekiunchō, Sakai Ward, Sakai, Osaka
Business Hours:09:00〜18:00
Holidays:Mondays(Tuesdays if Monday is a public holiday)
---
⭐
Mozu Mounded Tombs Visitor Center
Similar to Kofun-mae café IROHA, the Mozu Mounded Tombs Visitor Center opened its doors in Spring of 2021, and allows visitors to see a projection map of the location for free in 8k quality!
---
✨
Make Your Way to The Holy Land of Mount Koya
Through the Instagram-Worthy Station
From Namba Station, it's only a 1.5 hours journey until we reach Gokurakubashi Station which is the final station on the Nankai-Koya Line.
From here, we have to switch to the Koyasan Cable Car, to reach the other World Heritage Site on this journey; Mount Koya.
However, you simply have to stay a for a bit and experience every exciting thing that Gokurakubashi Station has to offer!
If you're wondering why, look at the photos! There are so many instagrammable spots for you to take and show off to your friends and family!
The designs with the concept of "The Gate to Holy Land, Gokurakubashi" were created in July 2020. The train concourse has designs with the concept of 'early life', while the cable car concourse has designs with the concept of 'holy land'.
Or as we like to call the whole thing "the holy land of instagrammable spots".
Here, you can find over 50 types of decorative ceiling paintings depicting the birds of paradise and Mount Koya plants.
You can also find a very unique Chōzuya (place for ritual cleansing of hands and mouth with water when visiting shrines).
Another interesting thing you'll find here are the "paper feathers" which have been created to imitate the wings of a bird of paradise.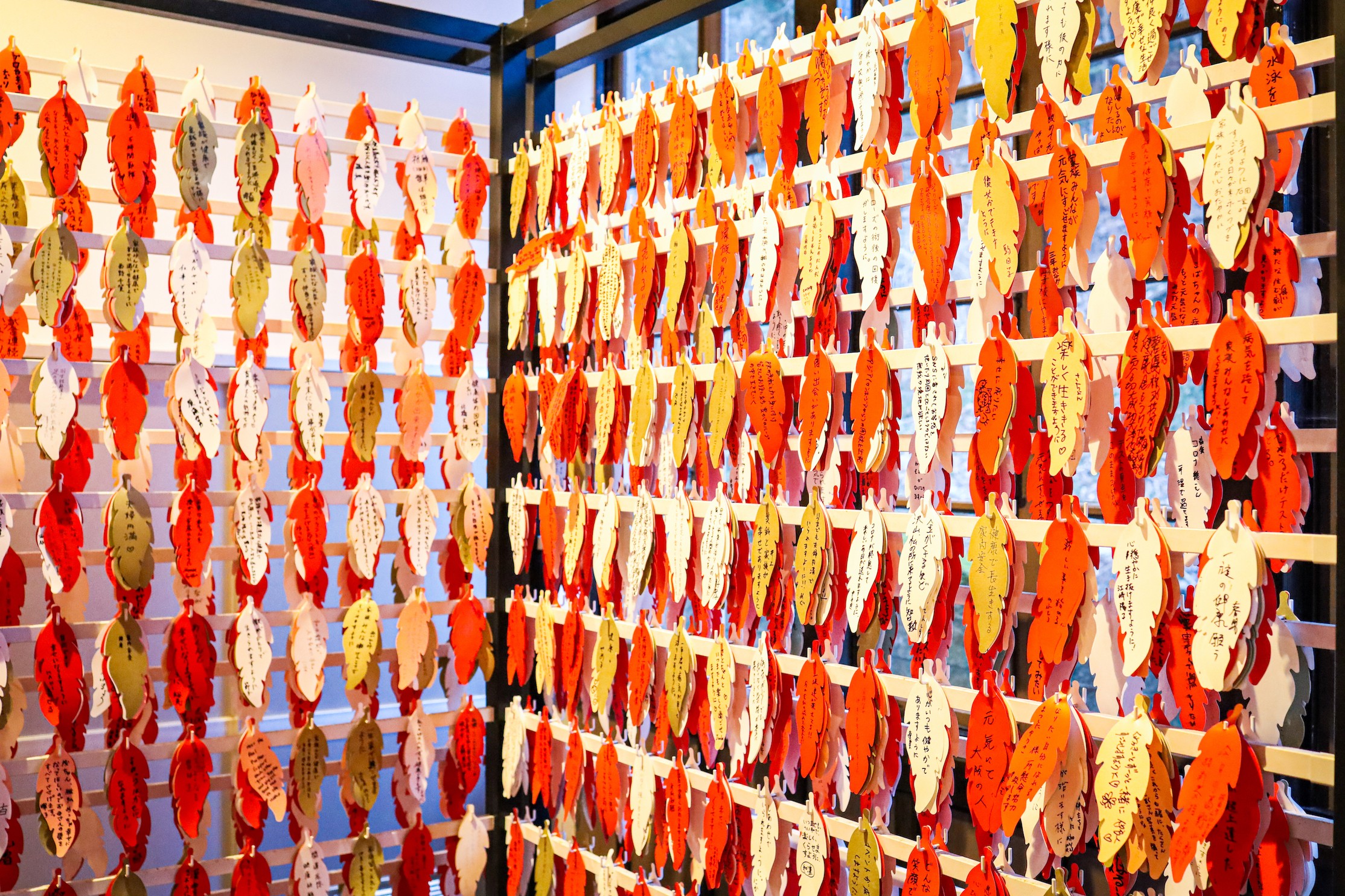 There are 3 colors available to choose from which are red (representing resolution), white (representing the release of the heart), and orange (representing love). You write your wishes and then you hang them up! All of these feather wishes are collected every year during March for the Koya Fire Festival.
※Orange color is only sold during "Gokuraku Day" which is the 5th and 9th day every month.
Be careful not to lose track of time taking pictures or you might miss your cable car ride!
---
🙏🏻
Stay at a Temple and Visit Uesugi Kenshin & Oda Nobunaga
If you're looking for the best shot, it's time to take a 5-minute ride to the sky on the mountain cable car that's directly connected to Koyasan Station. At an elevation of 328m, it's almost the same height as Tokyo Tower.
Next, let's head back 1,200 years to check out some of Mount Koya's history.
The Shingon sect of Buddhism was created by Kukai (posthumously named Koubou Daishi). Koubou Daishi is believed to still be living in the Okunoin Temple (inner shrine) to this day. Many people from around the world visit here to wish for peace and happiness.
It's a place deeply rooted in religious belief!
Even if you haven't visited Mount Koya before, you may have heard the name of someone who has strong ties with the mountain. The graves of some of the most well known Japanese people in the world lay at rest here, namely Uesugi Kenshin, Oda Nobunaga, Akechi Mitsuhide, and Date Masamune.
Within the total 117 temples found on Mount Koya, you're able to stay in 51 of the visitor's or pilgrim's lodgings. There are various characteristics unique to each lodging such as vegetarian cuisine originally derived from the dietary restrictions of Buddhist monks, guest rooms, bathing facilities, and gardens.
People who do not practice Buddhism are also allowed to stay here, allowing for an experience different to that of your normal lodgings.
Tonight we decided to stay at Muryoko-in.
It's so exciting!
All the meals served here use absolutely no fish or meat, but just vegetables. Not only is it delicious, but it's also great for your digestive system.
At nighttime, the monks gave a guided night tour of Okuno-in cemetery. The tour lasts for 1 hour and takes you to see the graves of the famous warriors buried here such as Oda Nobunaga, Toyotomi and Tokugawa clans.
It was a thrilling experience that really taught us about Japan's history and culture. (English support available!)
Spending a relaxing morning sleeping in is just another bonus of a day off, but since we're on a trip, it'd be a waste to sleep until noon!
So we decided to join the 6:00 prayers. We were able to see the Homa (ritual) up close and personal, it made waking up that early very worth it!
📍 Muryoko-in
Address:611 Kōyasan, Koya, Ito District, Wakayama
---
🎫
Great Value Tickets to Travel To & Around Mount Koya
To make the most out of your trip to Mount Koya, a must-need item is the Koyasan World Heritage Ticket!
It's a round-trip ticket from your boarding station to Mount Koya (¥640 from Namba Station), as well as an added bonus of a 2-day free ride pass for mountain buses and discounts for Buddhist facilities.
It even lets you get to and enter Kongobu-ji Temple, Konpon Chudo, and more locations we weren't able to fully introduce in this article!
---
Latest Contents

Enjoy Kansai with KTIC
Tourist Information / PASS / WIFI / Day Tour
Kansai International Airport (KIX) T1
Open Everyday 9.30 – 17.30
Kyoto Tower 3F
Open Everyday 10.00 – 17.00