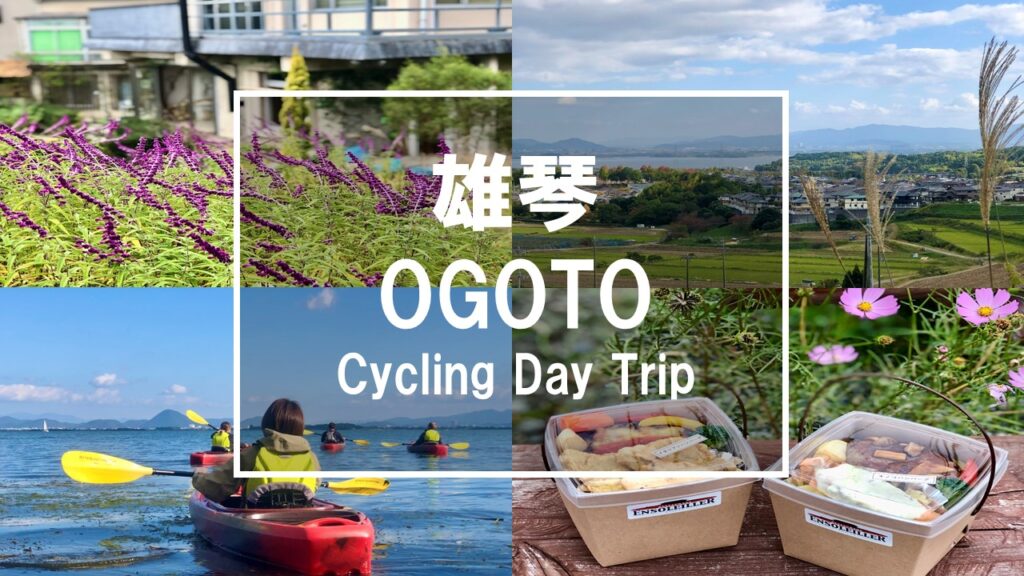 Ogoto Cycling Day-Trip (Herbs, Onsen, Lake, and Lamps)
Join us on a unique cycling day-trip and explore the local life along the biggest lake in Japan, Biwako (Lake Biwa). The charming town of Ogoto offers rural sceneries, relaxing herb teas, outdoor lunch, canoes, hot springs (onsen), and lamp-making activities!
---
⭐
Concept
"Discover small journeys by cycling."
"Through seeing, hearing, and experiencing, it's a journey that becomes our very own."
Discover the charms of life by Japan's largest Lake, Biwako, through stories told by local guides, warm contact with local people, and encounters with cute flowers blooming in the fields.
Go on a journey and find small discoveries that are unique to the area. It is a journey that is a little more intimate than a trip, but definitely more special than everyday life.
---
ℹ️
Information
🕐 Time: 10AM – 4PM (Around 6 hours)
⭐ Contents: Departure from Opal Optex → Herb garden & tea-making → Lunch → Foot bath → Canoe → Lamp-making activity → Finish at Opal Optex
---
🚲
Starting The Journey & Meeting Our Bicycles
🕐 10AM
After arriving at Ogoto Onsen station, we took a short walk to Opal Optex which was where we met with our guides and got our rental bicycles!
The bicycles here weren't just any typical bicycle, but they were electric bicycles! It was our first experience!
The guide said that the route included hills and climbs, but with the power support that the E-bikes provided, we would be ok.
The guides explained the plan for the day, and helped us set up our E-bikes and our headphone gears.
While we rode our bicycles, the guide gave us tips and information through the earphones! How cool is that?
⬇️
Ogoto Herb Garden
After getting comfortable with our very cool e-bikes, we took off and headed to our first location; Ogoto Herb Garden.
Entering the herb garden grounds, some sheep came out to welcome and say hello to us. Soon after, the herb garden staffs came and greeted us with a bag full of goodies!
We already love this place! 💓💓
The garden staffs led us inside, welcomed us with herb infused water, and showed us around the beautiful herb garden.
Once we learned about the different herbs that grew in the garden and smelled them, we got an idea of what we would like to put in our original herb tea!
Which brings us to our first activity: collecting herbs to make our very own special herb tea! Exciting!!
We grabbed our scissors and bowls and started snipping away.
Once we were satisfied with our fresh herb harvest, we took it inside where the staff collected our herbs, washed them, and put them into a tea pot for us!
The staffs gave us some cookies to enjoy with our special tea mix, and to be honest, it was probably one of the best tea-drinking experiences we've ever had! The fresh herb aroma from our herb of choice made the experience extra special.
After relaxing our minds and souls with our special herb tea, our next activity was making our very own room freshener spray!
The experience brought back memories to science experiments in science class when we were young.
We got to choose the herb ingredients and mix and match the fragrance into our very own unique spray. We personally liked the smell of peppermint and lavender so we added an extra of those two!
Voila! Here is our very own room freshener spray! Can't wait to go home and use it! 🌼🌼
⬇️
🍱
Outdoor Lunch on a Hill!
Once we said goodbye to the local and friendly staffs at Ogoto Herb Garden, we got on our E-bikes and headed to our lunch spot. The view along the way was very calming with rice fields, mountains, Lake Biwa, blue skies, and local houses.
For this trip, we didn't go to a restaurant for lunch, but instead, we had special lunch boxes outdoor on a hill with an amazing view of Lake Biwa!
We were asked in advance before the trip to choose from a selection of lunch boxes. This time we chose the Hamburg steak and salmon lunch box! Delish! 😍
Together with the natural breeze and the spectacular view in front of us, the lunch was UNFORGETABLE!
With a full stomach and a relaxed and happy mind, we got on our E-bikes and cycled some more. The peaceful town intertwined with the natural surroundings made us feel like we were emerged into the relaxed Japanese countryside lifestyle.
⬇️
♨️
Foot Bath
Since we were in the Ogoto Onsen area, it would only make sense to have a little onsen or hot spring experience included in the itinerary.
We stopped by and rested at a place where we could dip our tired feet in the warm Ogoto hot spring water and let it wash the fatigue away.
⬇️
🛶
Canoe Activity @ Lake Biwa
We then cycled back to our starting point, Opal Optex, to get ready for our next activity; Canoeing!
The guides carefully explained the safety rules for canoeing and helped us onto our canoes. It was our first time canoeing on Lake Biwa so we were very excited!
Time to exercise those biceps! 💪
The guide led us into a Yoshi community on the lake. Yoshi or Reed Grass, is a very important part of the lake's ecosystem as it has many important properties. It has the effect of purifying water, provides a good platform for fishes to come and lay eggs, and is a place where birds come and make nests, lay eggs, and raise the newborns. 🌾
⬇️
💡
Lamp-Making Activity
(Yoshi Paper Lampshade)
🕐 3:00PM – 4:00PM
Another experience that brought back memories to science projects when we were young!
After our canoeing adventure, we came back into Opal Optex's facility for the lampshade-making activity. All the materials and explanations were provided to us so all we had to do was assemble it correctly and design our own patterns!
The paper used for the lampshade were made from the Reed Grass (Yoshi) that we saw earlier while canoeing. This special detail made us feel closer to the Lake Biwa community.
The mechanics are made so that when the room becomes dark, the lamp automatically lights up!
⬇️
💚
Saying Goodbye to Ogoto
The day ended with many fond memories especially with the local guides, staffs, and people we met along the journey! The intimate outdoor lunch we had, the unique hands-on experiences, and learning about the ecosystems and life along the Lake made the day special and memorable.
Can't wait to be back and make more 'small discoveries'!
See you soon Ogoto!
---
⚠️Please contact the business operator for the latest information regarding the tour.
---
Related Articles
---
Latest Contents

Enjoy Kansai with KTIC
Tourist Information / PASS / WIFI / Day Tour
Kansai International Airport (KIX) T1
Open Everyday 9.30 – 17.30
Kyoto Tower 3F
Open Everyday 10.00 – 17.00