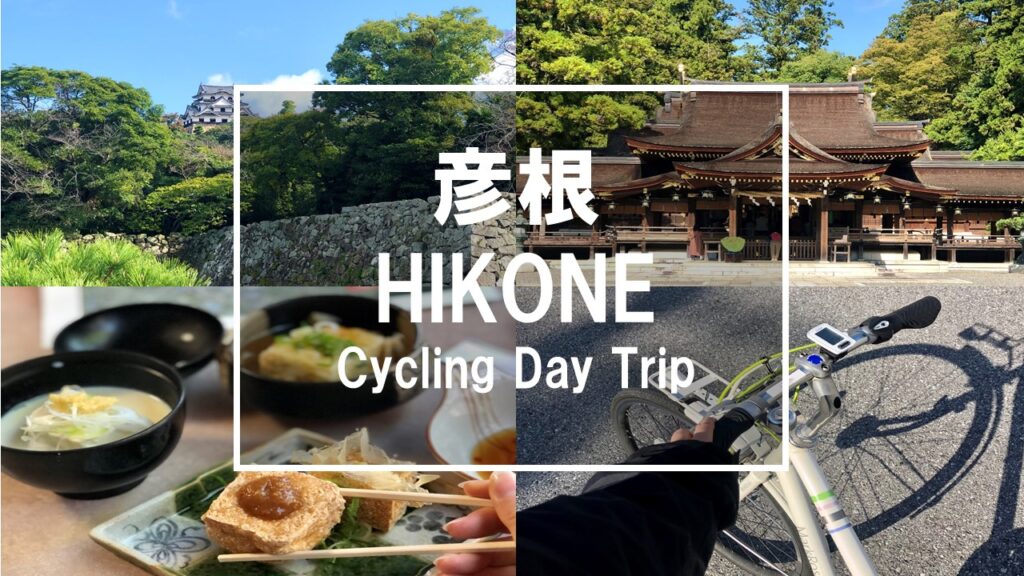 Hikone Cycling Day-Trip (Bicycles, Castle Towns, Shrines, and Tofu!)
Have you ever wondered how tofu is made? Not only will you find out on this trip to Hikone, but you will also get the hands-on experience of making it!
Through this day trip, you'll get to explore the charming town of Hikone in Shiga Prefecture through cycling, unique activities, and also learn about the town's significance and history from the guide!
Hikone City Official Website (Tourism in Hikone)
---
⭐
Concept
Bicycles, Castle Towns, Shrines, and Tofu!
---
ℹ️
Hikone Cycling Day Trip Information
🕐 Time: 10AM – 3PM (Around 5 hours)
⭐ Contents: Departure from Hikone Station → Explore the castle town → Tofu-making activity & lunch → Cycling Train → Finish at Hikone Station
📍 Route Map
---
🚲
Starting The Journey in Hikone & Meeting Our Bicycles
🕐 10AM
After arriving to Hikone Station, we took a short walk to Megurinko Rental Cycle Shop located at the Cycle Station and said our good mornings to our new friends who will be joining the trip together!
The guide then briefly explained the plan for the day along with hand signals used when cycling.
We then got to meet our special partners: our rental bicycle and our helmet. The bicycles were chosen based on our height to give us the most comfort and safety during our trip!
After meeting our special partners and greeting them, we couldn't wait to get started on our adventure!
⬇️
🏯
Cycling Around Hikone Castle Town
After getting familiar with our bicycles, we then took off to explore Hikone Castle Town! The guide led us in the front and we followed in a line. We made brief stops here and there while the guide explained some interesting facts to us about each location.
We then made another stop in front of Hikone Castle to take a memorable group photo together!
⬇️
👩‍🍳
Making Tofu For The First Time
@ Ikkyuan Restaurant (Taga Branch)!
"Learn how to make tofu from scratch and enjoy the different tastes!"
🕐 11AM -12:30PM
We didn't expect that making tofu was going to be this fun! When we arrived to Ikkyuan Restaurant, the tofu-making set was prepared for each of us. The owner of the restaurant explained and led us through the process step-by-step.
When we finished and each revealed our masterpieces, it was very interesting to see that although the materials and the ingredients were the same, each and everyone's tofu was different!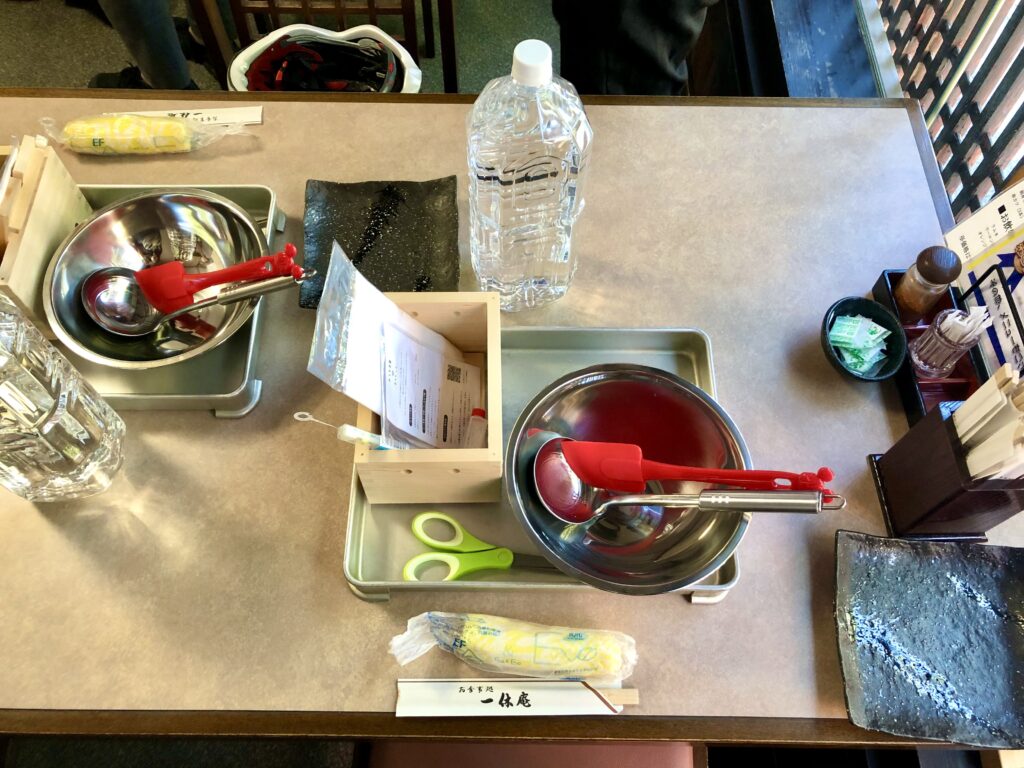 Apparently, depending on how hard and how fast we stirred the tofu mix, the texture and size of each tofu turned out differently. Some tofu were smooth, some were rough, some looked soft, and some looked hard.
We jokingly judged each other's tofu and giggled together. It was a very funny experience. 😂😂
Next, the chef took all of the tofu that we made and made it into different dishes for us to taste for lunch!
Exciting! We couldn't wait to see how our tofu would turn out!
⬇️
⛩️
Taga Taisha Shrine
🕐 12:30PM -1PM
While waiting for our amazing tofu to be made into delicious dishes by the chef at Ikkyuan Restaurant, we walked over to have a look at Taga Taisha Shrine which is located right across from the restaurant.
⭐Find out more about Taga Taisha Shrine (English): https://en.biwako-visitors.jp/spot/detail/234
Taga Taisha Shrine is the first major shrine in Shiga Prefecture. The god here is worshipped as the god of "longevity, marriage, and warding off evil". The weeping cherry blossoms in spring and the beautiful autumn leaves are also a sight that attracts many visitors!
Legend has it that a long time ago during the Heian period (794-1185) Shunjobo Chogen, who was ordered to rebuild the Todaiji Temple, visited this shrine and was granted with an addition of 20 years of life. The stones are placed here by people who come to pray for longevity.
And it is said that when the former emperor Gensho was ill, the priest of this shrine cooked rice and served it to him using a rice spoon made of wood. The emperor said that it healed him immediately, making this wooden rice spoon famously known as the "Taga Ladle"!
⬇️
🍜
Lunch @ Ikkyuan Restaurant
🕐 1PM – 2PM
It's finally the most exciting time of the day: the amazing lunch made from the tofu that we made earlier!!
When we arrived to the restaurant, there were different types of tofu dishes placed on the table. Tofu soup, fried tofu, tofu with sauce, etc… So many different ways to cook tofu! And they all smelled and looked very tasty!
Our tofu-making skills are actually not bad because the tofu dishes were pretty delicious!! It's mostly thanks to the skills of the chef but we couldn't help but feel proud of ourselves!
We normally don't eat tofu much on a daily basis, so being able to try a variety of tofu dishes was very interesting.
Tofu paradise!
After finishing the tofu dishes, there was another surprise!
A soba noodle lunch set was served to us! Wow! So much food! 🥰🥰
Not only would this big lunch give back the energy we used for cycling today, but we probably wouldn't be able to have dinner later!
⬇️
🍬
Taga Souvenirs
After having the big and exciting lunch, we walked around nearby the restaurant to check out the shops and buy some souvenirs.
The guide recommended us the Taga-specialty; 'Itokiri-mochi'. This dessert is a delicate Japanese confectionery made by wrapping rice cake around red bean paste, stretching it, and carefully cutting it with a thread.
The cute design stands out and makes for a great kawaii and delicious souvenir!
⬇️
🚲🚇
Hikone Cycle Train
🕐 2:27PM -2:44PM
After the huge, delicious, interesting, and fun lunch surprise, we got back on our bicycles and headed to the Tagataishamae Station to get on the "cycle train".
Here, we will be bringing our bicycles onto the train! This might be an activity that is common in some countries, however, in Japan this is quite rare!
We traveled on the train from Tagataishamae Station to Hikoneserikawa Station by changing trains at Takamiya Station.
Here comes the cute yellow train! The scenery around looked like a scene from a Japanese anime!
Carrying our bicycles on and off the train, and crossing train tracks definitely needed some energy. Now we understand why the lunch was so big!
It was an interesting experience to bring our bicycles onto the train with us! 🚲
⬇️
💚
Saying Goodbye to Hikone
🕐 3PM
The interesting adventure ended with us returning our bicycles to Megurinko Cycle shop. We said our goodbyes to our new friends and hopped on the train at Hikone Station to head back home.
We couldn't help but think about the tofu that we made and the big lunch that we had. We'll definitely be trying more tofu dishes after this trip!
See you soon Hikone! 🥰🥰
---
⚠️Please contact the business operator for the latest information regarding the tour.
---
Related Articles
---
Latest Contents

Enjoy Kansai with KTIC
Tourist Information / PASS / WIFI / Day Tour
Kansai International Airport (KIX) T1
Open Everyday 9.30 – 17.30
Kyoto Tower 3F
Open Everyday 10.00 – 17.00