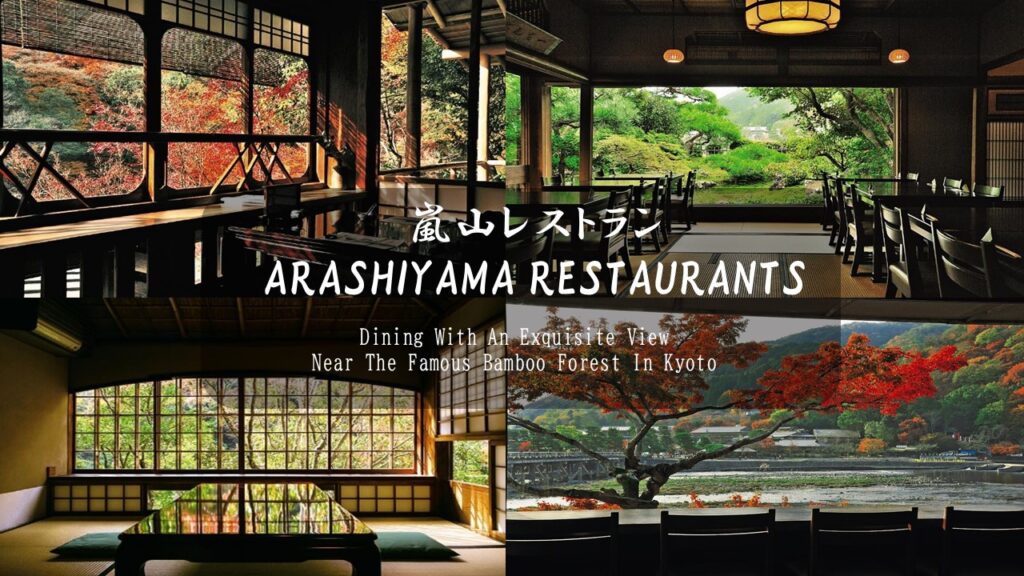 Arashiyama Restaurants: Dining With An Exquisite View Near The Famous Bamboo Forest In Kyoto
Arashiyama Bamboo forest is one of the most famous tourism destinations in Japan where tourists from all around the world gather to walk through the beautiful bamboo grove. Arashiyama is also home to beautiful natural sceneries and amazing Japanese restaurants.
While you are in Arashiyama, you might as well dine in one and make the most out of your experience here. We have gathered a few Arashiyama restaurants with the best food and the best view for you. 🎋
So save these for your next trip to Arashiyama, Kyoto and make the trip even more memorable!
---
Related Article
---
Arashiyama Restaurants
⭐
嵐山よしむら
Arashiyama Yoshimura
The counter seats facing Togetsu-kyo bridge are surrounded by glass windows in 3 directions, giving this soba restaurant an amazing view of Arashiyama and the Katsuragawa River. Buckwheat grains are coarsely ground to give this shop's delicious handmade Nihachi soba a delicious texture. Jyuwari soba, served in limited quantities daily, is also worth a try.
MAP: https://g.page/arashiyamayoshimura?share
Contact: 075-863-5700
Menu: https://yoshimura-gr.com/arashiyama/menu/ (Only In Japanese)
Open Hours: 11am – 4:30pm
Price: From 1,600¥~

---
⭐
松籟庵
Shoraian
Situated along the Oigawa river, this restaurant is housed in the former 2nd home of politician Konoe Fumimaro. Though only a 10 min walk from Togetsu-kyo bridge, the area around this restaurant is quiet and peaceful. Enjoy yudofu (tofu) and Kyoto dishes facing exquisite nature views.
MAP: https://goo.gl/maps/h4JAiJGyLMg6PoVt8
Contact: 075-861-0123
Menu: https://www.shoraian.jp/%E3%81%8A%E9%A3%9F%E4%BA%8B/ (Only In Japanese)
Open Hours: 11am – 5pm
Price: From 4,180¥~
---
⭐
西山艸堂
Tofu Cuisine Seizan Soudou
Nestled within the Myochi-in sub-temple of Tenryuji Temple, this restaurant's dishes uses Sagano's famous Morika tofu and Hirousu tofu fritters for healthy, generous and lightly flavored meals.
MAP: https://goo.gl/maps/KP9gLLD5AH6qNuP56
Contact: 075-861-1609
Open Hours: 11:30am-4:30pm (Closed on Wednesdays)
Price: From 3,000¥~
---
⭐
豆腐料理 松ヶ枝
Tofu Cuisine Matsugae
This is a tofu shop operated by the popular shop mentioned above, 'Arashiyama Yoshimura'. Matsugae's original white and green tofu is infused with soba and matcha green tea!
MAP: https://g.page/matsugaetofu?share
Contact: 075-872-0102
Menu: https://yoshimura-gr.com/matsugae/menu/ (Only in Japanese)
Open Hours: 11:00am-4:30pm
Price: From 2,000¥~
---
Let us know what you want to see on our next food series!! 🥰🥰
---
Check Out More Food Lists Here!!
---
LATEST CONTENTS

Enjoy Kansai with KTIC
Tourist Information / PASS / WIFI / Day Tour
Kansai International Airport (KIX) T1
Open Everyday 9.30 – 17.30
Kyoto Tower 3F
Open Everyday 10.00 – 17.00