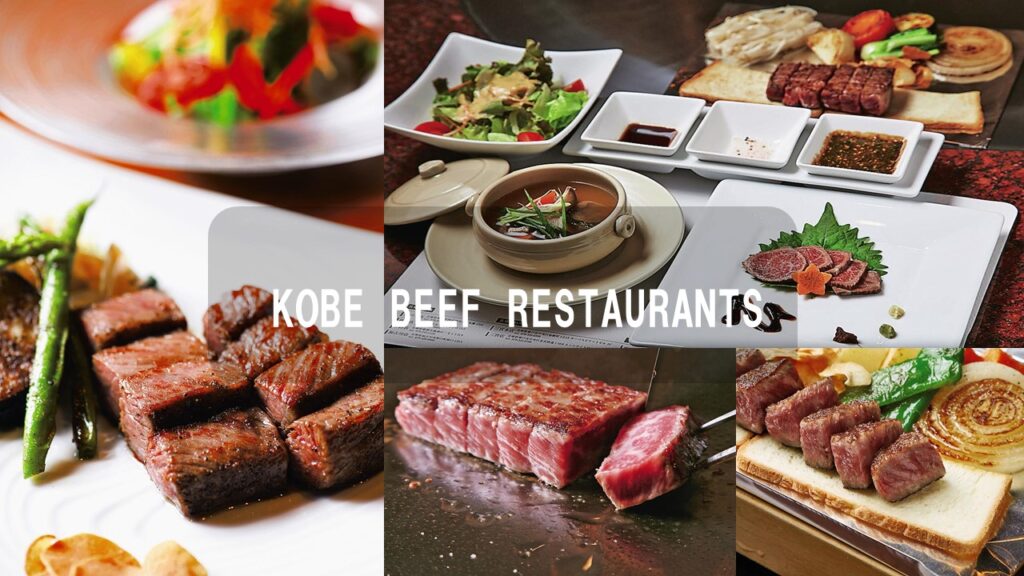 4 Must Visit Kobe Beef Restaurants
A lot of you guys might have heard of Kobe beef. But what is so special about it? You should try it one day during your trip to Japan and find out! In this article we have collected the best Kobe beef restaurants for you!
①
神戸牛 神戸有機野菜 志ん 本店
Kobe Beef Kobe Organic Vegetables Shin Main Store
A teppanyaki (hot plate) dining centering on carefully selected Kobe and Domaine Beef. They also serve delicious organic vegetables grown by professional farmers at Nishi-ku of Kobe City.
MAP: https://goo.gl/maps/nAcyxRHWeJY9AWyw8
CONTACT: 050-5461-3482
OPENING HOURS: Lunch Time 11:30am-15:00pm Dinner Time 5:30pm-10:30pm
HOLIDAYS: Mondays & Tuesdays
---
②
神戸 ステーキレストラン モーリヤ本店
Kobe Steak Restaurant Mouriya Main Store
A steak restaurant with a history of more than 130 years since its establishment in Meiji 18 (1885). Here, you can taste carefully selected beef such as Kobe beef and Tajima pedigree beef. The cut surface is grilled carefully to contain the gravy juice; the sensation you feel when the juice comes out from the meat is superb. Because the ingredient itself is excellent, it is recommended to try with just salt for the first bite. Lunch 3700 yen ~, dinner 5500 yen ~.
MAP: https://goo.gl/maps/wUqHsSrjy5zxFafx9
MENU: https://www.mouriya.co.jp/en/menu
CONTACT: 078-391-4603
OPENING HOURS: 11:00am-09:00pm
HOLIDAYS: None
---
③
元祖鉄板焼ステーキみその 神戸本店
Original Teppanyaki Steak Misono Kobe Main Store
Founded in Showa 20 (1945), this is a long-established steak restaurant specializing in teppanyaki (hot plate), which is a cooking style offered by this restaurant for the first time in the world. Not only do they offer globally acclaimed Kobe beef, but also Japanese Black beef of the highest rank (A4, A5) which are grilled by skilled chef with the iron plate in front of the customers. The top class beef which is beautifully marbled are roasted on a polished up, customized plate which is 2 cm thick; the roasted meat, even when savored with baked natural salt of Ako only, is soft as if to melt in your mouth. Although it is a popular place to celebrate anniversaries, family gatherings, and client dinners, it is also a very popular restaurant among tourists from abroad. Feel like a king while experiencing the melt-in-your-mouth sensation.
MAP: https://goo.gl/maps/wUqHsSrjy5zxFafx9
MENU: https://misono.org/en/shop/kobe/menu/
CONTACT: 078-331-2890
OPENING HOURS: Lunch Time 11:30am-14:30pm Dinner Time 5:00pm-10:00pm
HOLIDAYS: None
---
④
ビフテキのカワムラ 三宮本店
Bifuteki no Kawamura Sannomiya Main Store
It is a famous Kobe Beef restaurant which also has a branch in Ginza, Tokyo. Kobe Beef from rare cow is matured in a vacuum pack for two months; such meat produces umami to the fullest extent, and because it doesn't have much fat, you can savor the primary taste of the meat. If there is a supply, it is also possible to enjoy the menu of Kobe Beef that won the best award at the Kobe Beef Fair. Designated registration store of Kobe Beef Marketing and Distribution Promotion Association.
MAP: https://goo.gl/maps/wUqHsSrjy5zxFafx9
MENU: https://www.bifteck.co.jp/en/menu/hyogo/
CONTACT: 078-335-0399
OPENING HOURS: Lunch Time 11:30am-14:30pm Dinner Time 5:30pm-09:30pm
HOLIDAYS: None
---
Other Food Lists To Follow
---
Latest Contents

Enjoy travelling Kansai with KTIC
Tourist Information / PASS / WIFI / Day Tour
Kansai International Airport (KIX) T1
Open Everyday 9.30 – 17.30
Kyoto Tower 3F
Open Everyday 10.00 – 17.00