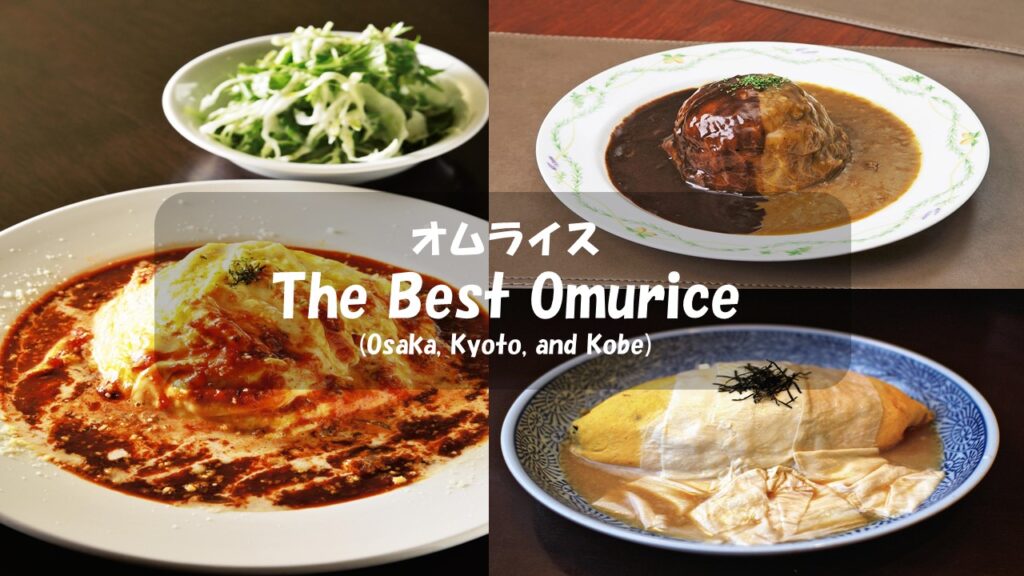 The Best Omurice (Omelet Rice) In Osaka, Kyoto, and Kobe
Omurice is a Japanese dish that I personally consider as one of the best comfort food of all time. Omu is short for omelet and rice is, you guessed it, rice. But omurice is not just egg on rice, it is way more complex than that. The rice is usually cooked with butter or tomato sauce, and the omelet is usually extremely soft, fluffy, and buttery.
The best part is when you use your knife to softly cut the top part of the omelet and it breaks open so beautifully and perfectly that you just want to cry.
Omurice is usually glazed with different types of delicious sauce from cream sauce, demiglace sauce, to curry sauce. It is one of those dishes that even the pickiest eater will enjoy. Nothing can go wrong with omurice.
If you are craving some omurice, you have come to the right place because this is a collection of the best omurice in Osaka, Kyoto, and Kobe for you to try when you travel to Kansai and visit the area.
---
①
グリルマルヨシ
Grill Maruyoshi
(Osaka)
🍳
This long-established western style restaurant was founded in 1946, and is now managed by the third generation owner. There are regular customers whose families have been visiting for 4 generations for their special rolled cabbage and omurice which are made with a great commitment of time and effort.
MAP: https://goo.gl/maps/uon6cnp5KhYRCb3i6
Opening Hours: Lunch 11:00am – 2:30pm Dinner 4:30pm – 10:00pm
Holiday: Tuesday
Contact: 06-6649-3566
Price: Lunch Set From 1,200¥~
---
②
茶房チックタク
Sabo Chik Tak
(Kobe)
🍳
This is a cafe that was built in the Arima Hot Spring district and was formerly a 100-year-or-so old house before renovation. The nostalgic pinball machines inside give it a groovy, vintage vibe. Their specialty is "Arima Yakuzen (medical herbs) Curry" (1300 yen) which includes hawthorn, goji berry, Asian ginseng and hakkoku rice (rice mixed with eight types of grains). Another popular dish is the Omurice, which is extremely soft and creamy and is made from using eggs laid by chickens grazed in nearby farms. It is topped with homemade demiglace sauce that goes so well with the tangy sweet taste of onion.
MAP: https://goo.gl/maps/ixSR29CkqNbfSSv7A
Opening Hours: Lunch 10:00am – 4:00pm
Holiday: Irregular
Contact: 078-904-0512
Price: Omurice Lunch Set From 1,300¥~ Other Lunch Sets From 1,000¥~
---
③
北極星 心斎橋本店
Hokkyokusei Shinsaibashi Main Store
(Osaka)
🍳
This restaurant is known as the originator of "Omurice" which was first made in 1925. Their flavorful chicken mixed rice is covered with 2 fluffy eggs, and tomato sauce that is made with wine and other secret ingredients which gives it a perfect sensation.
MAP: https://goo.gl/maps/tKhXcriEJjjgHpJE9
Opening Hours: Lunch 11:30am – 9:30pm
Holiday: Irregular
Contact: 075-462-9786
Price: Omurice From 900¥~
---
④
おむらはうす 金閣寺店
Omurahouse
(Kyoto)
🍳
This shop generously uses 3 eggs per omurice. Under their fluffy eggs and handmade sauce, the rolled barley or celery they add to the rice gives it a great texture. Their omurice dishes include yuba and tofu toppings which make it unique. They offer 15 different types of omuraisu, from standard to original and unique creations.
MAP: https://goo.gl/maps/96RT1bgkoUpvSsru5
Opening Hours: Lunch 11:00am – 3:30pm
Holiday: Monday
Contact: 06-6211-7829
Price: Omurice Lunch Set From 850¥~
---
Check Out More Food Lists Here!!
---
LATEST CONTENTS

Enjoy Kansai with KTIC
Tourist Information / PASS / WIFI / Day Tour
Kansai International Airport (KIX) T1
Open Everyday 9.30 – 17.30
Kyoto Tower 3F
Open Everyday 10.00 – 17.00