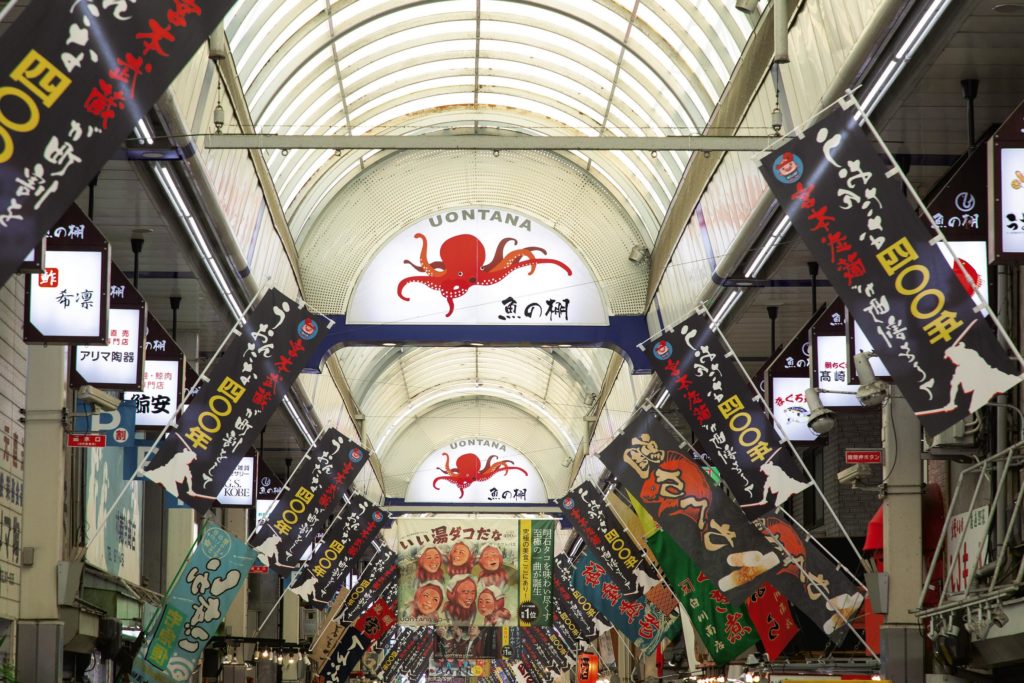 Top Dishes in Akashi (Hyogo)
Let's go the west of Kansai! Today we show you the top dishes in Akashi. Enjoy the food and local sightseeing spots in Hyogo prefecture!
---
Akashi has flourished as a castle town around Akashi Castle, which was built 400 years ago. Located along the Seto Inland Sea, the area is blessed with an abundance of marine products. It welcomes visitors who come to seek the freshest of sea beam, octopus, conger eel and other seafoods.
Uo-no-tana Street Market
It is said to have sprung to life around the same time as Akashi Castle. It is very popular spot in the area. Uo-no-tana street market is A lively shopping street lined with shops that offer a large selection of fresh seafood and Akashi specialties. Wander the area while munching away on delicacies which we are about to introduce to you.
Access
There are 2 ways to visit Akashi which are through JR Line (Akashi Sta.) and Hanshin Line (Sanyo-Akashi Sta.). Please choose any system which is convenient for you since both stations are connected.
FYI, JR line can take you from further cities to Akashi such as Kyoto, Nara, Kobe, Himeji and Wakayama. Hanshin is more good if you starts from Osaka, Kobe and Himeji
Top 3 Gourmet Dishes at Akashi
Akashiyaki dumplings are considered to be the origin of Takoyaki (Octopus dumplings). They are characterized by a soft texture and served in Daishi soup stock. This is the famous local food that you must not miss when visiting Akashi.
"Yoshikawa (よし川)" is our recommendation as it is one of famous restaurants among the locals and even Japanese celebrities.
Weekdays 10.00-17.00
Weekends & Holidays 10.00 -19.00
Closed every Thursday except national holidays
Too share with you guys, the first time I saw Akashiyaki dumplings I thought it was Takoyaki (Octopus Ball) and accidentally ordered it. Surprisingly, I like the texture of the dumplings and its interesting way to eat. Since you need to dip dumpling at the soup that comes in set before you eat, it is very exciting to try Akashiyaki at several places to see how different the taste of original soup each restaurant has prepared.
The second rank is not too surprising. Sushi is one of the most well known dish in Japan and is the most certainly the best way to experience fresh seafood.
Teiraku offers all the popular sushi toppings as well as a great choice of dishes that can only be tasted here in Akashi.
Open 10.30-14.00 / 17.00-21.00
Closed every Tuesday and 3rd Wednesday of every month
We save the best for last. Anago is perfectly grilled conger eel with a sweet sauce on top of rice. With its stylish and spacious interior, Akashi Mitsuboshi is the perfect place for trendy meal among girls.
Open 11.30 – 15.00 / 17.00 – 21.00
Closed on Sunday
That's it for today!
Don't forget to put Akashi city on your list to Kansai.
---
Latest Contents

Enjoy travelling Kansai with KTIC
Tourist Information / PASS / WIFI / Day Tour
Kansai International Airport (KIX) T1
Open Everyday 9.30 – 17.30
Kyoto Tower 3F
Open Everyday 10.00 – 17.00