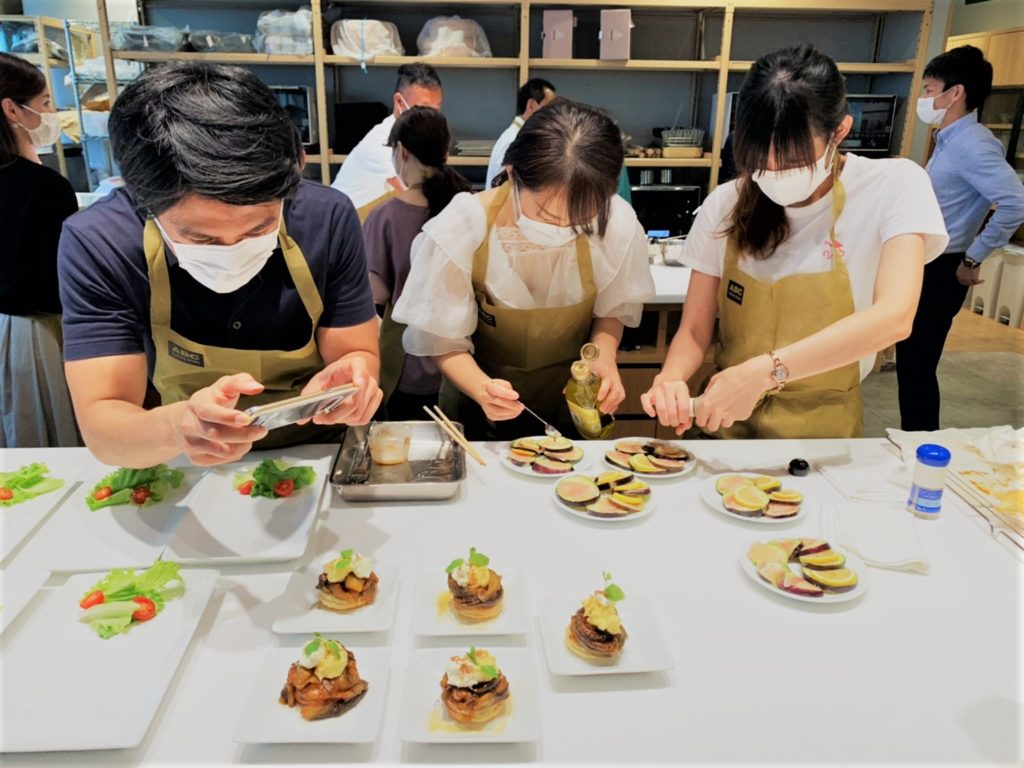 Osaka Cooking Class (Senshu Water Eggplant)
A popular Osaka Cooking Class where you can experience Japanese food culture through cooking with local ingredients. Today, we would like to introduce you to recipe from Water Eggplant from Southern Osaka area (Senshu-泉州).
---
Know more about Mizunasu!
Water Eggplant (Mizunasu-水茄子), one of Osaka's traditional vegetables, is characterized by its refreshing taste and high water content. It only grows in the well-drained soil of the Senshu area (southern Osaka). It is known as a premium vegetable that boasts exceptional quality and has to meet very strict selection criteria.
Let's get started!
Today we captured some moments from ABC Cooking Studio in Tennoji, Osaka. This is one of the most famous cooking class in Japan which provides various types of courses for Japanese food, bakery and cake. There are couple hours lesson and 1-day lesson taught by instructor in English.
All ingredients are prepared and ready to go. You can just show at the studio and concentrate on cooking right away. Today's recipe are Eggplant Meat Doria and Tart Tatin.
Starting with meat doria, we cut the eggplant in half and take the inside part of eggplant (flesh) out to make bowl-shaped space for the rice. Since the size of Senshu eggplant is quite big, personally one whole eggplant is enough for one meal for one person. We mix the rice with ketchup to add more flavor and color.
Cooking Time!
Every part of eggplant won't be wasted. We mince the inside part of eggplant we cut out earlier, and fry in the pan with garlic and minced pork. This is to put on the top of the rice of our Doria.
Here we are spreading fried minced eggplant on the top. When participating in group, there is something for everyone to do. This is why it is fun cooking with friends, right?
Preparing the Dessert
Another team is getting the dessert ready. We slice eggplant in small pieces to make syrup. Also, we bake pie dough as a base of our tart.
We use the leftover eggplant to make Carpaccio. We slice eggplant into pieces and put lemon, ham and olive oil on top. Finally, we have ourselves a simple and delicious appetizer.
Lastly. we sprinkle the cheese on top and then bake in the oven. Here are our finished plates, Doria and tart Tatin. Looking delicious!
We get to learn more about specialty of southern Osaka through this cooking class from the instructor. I think this is very unique and interesting way to travel In fact, this is actually the first time I participated in the cooking class.
The instructor spoke English very well and easy to follow. I would say it was a refreshing experience in Japan for me. So, why not consider cooking class for your next trip in Kansai, I am sure you will learn something new about Japan in the new perspective.
Hope that you enjoy the content.
Let's try cooking class for your next trip in Kansai!
See more other food related contents
---
Latest Content

Enjoy travelling Kansai with KTIC
Tourist Information / PASS / WIFI / Day Tour
Kansai International Airport (KIX) T1
Open Everyday 9.30 – 17.30
Kyoto Tower 3F
Open Everyday 10.00 – 17.00