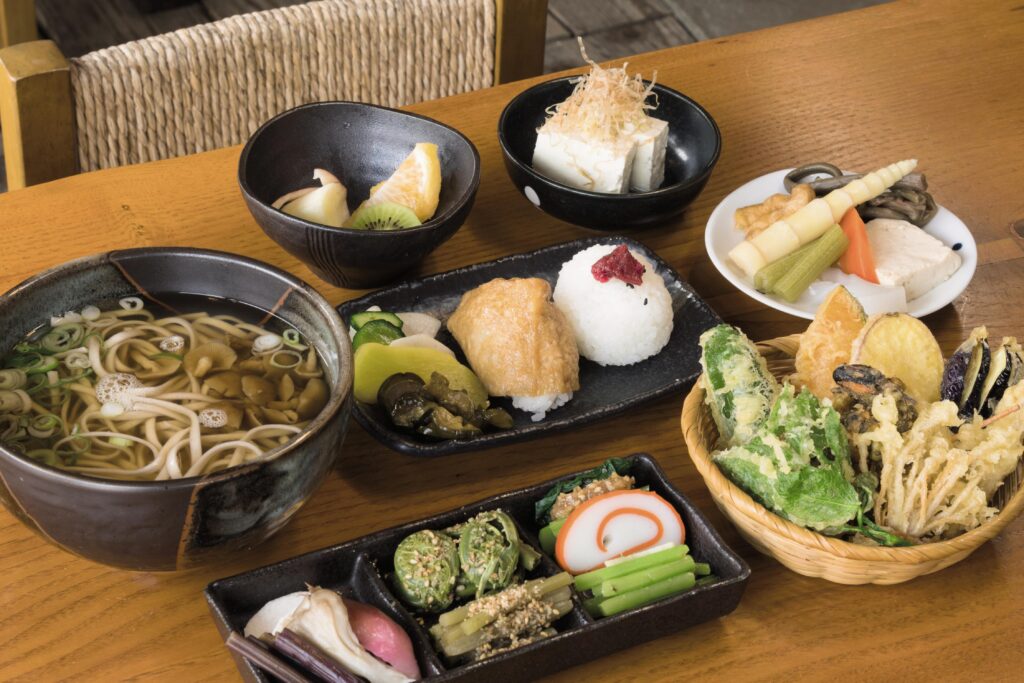 Japanese Table Manners
Japanese Cuisine is beloved by people all over the world. The outstanding element is not only just the taste and variety of food, but also manner on the table. If you are planning to visit Japan, these are basic things you should know about Japanese Table Manner and how to properly eat at the Japanese restaurant (even in your country).
Tempura
Put some grated radish in the dipping sauce.
Make bite-size pieces for pieces that are too big for one bite.
Dip in the sauce or put a bit of salt on and enjoy!
Sushi
Let the chef puts the sushi on your plate.
Turn the sushi over and dip only the topping in the soy sauce.
Feel free to use your fingers to pick the sushi.
Sukiyaki
Break an egg into your bowl and beat it with chopsticks.
Simmer some meat in the hot broth.
Dip in the egg and enjoy (this helps cooling down the meat)
Basic Manners
Big Dishes (Big Plate & Tray)
✓
– For the pieces that are too big, using your chopsticks to make bite-size pieces.
X
– Leaning forward to take a bite.
– Taking big dishes in your hand.
Small Dishes (Small Plate & Soup Bowl)
✓
– Lifting the dish up to your mouth
X
– Piling up the empty dishes
– Using your chopsticks to pull things closer to you.
How to use Chopsticks
✓
– Placing your chopsticks on the chopstick rest.
– Asking for a fork if you are having trouble with chopsticks.
X
– Passing food directly from chopsticks to chopsticks
– Spearing the food with the chopsticks
How to drink a bowl of soup
✓
– It 's okay to drink soup directly from your bowl.
– You can put the bowl with its closed lid outside the serving tray once it is empty.
X
– Making noise while sipping from the bowl.
See other food related contents
Hoping it will be useful for anyone who is planning to visit Japan in the near future.
Looking forward to seeing you in Kansai 🙂
Latest Content
---

Enjoy Kansai with KTIC
Tourist Information / PASS / WIFI / Day Tour
Kansai International Airport (KIX) T1
Open Everyday 9.30 – 17.30
Kyoto Tower 3F
Open Everyday 10.00 – 17.00