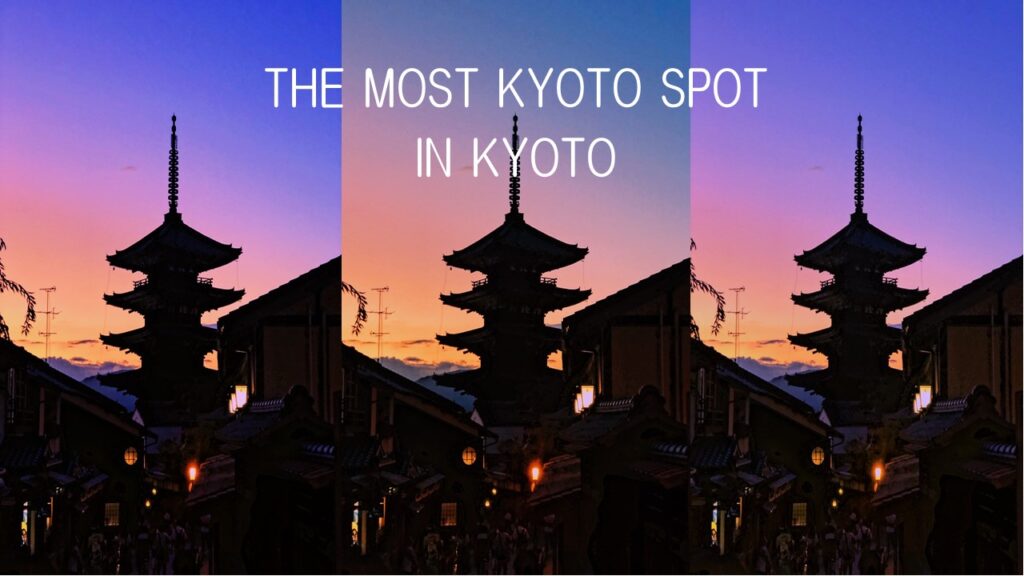 Ninenzaka & Sannenzaka: The Most Kyoto Spot In Kyoto
These two streets are the landmarks of Kyoto that every visitor should not miss. If you visit Kyoto and did not visit these two streets, you cannot fully say that you've visited Kyoto. That was probably an exaggeration but you know what I mean. All exaggerations aside, Ninenzaka & Sannenzaka is beautiful all year-round and every season. 🌸🌻🍁⛄
Since Ninenzaka & Sannenzaka is such a popular spot, it can be quite crowded during the day. If you prefer to avoid the crowd and don't mind the shops being closed, it is recommended that you visit in the early morning or during the evening.
The evening skies of these two magical streets is my personal favorite because it radiates a special and unique Kyoto vibe. Although most of the shops will be closed during this time, it is worth walking through the quiet streets and enjoying the evening Kyoto breeze. 🌙
Find out more about Ninenzaka & Sannenzaka in this article!
SUBSCRIBE
AND BE THE FIRST TO GET NOTIFIED ON NEW POSTS AND DISCOUNT COUPONS
---
🌸🌼

産寧坂
Sannenzaka
Sannenzaka is a walking path that is the best place to enjoy the elegance of Kyoto. The stone steps and gentle curves of the cobblestone path leads you to many Kyoto style souvenir shops and restaurants along the way. This area is selected as an Important Preservation District for Traditional Buildings based on Japan's Cultural Property Protection Laws.
📍MAP: https://goo.gl/maps/mGXqUnMt8yhdqWGeA

📜
Theories of the name "Sannenzaka"

There are various theories about the origin of the name "Sannenzaka" using different kanji letters.
The first theory, says that this slope leads to a place to pray for safe childbirth at Kiyomizu-tera Temple hence the kanji 産寧坂 with 産 meaning childbirth, 寧 meaning easy, and 坂 meaning slope.
The second theory, says that people passed through this street to make wishes and strengthen their prayers at Kiyomizu-tera temple. Once their wishes come true, they return to the temple to express gratitude by passing through this street once again. That's how it became the name "再念坂" with 再 meaning again, 念 meaning thoughts, and 坂 meaning slope.
The third theory, says that there is a street in Wakayama city that's called "三年坂" with 三 meaning three, 年 meaning year, and 坂 meaning slope. Legend says that if you fall on the slopes, you will only have three years left to live or your life will be shortened by three years. However, It is still unknown if the two streets actually have this relation. 🤔🤔
---
🌸🌼

二寧坂
Ninenzaka
Ninenzaka is a 17-step slope passing through Kodai-ji Temple to Kiyomizu-dera Temple and similar to Sannenzaka, it is lined with traditional houses along the sides that are unique to Kyoto.
It is named Ninenzaka because it is located below the Sannenzaka. (Ni meaning two and San meaning three)
📍MAP: https://goo.gl/maps/SLXvLGdydnegarAD7
---
🚌 🚇
Access
🚌 BUS:
From Kyoto Station: take bus number 100 or 206
Get off at Gojozaka bus stop and walk for 10 minutes or get off at Gion bus stop and walk for 15 minutes.
Bus fare costs 230 yen.
🚇Train:
Keihan Line: get off at Kiyomizu-Gojo Station or Gion-Shijo Station and walk 10-15 minutes.
Hankyu Line: get off at Kawaramachi Station
Tozai Line: get off at Higashiyama Station
---
Do you agree that this is the most Kyoto spot in Kyoto?
Share your thoughts in the comments section!
---
Streets To Check Out In Kyoto!
---
Latest Contents

Enjoy travelling Kansai with KTIC
Tourist Information / PASS / WIFI / Day Tour
Kansai International Airport (KIX) T1
Open Everyday 9.30 – 17.30
Kyoto Tower 3F
Open Everyday 10.00 – 17.00