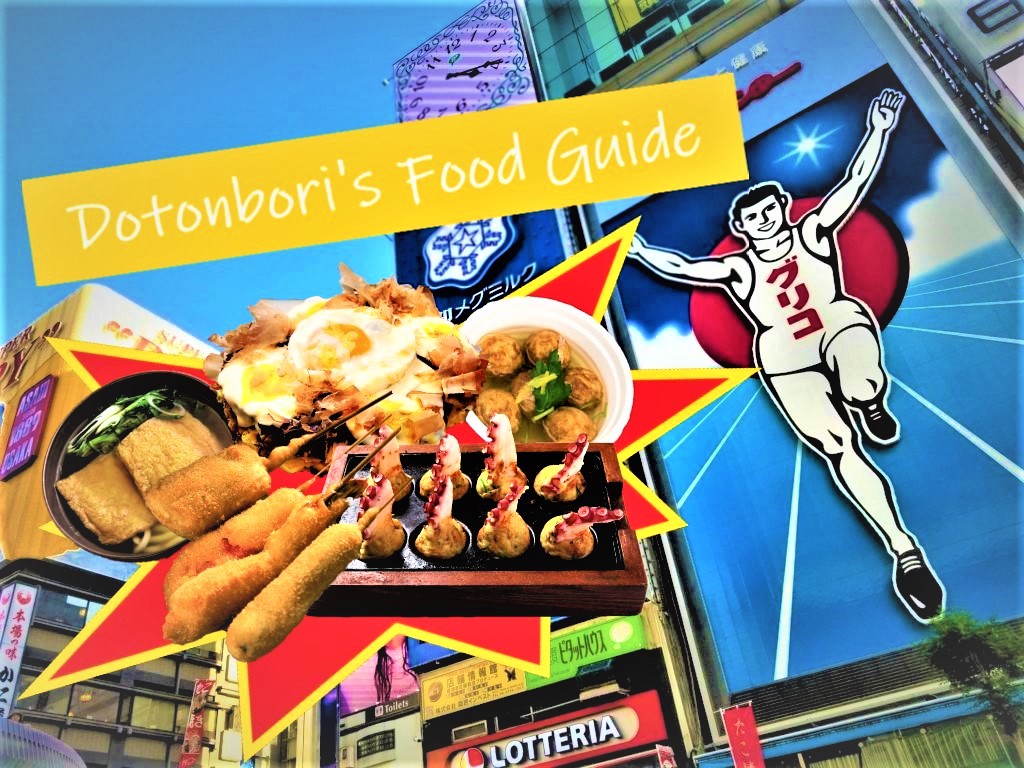 Must-Try Food in Dotonbori That Should Not Be Missed 
Prepare your stomach to enjoy one of the best gourmet locations of Osaka. Here is a list of must-try food in Dotonbori that should not miss by any circumstances!
---
With unique flavor and rich varieties of traditional foods, Osaka is known as one of the best kitchens of Japan. Because of that reason, visiting the downtown of Osaka where you can experience authentic dishes Osaka has to offer is a must, especially when you visit Kansai for the first time.
Here we will guide you through Dotonbori which is the landmark of Namba area and see the list of recommended restaurants we would definitely like you to try for your next visit to Kansai. Also, at the end of the article we will give you some tips to enjoy Japanese food correctly together with the most effective way to travel around Osaka by yourself.
Access To Food in Dotonbori
Osaka Metro
Namba Sta.
Exit 14,16 / B12-14-16-18 (5 minutes walk)
Midosuji Line Yotsubashi Line Sennichimae Line
Nankai Line
Namba Sta. (North Exit 8 minutes walk map)
Hanshin Line / Kintetsu Line
Osaka-Namba Sta. (5 mins walk map)
Exit 14,16 / B12-14-16-18 (5 minutes walk)
JR Line
JR-Namba Sta. (North Exit 10 minutes walk map)
Know more about the transportation system in Osaka
Now prepare to feel hungry and let's get started!
Recommended Food in Dotonbori
道頓堀 美津の Dotonbori Mizuno
This restaurant was founded as a "Youshoku-yaki" restaurant in 1945. It is known as a oldest group of Okonomiyaki store in Osaka, and customers line up in front of the restaurant everyday. The third generation proprietress in this restaurant made an addictively good and fluffy Yamaimo-yaki with yam batter without using flour. Fresh ingredients like pork and seafood are obtained from the Kuromon Shopping Mall, give it an exquisite flavor.
11 AM – 9:30 PM (Last Order) Open Everyday
Map
Website
Dotonbori Akaoni
道頓堀 赤鬼
Grilled takoyaki using raw octopus, as well as carefully selected ingredients. Baked with dough mixed with pungent broth. There are novel takoyaki such as chapu-chapu (floating on Japanese-style soup) and another with a twist to be enjoyed as a topping for shaved ice.
From 11 am to 10 pm
Wednesday (Open if Wednesday falls on a national holiday)
Map
Website
Dotonbori Imai
道頓堀 今井 本店
When most people talk about Osaka Udon, this is the restaurant who's name comes up the most often. Their udon has a perfect harmony between its rich flavored dashi (stock), high quality toppings, and firm noodles with tapioca. Enjoy the flavors of a restaurant that has been operating since 1946 with their basic Kitsune Udon (Udon with deep fried tofu).
11:00 AM – 9:30 PM LO
Wednesday (Open if a Holiday)
Map
Website
Boteju General main store Dotonbori
ぼてぢゅう總本店 道頓堀
An Osaka-style okonomiyaki restaurant with a long history founded in Showa 21 (1946). The dough made from 100% domestic flour and natural broth is grilled crisp on the outside and fluffy on the inside. We also recommend Hassho-modern-yaki and 70 year yakisoba noodles made by secret recipe.
From 11 am to 11 pm (LO at 10 pm)
Open year-round
Map
Website
Takoya Dotonbori Kukuru Main Store
たこ家 道頓堀くくる 本店
A long-established Takoyaki store with a giant octopus sign. The big pieces of octopuses are put into a soft and fluffy batter. Enjoy their octopus shabu shabu (hot pot), an octopus set meal, or oden.
12:00 PM – 11:00 PM (Mon-Fri), 11:00 AM – (Saturday), 11:00 AM – 10:00 PM (Sunday and Holiday)
Open Everyday
Map
Website
The Original Kushikatsu Daruma Dotonbori Store
創業昭和四年新世界元祖串かつ だるま道頓堀店
A popular store known as the origin of Kushikatsu (cutlet in skewer), it also has many branches in the Kansai area. The chairman of the Daruma store was the model (!?) for their signboard which shows a man with an angry expression saying "No double dipping".
11:30 AM -10:00 PM LO Regular
Open Everyday
Map
Website
Also, here are basic things you should know about the food and how to properly eat when visiting Kansai.
Cheapest way to travel in Osaka?
For your next trip in Osaka, it is better to plan ahead especially if it is your first time. There are several ways to travel around Osaka effectively and economically. One of them is the Osaka Visitor pass. Why not consider this pass when coming to Namba on your next trip? See more details from the link above.
---
Latest Contents

Enjoy Kansai with KTIC
Tourist Information / PASS / WIFI / Day Tour
Kansai International Airport (KIX) T1
Open Everyday 9.30 – 17.30
Kyoto Tower 3F
Open Everyday 10.00 – 17.00