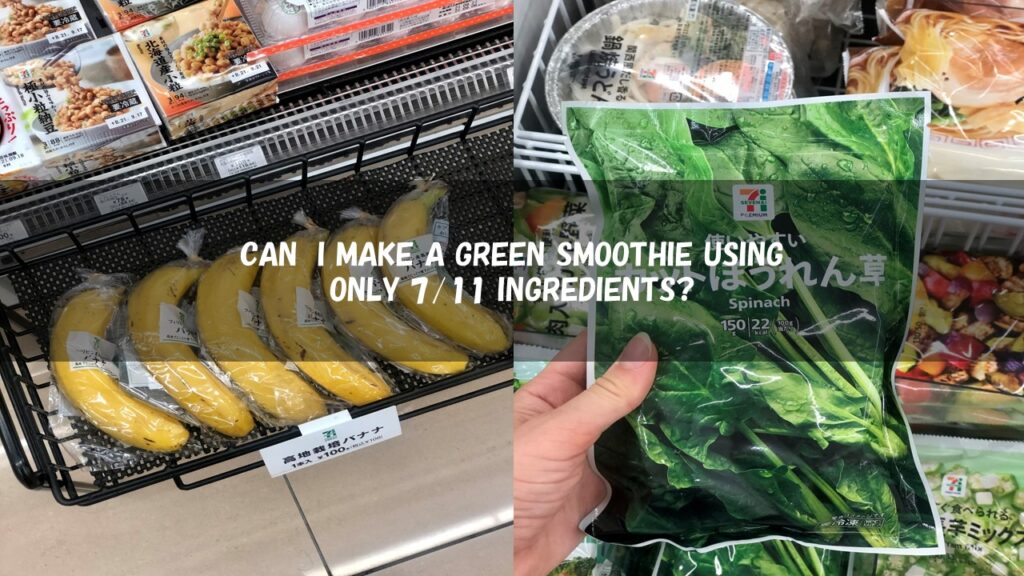 7/11 In Japan: Healthy Green Smoothie Challenge
We all know that convenience stores in Japan are pretty amazing. You can basically survive in Japan just by living off of 7/11 and convenience stores are pretty much a big part of everybody's daily life here. You can find 7/11 and other convenience stores in almost every corner!
I'm a big fan of smoothies and shakes and I make them all the time. One day I wondered if I could make a healthy green smoothie based on ingredients I can find at the 7/11 near my house. What do you think? Can I make a healthy green smoothie using only ingredients I find in 7/11 Japan? Let's find out!
---
What I found at 7/11 near my house…
Ingredient Number 1: Bananas🍌
Banana is an essential ingredient to the smoothie as it has lots of health benefits and adds a nice, smooth, sweetness!
Ingredient Number 2: Apples🍏
Apples also have a lot of health benefits and adds a nice yummy-ness to the smoothie. It helps hide the taste of the leafy greens and makes the smoothie taste better!
Ingredient Number 3: Frozen Spinach🥬
I was surprised to find this ingredient at 7/11! Frozen spinach cut into convenient pieces! The spinach is a key ingredient to the green smoothie and is mainly what makes this smoothie green. It has a lot of health benefits and it doesn't ruin the taste of the smoothie, making it easy and enjoyable to drink!
Ingredient Number: Frozen Avocados🥑
I can't believe they had this! Avocados are a great source of healthy fats that will keep you full for a while. It also adds creaminess to the smoothie making the texture and the taste even better!
Ingredient Number 5: Almond Milk🥛
Almond milk is plant based and is also a great source of vitamin E! It's a good idea to use nut milk instead of Dairy to make the smoothie extra healthy!
Blend Them Together!
After adding all of the ingredients, I blended them all together. Fingers crossed, I really hope it tastes ok!
The Final Outcome
It tasted amazing! I didn't taste the spinach at all and the smoothie tasted like a creamy snack! The ingredients from 7/11 worked and I was able to make a successful smoothie. I think I will keep buying the frozen spinach from 7/11 as it is quite convenient and the quality feels pretty high. The taste is also not as strong as the spinach I usually get from the super market.
Over all I give this ⭐⭐⭐⭐ stars out of Five! I was surprised to find ingredients such as frozen spinach and avocado and the results were better than I expected!
✏️TIP
I usually like to add natural nut butter and chia seeds to my smoothies for extra protein and fiber.
❓What kind of challenges do you want to see? Let me know in the comments!
If you want to follow this challenge, take a photo of your results on social media and tag #kansaichan !
---
Related Articles
---
LATEST CONTENTS

Enjoy Kansai with KTIC
Tourist Information / PASS / WIFI / Day Tour
Kansai International Airport (KIX) T1
Open Everyday 9.30 – 17.30
Kyoto Tower 3F
Open Everyday 10.00 – 17.00