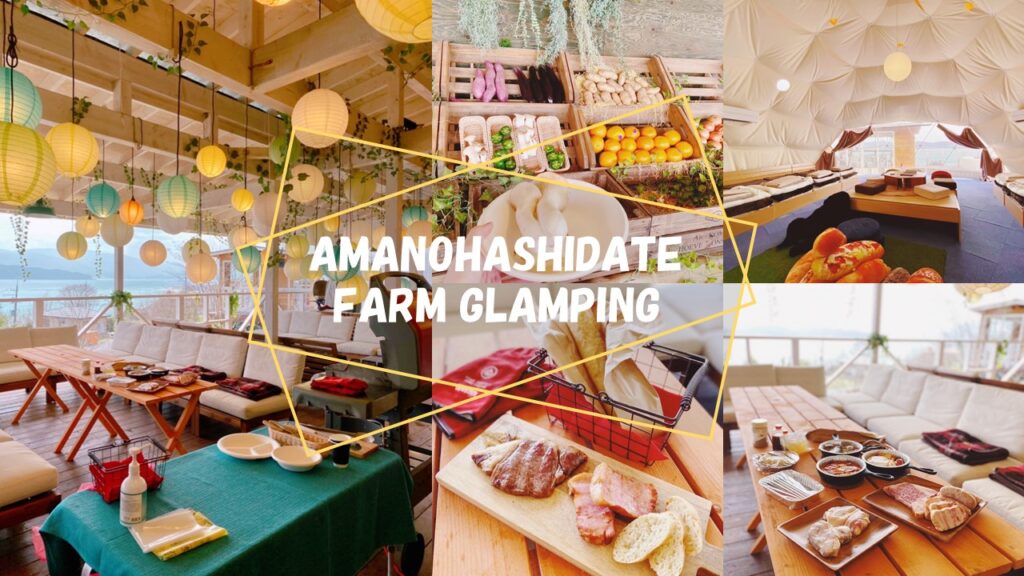 Amanohashidate Farm Glamping: Stay Somewhere Different In Kyoto
Glamping (glam+camping) is a different alternative to hotels which have become popular recently. It is like camping, but more convenient with all the amenities you would expect to have in a hotel. It is a nice in-between. In this article we will be introducing Amanohashidate Farm Glamping which is one of the best glamping resorts near Amanohashidate, Kyoto.
---
⭐What is Amanohashidate?
Amanohashidate (天橋立) is one of Japan's top three scenic sights. It is a 3.6 km long sandbank that separates Miyazu Bay from the Aso Inland Sea. The white beach is planted with about 8000 pine trees and is indeed a place of special scenic beauty.
---
🌿Basic Information About Amanohashidate Farm Glamping🌿
Amanohashidate farm glamping is a glamping facility built on a hill in Miyazu City, Kyoto Prefecture with the theme of food education. Depending on the season, there are free activities offered at the private farm nearby such as vegetable harvesting. Their concept is to offer a food education glamping facility where children can develop their understanding and gratitude for food through their food related experiences here.
OFFICIAL WEBSITE (Only in Japanese)
🌿Map
---
🌿Why Do I Recommend Amanohashidate Farm Glamping?
It's a place where you can enjoy a nice meal as a group! Have fun with your family and friends while cooking, eating, and trying new farm activities! You can also easily visit fantastic places nearby because a 10-minute drive will take you to Amanohashidate, one of the three most scenic spots in Japan, and a 20-minute drive will take you to Funaya (boathouses) in Ine Town.
🌿Who Do I Recommend Amanohashidate Farm Glamping to?
Families, groups of friends, and people who enjoy barbeques and taking photos in instagrammable locations!
🌿What Is The Best Season To Visit?
Spring🌸 to Summer☀️
---
Similar Articles
---
⭐The Room
Staying in a dome shaped room gives a different feeling from staying in a normal hotel room. It's a space that makes you want to talk all night long. No matter with who you are spending the night here with, you'll open up and get to know each other better.
---
⭐The Atmosphere
Enjoy being in an open and fashionable space while gazing at the beautiful Miyazu Bay.
---
⭐The Food
If you put Kyoto Wagyu beef on the cutting board, it will look luxurious and instagrammable.
Not only can you enjoy the regular BBQ, but you can also enjoy ratatouille and aqua pazza that is made using fish from Miyazu Bay!
You can choose fresh seasonal vegetables to your liking!
How about warm mitarashi dango (sweet rice dumplings with sweet soy sauce glaze) for your BBQ dessert?
---
💚Choosing to stay somewhere different from a usual hotel might be a good idea for your next trip in Japan. There are many alternatives to choose from such as camping, glamping, ryokans, guesthouses, homestays, and house rentals etc.
What kind of stay would you like to try in Japan and where?

---
LATEST CONTENT

Enjoy Kansai with KTIC
Tourist Information / PASS / WIFI / Day Tour
Kansai International Airport (KIX) T1
Open Everyday 9.30 – 17.30
Kyoto Tower 3F
Open Everyday 10.00 – 17.00