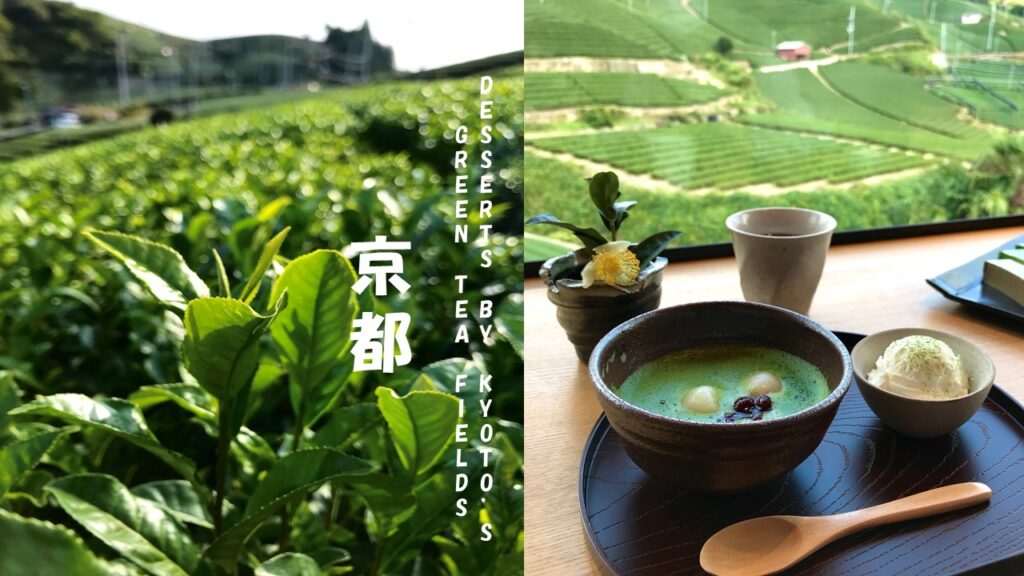 Green Tea Desserts Right Beside Kyoto's Tea Fields
Matcha Green Tea is beloved by many and is enjoyed in many forms. It is used in drinks, desserts, and is also used in food such as green tea soba noodles! Japanese green tea is delicious and has many health benefits. Imagine drinking green tea and eating green tea desserts right by the beautiful Kyoto tea fields that they came from! This article will be introducing dan dan cafe, a café in Wazuka, Kyoto where you can make that happen! 🍵🍵🍵
⭐Useful Link: https://hiddenkyotocountryside.com/
SUBSCRIBE AND BE THE FIRST TO GET NOTIFIED ON NEW POSTS AND DISCOUNT COUPONS
---
Kyoto's Tea Fields In Wazuka Town

🌿
Wazuka Town is a special little town in Kyoto because it has a 800 year old history as one of the main production areas of the famous Uji Tea! It is home to around 300 tea growing families and many activities can be enjoyed here including tea harvesting, volunteering, tea tasting, cycling, and brewing etc.
The tea fields here stretch beyond your eyesight and hills of perfectly lined green tea are just so relaxing and satisfying to watch.
---
Related Article
---
📍Where is Wazuka?
Wazuka is located in the southern part of Kyoto and is about an hour train ride + a 20 minute bus ride away from Kyoto Station.
🚇The closest train station is Kamo Station.
Read more about how to get there here.
---
🍵
dan dan cafe
This café is located in Wazuka, Kyoto and is surrounded by aesthetic tea fields. Here, you can enjoy delicious tea and desserts made from the finest tea leaves while enjoying the breeze and the views of tea plantations.
📍MAP: https://goo.gl/maps/gdfQ2RMAqvjd6qzC9
🚗(Recommended to go by car)
🕒Opening Hours: Thursday to Monday10AM – 4PM, (10AM – 5PM July-September)
(Closed on Tuesdays & Wednesdays)
ℹ️Wesbite: https://dandancafe.business.site/?utm_source=gmb&utm_medium=referral (Only in Japanese)
🕮Menu: https://tabelog.com/kyoto/A2607/A260705/26032515/dtlmenu/photo/ (Only in Japanese)
📞Contact: 0774-66-1185
⚠️ Lunch menus require a reservation. Please call at least one day in advance to make a reservation. If the day before is a national holiday, leave a voice message.
Zenzai is a traditional Japanese dessert that is often served hot. The main ingredients of Zenzai are usually sweet red bean and mochi (rice balls). It is quite rare to find Green Tea Zenzai outside of Kyoto, so make sure to get a taste of this delicious treat when you visit!
Outdoor seating is a great choice for days when it is nice out! Nothing beats the feeling of indulging in delicious green tea desserts while overlooking the tea fields that expand beyond your eyesight. 🌿
---
Rules To Follow When Visiting The Area
⚠️Do not enter the fields without permission because the tea plantations are privately owned!
⚠️Respect the tea farmer's privacy and refrain from taking their photos from a close distance.
⚠️Do not leave any trash. Take your trash home!
⚠️Refrain from parking on the street as it may interfere with farm work. (Please use the parking lot of Wazuka Tea Cafe instead)
---
Similar Article
---
LATEST CONTENTS

Enjoy Kansai with KTIC
Tourist Information / PASS / WIFI / Day Tour
Kansai International Airport (KIX) T1
Open Everyday 9.30 – 17.30
Kyoto Tower 3F
Open Everyday 10.00 – 17.00