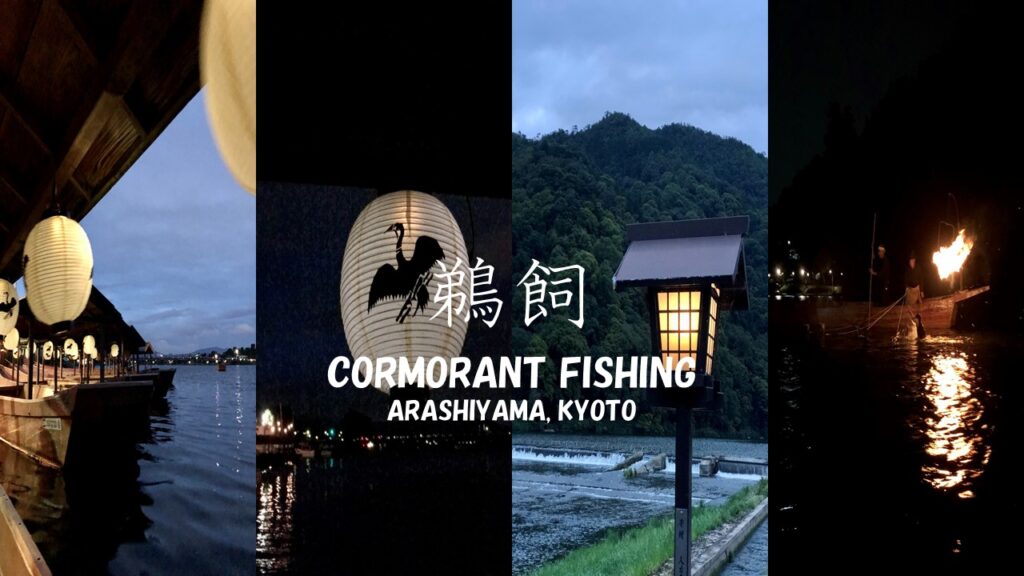 Cormorant Fishing (Ukai) in Arashiyama, Kyoto (With Video)
Cormorant fishing (Ukai in Japanese), is a traditional fishing method that has a very long history in Japan. This method uses trained cormorants called Umiu to catch river fish and it is said that this practice has been carried out from around the Heian period.
A large fire is attached to a wooden boat at night and the trained cormorants dive under the water to catch fish. The fish is then retrieved later by the trained fishermen. It is said that if the fish served at the restaurant has a bird's beak print on it, it is considered high quality.
It is very rare these days to find this type of traditional fishing method, as it is only mainly held as an attraction for tourists in limited locations. These days it can be found in Gifu Prefecture and Kyoto prefecture. In Kyoto prefecture Ukai can be seen in Uji and Arashiyama from the beginning of July until around the end of September.
In this article, I'll be sharing my first Ukai experience in Arashiyama, Kyoto!
---
Arashiyama, Kyoto
Arashiyama is one of Kyoto Prefecture's most famous tourist destinations and is most known for its aesthetic bamboo forest.
📍Map
Aside from that, there is a big and beautiful river flowing through the area where small boat services are offered for various activities such as touring or even dining on! Arashiyama is also blessed with many amazing traditional Japanese restaurants, shrines, temples, and even hiking trials.
Without doubt, Arashiyama is a great place to visit during the day, but it is also a fantastic place to visit after dark. The quiet, mystical and traditional atmosphere surrounded by the sound of the flowing river is definitely an experience worth your time.
Find out more about Arashiyama in these articles!
---
🐟🌙
My Cormorant Fishing (Ukai) Experience
It was the first time I've heard of such practice and I didn't really know what to expect. I arrived at the boat pier at around 6PM to get my tickets. It was late September so it was already getting quite dark so the lanterns were already lit.
The atmosphere was very mystical with the beautiful lantern lights reflecting on the river's water.
Around ten people were led onto each boat and there was enough space to sit comfortably and enjoy your own time. There was only one man per each boat who were in charge of making the boat move by using just a paddle. How strong!
The boat started moving along the dark river but the lanterns that hung on the boat gave just enough light to see the surroundings.
I rested my head on the edge of the boat and let the fresh cool breeze brush against my face as I enjoy the beautiful night-time scenery surrounding me.
The lanterns on the boat had very cool and detailed cormorant prints on them!
After some time, I started hearing shouts that meant for us to pay attention because the fishing boats were about to pass by!
I looked and saw a ball of bright light from afar that looked like it was a ball of burning bon fire!
As the fishing boat came closer, I saw three fishermen on the boat wearing something that looked like a skirt made from dry straw. They were shouting chants while the cormorants dug their face down to catch fish.
People cheered as the cormorants worked hard to catch the fish and clapped when fish were successfully caught.
The overall time on the boat was around an hour and there were two fishing boats that came by several times on both sides of the boat I was sitting on.
---
🐟🌙
Cormorant Fishing (Ukai) Video
If you're ever in Kyoto during summer time from July to September, I definitely recommend experiencing this at least once and tap into the lifestyle Japanese people had back in the days.
LINKS
Arashiyama Cormorant Fishing's Website : https://arashiyama-yakatabune.com/cormorant-fishing (Only in Japanese)
Arashiyama's Pleasure Boat's Website: https://arashiyama-yakatabune.com/ (Only in Japanese)
---
LATEST CONTENTS

Enjoy Kansai with KTIC
Tourist Information / PASS / WIFI / Day Tour
Kansai International Airport (KIX) T1
Open Everyday 9.30 – 17.30
Kyoto Tower 3F
Open Everyday 10.00 – 17.00