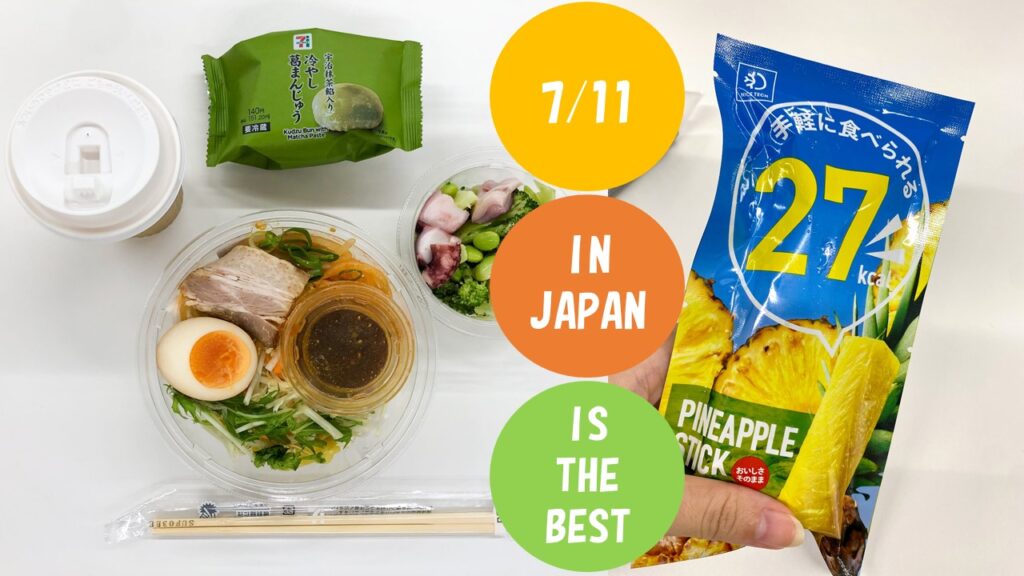 7/11 In Japan: Reasons Why It's The Best & Things That Just Make Sense
You probably know 7/11, a convenience store chain that could be found in different locations around the world. The 7/11 in each country has their own characteristics and charms. But let me tell you that the 7/11 in Japan though, is out of this world. Let, me tell you again, IT IS OUT OF THIS WORLD.
7/11 in Japan takes convenience stores to a whole new level. It has raised the bars for all the convenience stores that exist in the universe. It really does live up to its name because it is indeed CONVENIENT. You can find everything there, from delicious fresh food, fresh coffee, ATM machines, and even a printing and copy machines!
Find out why 7/11 is so good in this article!
---
Why 7/11 In Japan is the BEST
⭐⭐⭐⭐⭐
Here are a few reasons (out of the million reasons) why Japan's 7/11 is the best.
1. You can find new and freshly made meals everyday which tastes AMAZING. The food you find is not your typical convenience store food where everything is either frozen or soggy and mysterious. The food you find at 7/11 in Japan is legit. It's REAL FOOD.
2. You can find healthy, wholesome food. It is very very easy to have a healthy full course meal here. You can find all sorts of healthy things here, from tofu bars, chicken breasts, fresh salad, fruits, to low calories and low sugar desserts! I even got some frozen spinach from 7/11 the other day for my green smoothie! Like what?!
3. The packaging makes sense. The packaging of the food is well thought out and is made in a way which you can easily open, conveniently eat anywhere, and make the least mess. Life is easy even though you're not eating at home or at a restaurant.
4. They have everything you need and things you didn't even know you needed. Aside from the amazing food, they have ATM machines, printers, copy machines, fax machines (what?!), other daily necessities, and most importantly, THEY HAVE A TOILET !!!!
5. They have cheap amazing freshly brewed coffee that I, personally think is better than a lot of the coffee shops out there. If you haven't tried Japan's 7/11 café lattes, you are missing out BIG TIME. I don't know what kind of milk or cream they use, but each sip makes you feel like you are floating on a cloud. It's also very cheap! (Ice coffee starting from 100¥ or $1)
---
A glimpse into what you can get for lunch at 7/11 in Japan
Here is a peak into some stuffs I found at a 7/11 nearby, and some examples of what Japanese people have for lunch!
Lunch 1 (Healthy & Low Calorie)
(From left) Frozen pineapple stick, Tofu bar, (top) Mentaiko (spicy pollock roe) & mayonnaise flavored rice ball, (bottom) egg rolls, (right) green tea.
On the packaging it says "special tea". Apparently this green tea has extra catechin, which is an antioxidant that also helps break down excess fat! It's quite bitter and tastes a bit different from the green teas that I usually drink. But if it is healthy and helps me lose my excess fat, I am willing to drink it everyday.
What's this?! Pineapple on the go? A low calorie, healthy refreshing snack that is just perfect for summer. The packaging is quite smart too. Check below!
---
Lunch 2 (Healthy & Balanced)
(Front) Oyako-don (seasoned chicken and egg on rice), (right) vegetable soup, (left) octopus and broccoli basil salad, (back) hot café latté.
What's this?! Miso soup with seven types of vegetables?! SEVEN TYPES?! I don't think my mom has ever made me soup with that many types of vegetables. How diverse!
---
Lunch 3 (Healthy & Wholesome)
(Bottom) Ramen salad with spicy dressing (YUM!), (right) octopus and broccoli basil salad (seems like this is quite popular), (left) hot café latté, (top) cold matcha rice cake dessert.
---
Lunch 4 (Not That Healthy But Tried To Be)
(From left) matcha latté by the famous green tea maker!, vegetable juice, shrimp pilaf in a cup (tastes amazing and the utter was very aromatic), garlic beef and potatoes. (bottom) salmon rice ball.
What's this?! On the package, it says that this vegetable juice is free from salt, sugar, and contains 350g of vegetables which is the amount we need in a day! Wow! One whole day's worth of vegetables in one package! My meal seemed a bit unhealthy compared other people's so I grabbed this juice box to help me feel a little bit healthier. To be honest it doesn't taste that great, but it's bearable. If I can get a day's amount of vegetables that my body needs just by drinking this, count me in, I'll drink it everyday.
---
7/11 Packaging That Just Makes Sense
Egg rolls cut into bite size pieces?! Tofu and pineapple on the go?! Bag that becomes a plate?! Japanese 7/11 has it all figured out!! How cool is that?
---
⭐What is your most memorable experience in a 7/11 in Japan?
⭐Leave a comment letting me know what other amazing things I can find at 7/11 !
⭐Also, how much would you rate the 7/11 in your country on a scale of 1 to 10?
---
Master How To Correctly Open Rice Balls!
---
⚠️THIS IS NOT A PAID ADVERTISEMENT⚠️
---
Latest Contents

Enjoy Kansai with KTIC
Tourist Information / PASS / WIFI / Day Tour
Kansai International Airport (KIX) T1
Open Everyday 9.30 – 17.30
Kyoto Tower 3F