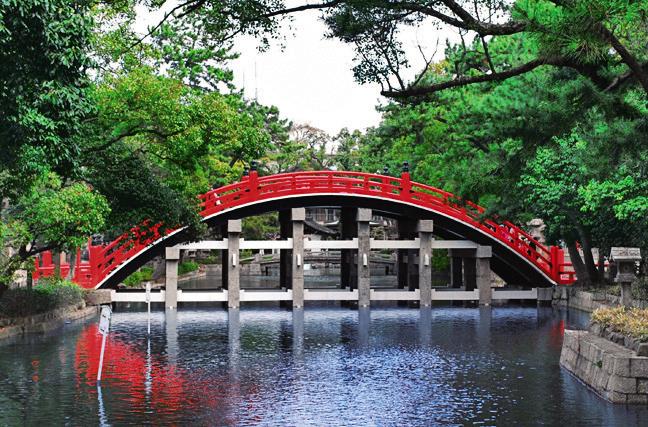 Sumiyoshi Taisha Shrine Guide
A comprehensive guide to Sumiyoshi Taisha, one of the most important shine in western Japan. Know the best access and recommended activity you must do during your visit.
---
Sumiyoshi Grand Shrine
One of the most important shrines in Kansai, especially in Osaka, Sumiyoshi Grand Shrine has a very distinct and unique giant, steep and bright red bridge, inviting people to pay the visit and try crossing it. Also, it is one of the most sacred shrine in western Japan. This is why it is also considered as the most visited shrine in Japan during new year. More about this topic later.
Useful Info
Time Spent: 1 hr
Activity: Shrine
Recommend: Everyone
Restaurant : Train station area
Sumiyoshi Taisha sta. (Nankai Line)
Access
This shrine is located outside the Osaka busiest district (Namba) towards the south of the area. There are 2 transportation systems that can take you there as below.
Nankai Line
Sumiyoshi Taisha sta.
Access though Local Main Line only
East exit walk 2 mins (Map)
Nankai system is recommended to access the shine. This is because Nankai system is connected with other main transportations from Kansai Airport and major districts in Osaka such as Namba and Shin-Imamiya.
If you start your trip from other locations in Osaka, you can find your way to Shin-Imamiya sta. using JR line or Osaka Metro system. From other cities like Kyoto, Nara or Hyogo, JR line would be more convenient. For Kansai Airport or Wakayama, you can start using Nankai line right away.
Know more about transportation from Kansai Airport
Importantly, make sure you get on the Local line of Nankai system. If you take Semi-Express, Airport Express and Rapi:d Express. The train will not stop at Sumiyoshi Taisha sta.
Express: KIX → Tengachaya → Shin-Imamiya → Namba
Local : Tengachaya → Sumiyoshitaisha → Shin-Imamiya
However, it is recommended is you want to travel fast or happen to get on the express train. In that case, please make sure make a transfer to Nankai Main Line (Local train) at either Tengachaya sta. or Shin-Imamiya sta.
Hankai Tram
Sumiyoshitorii-Mae sta.
Walk 1 min (Map)
This tram will stop right in front of the shrine. It is convenient if you are staying along the side Hankai tram line like Tennoji area. However, this tram will take longer time to travel due to the number of stops and speed. Please take the train unless you would like the experience riding tram specifically.
Know more about Osaka Transportation Systems
Activities in the area
First Shrine Visit of the year (Hatsumode)
It is tradition in Japan to believe it is a best way to do to start the year. As the result, lots of people decide to go to the shrine or temple the night before (31st DEC), the 1st of January or even the first week of the year.
Sumiyoshi Taisha is considered to be the most popular and most visited shrine during new year in Kansai, or even in Japan in some years. This is because this shrine is believed to be one the strongest "power spots" in the country.
Many Japanese believe that some places like temples or shrine have strong spiritual power and energy of the earth and bring good fortunes, healing and power to visitors. So, it is better to start the year by receiving the blessing at the power spots.
Regularly, the shrine is open for everyone to visit and pray. It is less crowed during the regular time as well. So make sure to stop by if you have the chance.
---
Latest Contents
Enjoy travelling Kansai with KTIC
Tourist Information / PASS / WIFI / Day Tour
Kansai International Airport (KIX) T1
Open Everyday 9.30 – 17.30
Kyoto Tower 3F
Open Everyday 10.00 – 17.00