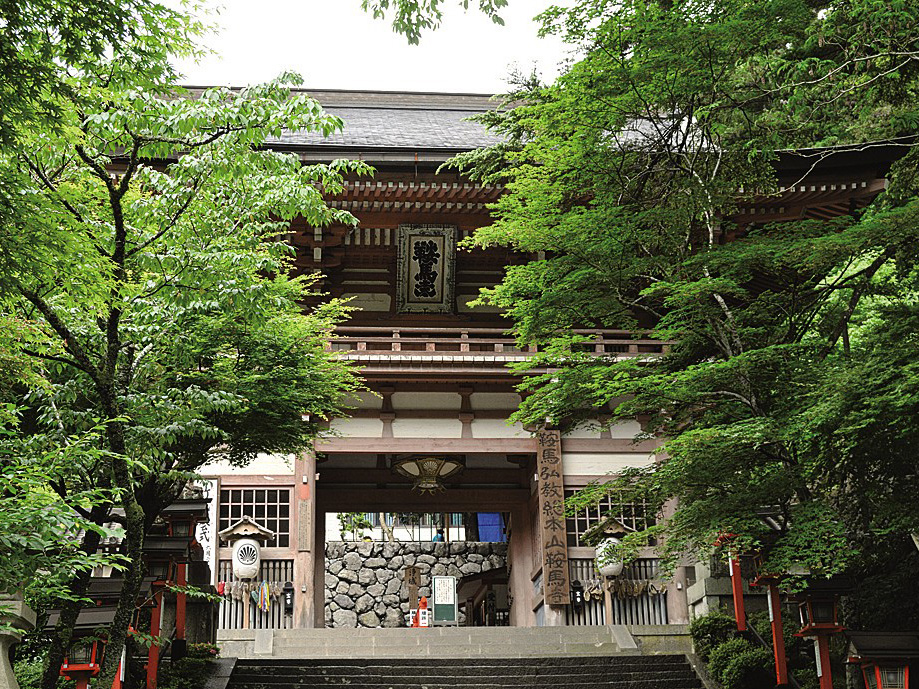 Kurama Temple Guide
Here is a Kurama Temple guide. Know about one of the most sacred temple in Kyoto, what to do in the area and best access from the city.
---
Kurama Temple
The temple was founded in 770, when the high priest Ganjinʽs best pupil, Gantei enshrined Vaiśravana here. According to legend, the gods came down to this spot from Venus 6.5 million years ago. In The Pillow Book, the Tsuzuraori-sando approach from the Nimon Gate is referred to as ʽsomething near yet far'.
Useful Info
Time Spent: Half day or above
Activity: Temple, Shrine, Hot Spring
Recommend: Adults
*Long and steep pathway from train station to the temple
Restaurant : Train station area
Kurama sta. (Keihan Line)
Access
Kurama sta.
Eizan Railway (connecting with Keihan line)

Keihan Line (Train)
The temple is located on the mountain deep inside the northern forest area of Kyoto city. As the result, it requires couple of transfers using several different systems. Mainly, Keihan line and Eizan railway are the most convenient to take you there.
*(January 2021) Some parts of Eizan railway are under renovation and stop providing service. Please refer to official website for latest update. Access through subway + local bus is recommended until Eizan railway is back to normal operation.
From Kyoto
Make sure you bring yourself one of train stations along Keihan line. Then, take the train to terminal station, "Demachiyanagi sta.". You will find the connecting platform of Eizan railway with the same station name. After transferring, riding the Eizan railway to the terminal station "Kurama station".
From Osaka
In fact, Keihan line the is train system that connects center of Osaka city to eastern Kyoto. If you stay in Osaka, you can start your trip from major stations like Yodoyabashi sta., Kitahama sta. or Kyobashi sta.. Once you reach Kyoto's area, you can just follow the same route as above.
From other cities
There is no direct access from other cities like Kobe, Himeji or Nara. You have either access through Osaka to use Keihan line (for Nara and Wakayama), or come to Kyoto directly first (for Kobe and Himeji).
Bus
There is direct local bus to Kurama area from Kokusaikaikan Sta. which is a part of Kyoto municipal subway (Karasuma Line). You will find the bus stop No.3 right in front of the subway station. Please look for Bus 52 (For Kibune-guchi & Kurama onsen) and pay 330 yen at the bus to Kurama sta. (30 mins ride)
Ropeway
As already mentioned, the temple is location on the top of mountain, which requires sometime to reach by walking (20-30 mins). The trail is not so challenging but still steep at some point. So, there is ropeway service available which makes thing much easier. See more detail here.
Keihan Kurama Kibune Pass
There is pass that gives you unlimited transportation ride and may be able to save you money a lot. Stay tuned for more contents about this topic soon.
Activities in the area
Power Spot
An open space in front of main temple is believed to be the point has celestial alignment to Venus. Many Japanese believe that this place have strong spiritual power and energy of the earth and bring good fortunes, healing and power to visitors.
Yuki Jinja Shrine
An ancient shrine that was moved from Kyoto's imperial palace in 940, and enshrines the Ujigami (guardian deity) of the entie Kurama area. The divided prayer hall was rebuilt by Toyotomi Hideyori.
Pathway between entrance to Kurama Temple (Map)
Kurama Onsen
You can enjoy one of the best natural hot spring of Kyoto here. Since Kurama area is located quite for from the main city area. Why not plan at least a half or full day to visit Kurama, so that you don't need to rush yourself and enjoy both rich nature and culture at the fullest.
One day course
2,500 yen (Adult, towel and Yukata robe included)
1,600 yen (4-12 years, towel and Yukata robe included)
Open-Air Hit Spring only
1,000 yen (Adult)
700 yen (4-12 years)
MAP
---
Latest Contents

Enjoy travelling Kansai with KTIC
Tourist Information / PASS / WIFI / Day Tour
Kansai International Airport (KIX) T1
Open Everyday 9.30 – 17.30
Kyoto Tower 3F
Open Everyday 10.00 – 17.00