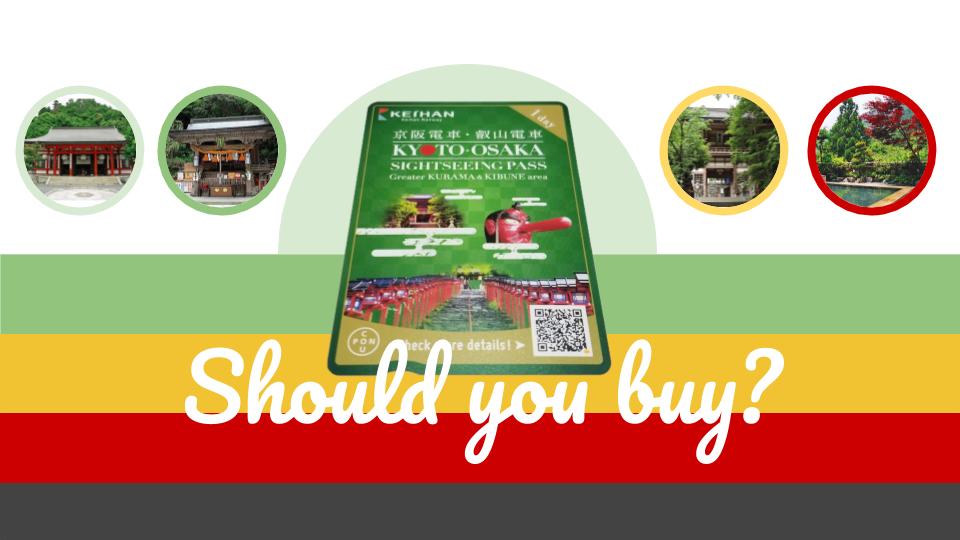 Should you buy Keihan Kurama Pass?
Should you buy Keihan Kurama pass? what is the best way to benefit from this pass when traveling to Kurama? This comprehensive guide has it all covered for you.
---
What is Keihan Pass?
Firstly, you need to know the basic of train system in Osaka and Kyoto. Keihan line is one of the private railways system which connect central Osaka with North and eastern Kyoto. It is one of the most convenient ways to travel between two cities back and forth. Also, it is the only access to the specific area of Kyoto such as Kurama and Mt.Hiei.
As a common thing in Japan as each transportation system usually has its own special pass, Keihan line takes to the next level and offers many types of pass to answer all needs of every tourist.
Mainly, there are 6 passes which cover routes to major sightseeing spots in Osaka and Kyoto for various types of trip. In this blog, we will focus on Greater Kurama & Kibune Area in particular.
Greater KURAMA & KIBUNE area
Basic attributes of this pass are as follows.
1 Day Pass (1,700 yen)
Unlimited Ride
In short, this pass covers 2 transportation systems as Keihan main line and Eizan Railway. Demachiyanagi sta. is the connecting spots between twos which requires you to make a transfer if you want to travel to Kurama area.
Iwashimizu-hachimangu-sando (Keihan Cable Line) is one of the famous shrines to visit during new year for Japanese people. Know more about New year's tradition in Kansai here.
See full official map for Keihan Line + Eizan Railway here
Place you can visit with this pass
Kurama Area
Inner Kyoto City Area
Outer Kyoto City Area
Osaka Area
Yodoyabashi sta.
Kitahama sta.
Kyobashi sta.
Decision to make a purchase
Buy if you…
Stay in Osaka and want to a daytrip to Kurama area
Stay in Osaka and want to a daytrip to Mt. Hieizan area
Plan to visit sightseeing spots on the list of Inner Kyoto city area (above) on the same day You visit Kurama or Hieizan
Don't buy if you…
Stay in Kyoto and want to go to Kurama Area
Want to do a single trip train ride from Osaka to Kyoto
Want to go to just Hirakata park or Fushimi-Inari Shrine
Comparison
Here is the price chart of Keihan train regular fee
Osaka to Kyoto
Price
Time
Yodoyabashi
→ Fushimi-Inari
410
50 mins
Yodoyabashi
→ Gion-Shinjo
420
50 mins
Yodoyabashi
→ Demachiyanagi
480
60 mins
Kyoto to Kurama Area
Price
Time
Demachiyanagi
→ Kurama
430
45 mins
Demachiyanagi
→ Kibune-guchi
430
40 mins
Demachiyanagi
→ Yase-Hieizanguchi
270
15 mins
1 Adult Regular Fee per ride
Where to buy
All types of Keihan pass are available at both stores of Kansai Tourist Information Center. No advance reservation is needed
Kansai International Airport (KIX)
Terminal 1 Central Exit 1F
Open Everyday 9.30 – 17.30
Kyoto Tower 3F
Open Everyday 10.00 – 17.00
---
Latest Contents

Enjoy travelling Kansai with KTIC
Tourist Information / PASS / WIFI / Day Tour
Kansai International Airport (KIX) T1
Open Everyday 9.30 – 17.30
Kyoto Tower 3F
Open Everyday 10.00 – 17.00