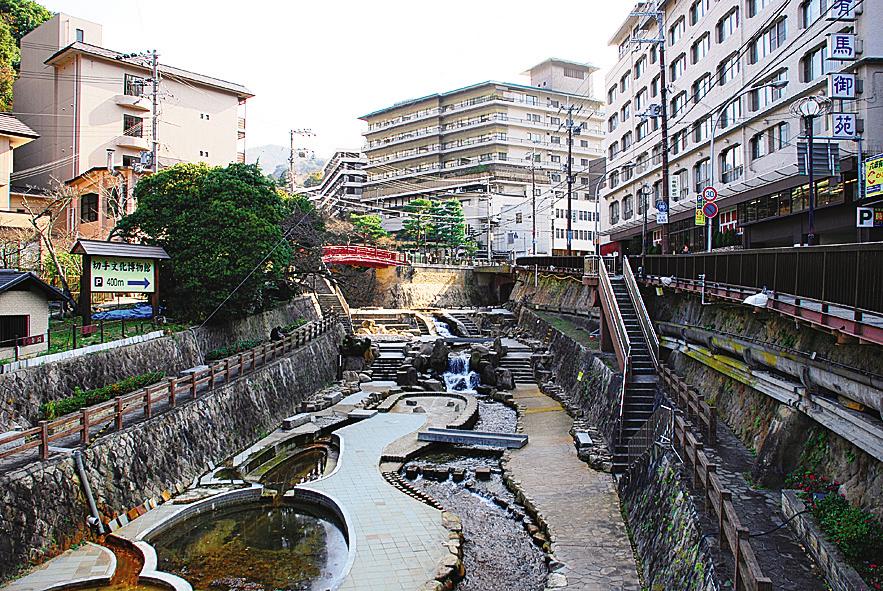 Arima Onsen Hot Spring Guide in Kansai
Arima Onsen guide to one of the leading hot springs in the Kansai area with perfect fusion of both retro and modern, and also recommended hot spring in the area that you should not miss!
---
Arima Onsen Hot Spring
Arima Hot Spring, one of the best spa in Kansai area known for the patronage of Toyotomi Hideyoshi. Located in the center of Arima Hot Spring Street.
This well-loved hot spring with its unique landscape has 31 accommodation facilities located around the hot spring area and the mountain slope. Three of the hot spring facilities warmly welcome day-trip bathers. The reddish-brown, iron-containing spring of Kanaizumi is representative of the hot spring water quality available here. Alternatively, there is also the transparent spring water of Ginizumi.
White clouds of vapor rise at this hot spring, located at the base of Mt. Rokko and Mt. Atago in the Hanshin area. It is a highly historical place, and even the Emperor Jomei commented about his stay at Arima Hot Spring in The Chronicles of Japan. It is believed to have been founded by Gyoki in the Nara period (710-794) as a hot spring to cure illnesses. Numerous famous and powerful people have stayed here since then, including the likes of Hideyoshi Toyotomi.
USEFUL INFO
Time Spent: Half day or more
Activity: Hot Springs, Street Food
Recommend: Everyone
Restaurant : In area
ACCESS
Direct
Train
1.Sannomiya Sta. → Tanigami Sta.
(Kobe Subway connecting with Kobe Dentetsu Line)
280 Yen 11 Min
2.Tanigami Sta. → Arimaguchi Sta. → Arima Onsen Sta.
Kobe Dentetsu Line (1 Transfer)
400 Yen 5 min
Bus
From Osaka (Hankyu Sanban Gai)
1,400 Yen (Adult) 700 Yen (Child)
Website
From Kyoto (Hachijo Exit H2)
1,650 Yen (Adult) 830 Yen (Child)
Website
From Sannomiya Sta. (Kobe)
710 Yen (Adult)
Time Table
Via Mt. Rokko
There are ropeway which connects Mt. Rokko with Arima onsen. Technically, you can visit both places on the same day. Please see the line to know more details
Things to do in the area
Arima Onsen Taiko no yu 有馬温泉 太閤の湯
Day-trip bathing facility of Arima Hot Spring. Arima's greatest theme park centered on healing and historical exploration that can be visited empty-handed. This is the sole place where Arima 's famous hot springs (kinsen=golden spring, ginsen=silver spring, and tansan-sen=carbonated artificial spring) are available. You can enjoy 26 kinds of baths and hot stone spa. Men and women's section of open-air bath are switched on a monthly basis. Services including restaurants and body care facilities are also complete.
From 10 am to 11 pm (admission closes at 10 pm) (MAP)
Adult : 2475 yen, elementary school student : 1200 yen, toddler (3 to 5 years old) : 400 yen, Saturdays, Sundays, and public holidays, GW, Obon, New Year for adult : 2675 yen, elementary school student : 1,375 yen, toddler : 500 yen
Arimamoto Onsen Kin no yu 有馬本温泉 金の湯
Kin no Yu is an open-air hot spring (public bath) where Kinsen (golden spring), one of the whole area's original spring is drawn. At the large public bath on the second floor are "Ichinoyu" resembling bamboo, material of Arima's traditional handicrafts, and "Ninoyu" resembling the tinted autumnal leaves.
There are two types of tubs in each section; one is "nuruyu" in low temperature and the other is "atsuyu" in high temperature. Other than Kinsen which is reddish brown because of iron and containing chlorine content twice as much as seawater, there is "Shiro-yu" (bath in white). A facility providing free spa water for intake and footbath is found outside the establishment.
Adult : 650 yen, elementary school student : 340 yen
From 8 am to 10 pm (admission closes at 9:30 pm) (MAP)
Arima Onsen Gin no yu / 有馬温泉 銀の湯
It is in a quiet place of Arima Hot Spring where temples and shrines such as Onesenji Temple and Gokurakuji Temple gather. The building was built in Heisei 13 (2001), and two large public baths were created resembling a rock bath where Taiko (Grand Chancellor) Hideyoshi got in. Silver spring's water is provided by mixing radium spring and carbonated spring.
Adult : 550 yen, elementary school student : 290 yen cascading spring. Bathhouses can be used in wheelchairs, too. (MAP)
From 9 am to 9 pm (admission closes at 8:30 pm)
The first and third Tuesday of each month (the following day if Tuesday is a national holiday), January 1
---
Latest Contents

Enjoy travelling Kansai with KTIC
Tourist Information / PASS / WIFI / Day Tour
Kansai International Airport (KIX) T1
Open Everyday 9.30 – 17.30
Kyoto Tower 3F
Open Everyday 10.00 – 17.00