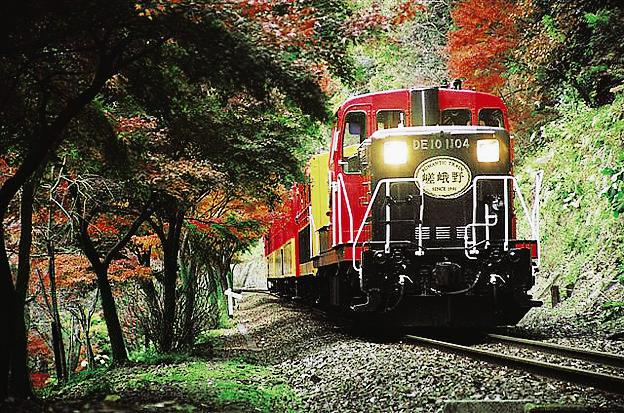 Sagano Train Guide (Torroko)
Visit one of Kyoto's best sceneries for cherry blossom and maple foliage, know detail about Sagano train, where to take the train and suggestion to plan your trip.
---
Sagano Romantic Train
A special sightseeing train in Arashiyama area of Kyoto, Sagano train is known by tourists around the world due to its romantic scenery of cherry blossom and maple foliage. The train track goes along side the Katsura river which is abundant with nature and amazing scenery during both spring and autumn.
Apart from gorgeous scenery, what makes this train more special than others is the body of the train itself. It still keeps the classic design from the old days with the open-air seats which allow tourists to get closer with scenery along the side of train track.
Useful Info
9.00 – 17.00 (Departure time)
Train Schedule
Operation Date
Time Spent: 1 hr
Activity: Cherry blossom, Maple foliage
Recommendation: Everyone
Access
Since it has sperate track from the regular train, you have to come to Saga-Arashiyama sta. of JR system, exit the Jr system and you will find Torokko Saga sta. which is the starting point of this sightseeing train.
If fact, this train is located nearby the bamboo forest (Arashiyama). There are several options you can take to visit such as JR line, Hankyu line, Randen tram and Kyoto city bus.
However, JR line is recommended as it allows you to travel from other major cites in Kansai (Osaka, Nara, Kobe, Wakayama, Himeji). Plus, you don't have to walk to Toroko-Saga sta. when transferring like other transportation system.
(1)
Osaka → Kyoto
(Rapid Express 30 min)
Nara → Kyoto
(Miyako Rapid 50 min)
Sannomiya (JR) → Kyoto
(Rapid Express yen 1 hr)
(2)
Kyoto → Saga-Arashiyama
(JR Sagano Line 16 min )
Train route finder, Time table and Ticket Price
Activities in the area
The scenery along side the train track invites people around the world to pay a visit. The train operates through all the year but the peak times are during cherry blossom (Late March – Mid April) and maple foliage (November – early December) respectively. This line has only 4 stations as orderly below.
Saga sta. (connecting with Saga-Arashiyama sta.)
Torokko-Arashiyama sta.
Hazukyo sta.
Kameoka sta. (10 min walks to Umahori sta.)
So, you can choose to start your ride from any station and from any direction you want (Saga → Kameoka or Kameoka → Saga)
* Kameoka → Saga direction requires you to come to Kameoka sta. first.
All seats on this train must be reserved in advance. You can also purchase on the day you visit at any train stations mentioned above, although it is not recommended during the peak time as they are sold out very quickly.
The price of single trip ticket is as below regardless of distance traveled.
Adult : ¥630
6-12 years old : ¥320
Many tourists usually choose direction of Saga → Kameoka (single trip ¥630). This is because they Saga sta. is located next to Saga-Arashiyama sta. (JR) which has easy access from other locations in Kyoto. Kameoka sta. is 10 mins walk away from Umahori sta. (JR) which allows passenger to make a transfer to JR system and then visit other places easily.
Arashiyama is famous for its well-preserved bamboo forest. It is very close to Saga station (Torokko train). See more detail from our extra content here.
TICKET RESERVATION
At our Kansai tourist information center, we can help you reserve seats for Torokko train. Feel free to drop by if you arrive at Kansai Airport (T1), otherwise we also are happy to help when you just arrive Kyoto and have a sudden change in plan to visit.
Kansai International Airport (KIX)
Terminal 1 Central Exit 1F
Open Everyday 9.30 – 17.30
Kyoto Tower 3F
Open Everyday 10.00 – 17.00
See you in the next one!
---
Latest Contents

Enjoy travelling Kansai with KTIC
Tourist Information / PASS / WIFI / Day Tour
Kansai International Airport (KIX) T1
Open Everyday 9.30 – 17.30
Kyoto Tower 3F
Open Everyday 10.00 – 17.00