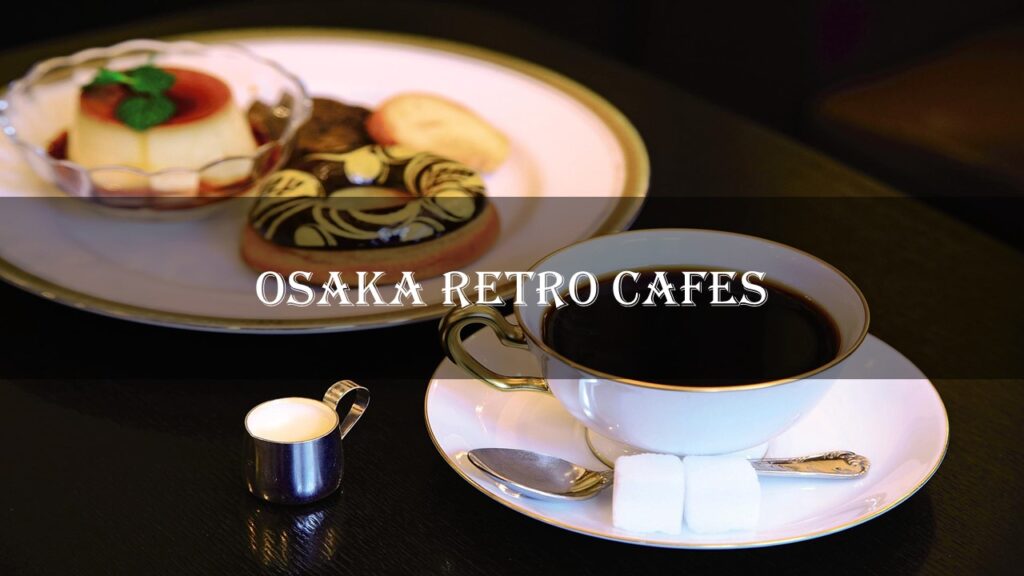 3 Osaka Retro Cafes And Why Puddings Play Such An Important Part
Osaka is Japan's second largest and busiest city and is widely known for its food, lively culture, and exciting scenes. There are so many things to experience and do and you can with no doubt, find many trendy and modern cafes in Osaka. But this article will be introducing a different type of café. Have you ever wondered what living in retro Japan felt like back in the days? Let us recommend 3 Osaka Retro Cafes that will take you back in time.
---
Why is there almost always pudding on the menu?
🍮
If you visit retro cafes in Japan, you will notice that they almost always have pudding as their recommended menu, and the pudding is almost always a certain shape: round and upside down. In Japan, the retro puddings are different from modern puddings in a way that retro puddings are firmly textured while modern puddings are soft and tend to melt in your mouth.
During the Showa era, coffee shops were considered quite fancy and the desserts and food served were usually of western influence. Desserts were usually pudding and food were usually sandwiches as they were seen as a bit upscale back in the days. It is said that the sweetness and the color of the pudding goes well with the bitterness of coffee.
If you get a chance, visit retro cafes in Japan and try the retro puddings. Taste and see how the Japanese retro puddings are different from the puddings you are used to having!
Here are 3 Osaka Retro Cafes that we recommend!
---
①
五感 北浜本館
Gokan Kitahama Main Store
☕
This café is apart of a patisserie that serves delicious cakes and sweets made with hand-selected ingredients found in Japan. Things you must try include the Kitahama exclusive Gokan style Gateau Basque, and the black bean roll cake.
Housed within a former bank built in 1922, the store exudes a lofty ambience. The bakery showcases a selection of confectionery prepared by the pastry chefs who begin their day at 6 in the morning. The pleasant aroma of the freshly baked pastries waft from the large red oven and fill the entire store. There are over 24 types of delicious cake available here for you to taste.
Aside from desserts, the lunch time menu features quiche made with seasonal vegetables served with a croissant on the side and coffee.
The building itself is a registered Tangible Cultural Property, which is why it made it to this list of Osaka Retro Cafes.
MAP: https://goo.gl/maps/8xN1LMURzzAbEi347
Nearest Station: Kitahama Station (北浜駅) [ Osaka Metro Line or Keihan Line ]

Opening Hours: Mon – Sat 9:30am – 19:30pm, Sun 9:30am – 19:00pm

Website: https://www.patisserie-gokan.co.jp/shop/kitahama/ (Only In Japanese)
Contact: 06-4706-5160
---
②
丸福珈琲店 千日前本店
Marufuku Coffee Shop Sennichimae Main Store
☕
Founded in 1934, this Osaka retro café retains its old fashioned atmosphere while serving specialized coffee. You must order their rich, aromatic coffee which is made from home roasted beans.
Desserts such as coffee jelly, and pancakes are also quite popular here and should not be missed out on under any circumstance.
There is also bottled ice coffee for those of you who need one to go.
MAP: https://goo.gl/maps/7Uiq8sGY2cfBD35L6
Nearest Station: Nihombashi Station (日本橋駅) [ Osaka Metro Sakaisuji Line / Sennichimae Line ]

Opening Hours: 8:00am-23:00pm

Website: https://marufukucoffeeten.com/store/sennichimae/ (Only In Japanese)
Contact: 06-6211-3474
---
③
北浜レトロ
Kitahama Retro
☕
This Osaka retro café is an English style tea room on the second floor of a brick building that was built in 1912 and designated as a Tangible Cultural Property.
There are 40 kinds of tea brought in mainly from the UK and France, served in a silver pot. You can choose from over 20 kinds of delicious homemade cakes that are made with traditional English recipes.
MAP: https://goo.gl/maps/gwrhuCWGVujD84SD7
Nearest Station: Kitahama Station (北浜駅) [ Osaka Metro Sakaisuji Line / Keihan Line]

Opening Hours: Mon-Fri 11:00am-19:00pm, Sat & Sun 10:30am-19:00pm

Website: (Only In Japanese)
Contact: 06-6223-5858
---
Navigate Osaka Like A Pro
---
Food Related Contents
Latest Contents

Enjoy Kansai with KTIC
Tourist Information / PASS / WIFI / Day Tour
Kansai International Airport (KIX) T1
Open Everyday 9.30 – 17.30
Kyoto Tower 3F
Open Everyday 10.00 – 17.00