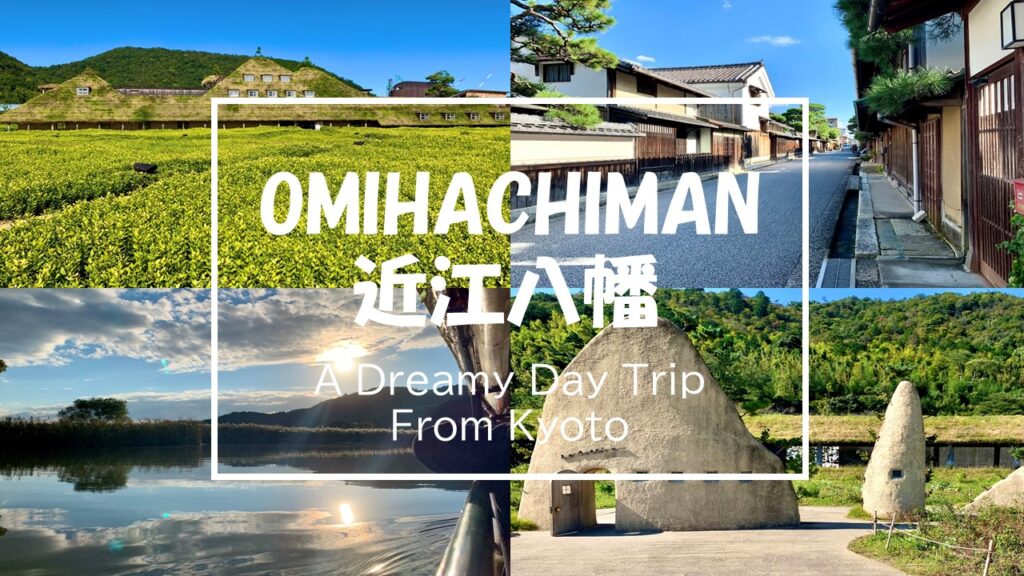 Omihachiman: A Dreamy Day Trip From Kyoto
Have you heard of Omihachiman? How about Shiga Prefecture?
Not many people know about Shiga Prefecture yet. But if we talk about the largest lake in Japan, Lake Biwa, it might ring a bell. Lake Biwa is actually located in Shiga Prefecture!
Shiga Prefecture is often overshadowed by its popular neighbor Kyoto and what many people don't know is that Shiga has so much to offer! Thanks to it being lesser-known, it is not crowded and the scenery is left unspoiled by mass tourism.
Out of all the exciting places we want to introduce to you in Shiga, in this article we are going to take you on a day trip with us to a lovely town called Omihachiman!
Come along and see what this beautiful place has to offer!
SUBSCRIBE
AND BE THE FIRST TO GET NOTIFIED ON NEW POSTS
---
Related Article
---
⭐
Omihachiman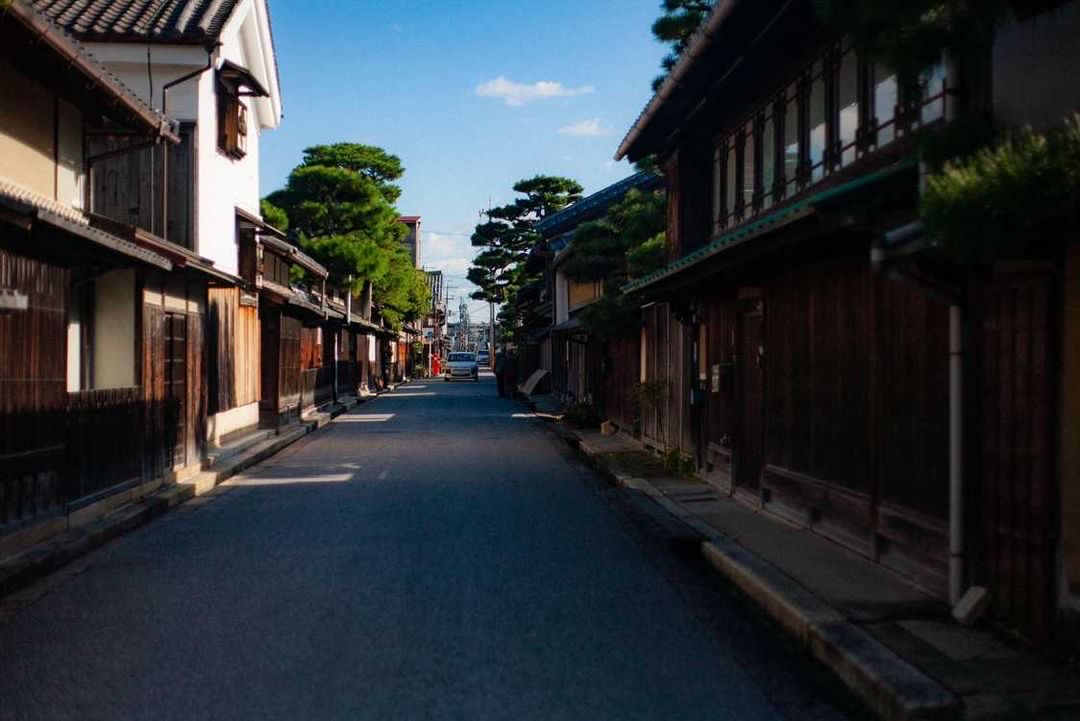 Visiting Omihachiman,
Shiga Prefecture
Find out more information such as maps, access, destinations, and activities from Omihachiman Culture & Tourism Department.
---
ℹ️
Omihachiman Day Trip.. Here we go!
9:50
We started the beautiful day by meeting up with fellow travelers at Kansai Tourist Information Center (KTIC) Kyoto Tower. We said our good mornings, introduced ourselves, and made some friends. Everyone seemed as excited as we were! Can't wait for all the adventures that the day has for us!
---
10:30-11:04
Here we continued the beautiful day by taking the 10:30am train from Kyoto Station to Omihachiman Station. This is the perfect schedule for people who prefers sleeping in and taking it slow during their trips. 😴
The journey took roughly thirty minutes and before we know it, we have arrived in Omihachiman!
---
11:10-11:20
After arriving, we got on the taxi and immediately headed to our first destination, La Collina.
---
🌿
La Collina Omihachiman
This is a place where people who love nature come together to learn from nature.
11:30-12:30
We had one full hour to walk around and explore the area around La Collina. The place offers a sight of unique architectures as well as souvenir shops, cafes, and bakeries!
---
12:30-12:45
After exploring and filling ourselves with the joys of nature and desserts at La Collina, we got on the taxi that took us to our lunch destination. We were especially excited about this part of the day because we heard that we would have a chance to try the famous Wagyu, Omi Beef!
We hope other people on the taxi didn't hear our stomachs rumble as we headed to the restaurant. 😬
---
🐮
Lunch @ Restaurant Morishima
Restaurant Morishima is a restaurant in Omihachiman that specializes in the famous Wagyu (Black-Haired Japanese Cow); Omi Beef. They carefully select their cows and raise them in their own farm to ensure the quality of the beef!
12:50-13:50
Here comes the most exciting part of the day, the part we were all looking forward to; trying Omi Beef for the first time! And OMG it was everything we dreamed of and more. The soft, melt-in-your-mouth sensation made us feel that life after this will never be the same.
Aside from the unforgettable Omi Beef, the restaurant offered something different for our buddy who doesn't consume beef. It looked like a very delicious dish of deep fried shrimps!
So if you do not eat beef, don't worry, you will not be left out!
⚠️The beef menu can only be changed to the fried shrimp set.
(Vegetarian and vegan dishes are not available.)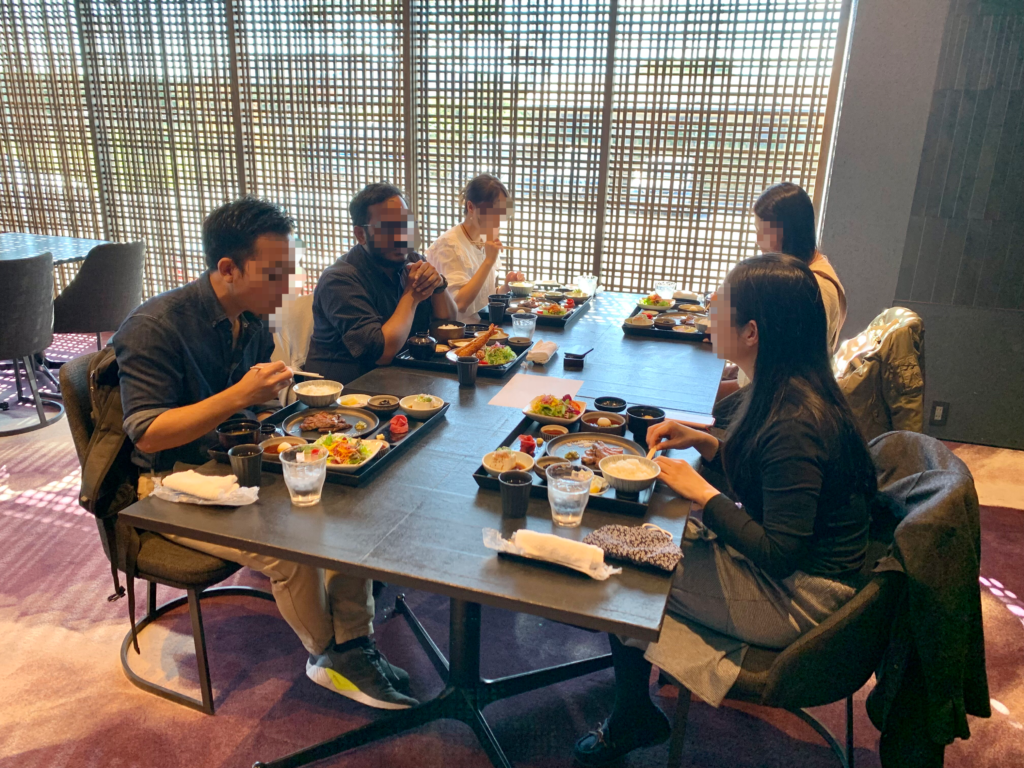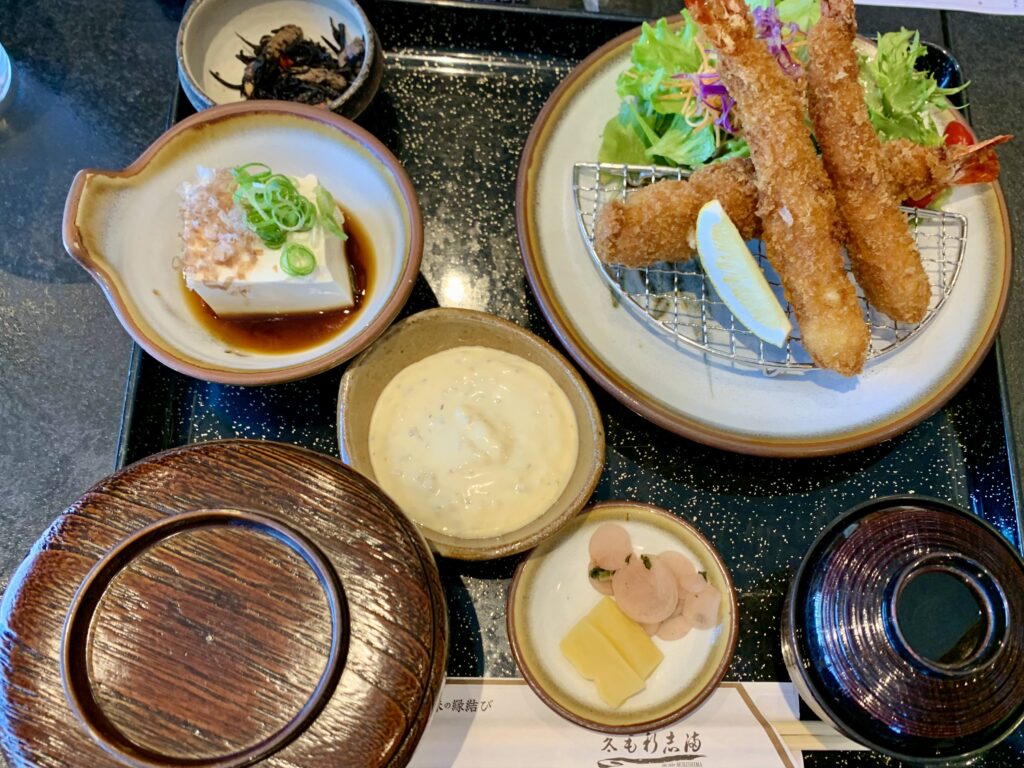 ---
13:55 -14:10
After filling our stomachs with fantastic food in a fantastic setting, our body and soul is satisfied, energized, and ready to further explore what the day has for us! We got on our taxi and headed towards another interesting destination, Shinmachi-dori.
---
🚶🏽‍♀️
Shinmachi-dori
(Omi Merchant Cityscape)
14:10-15:05
We arrived at Shinmachi-dori and immediately felt like we were transported to a different period by a time machine! We walked around and explored the mansions that used to belong to the Omi merchants from the Edo period through the Meiji period. It was so cool to see what Japan looked like back in the day!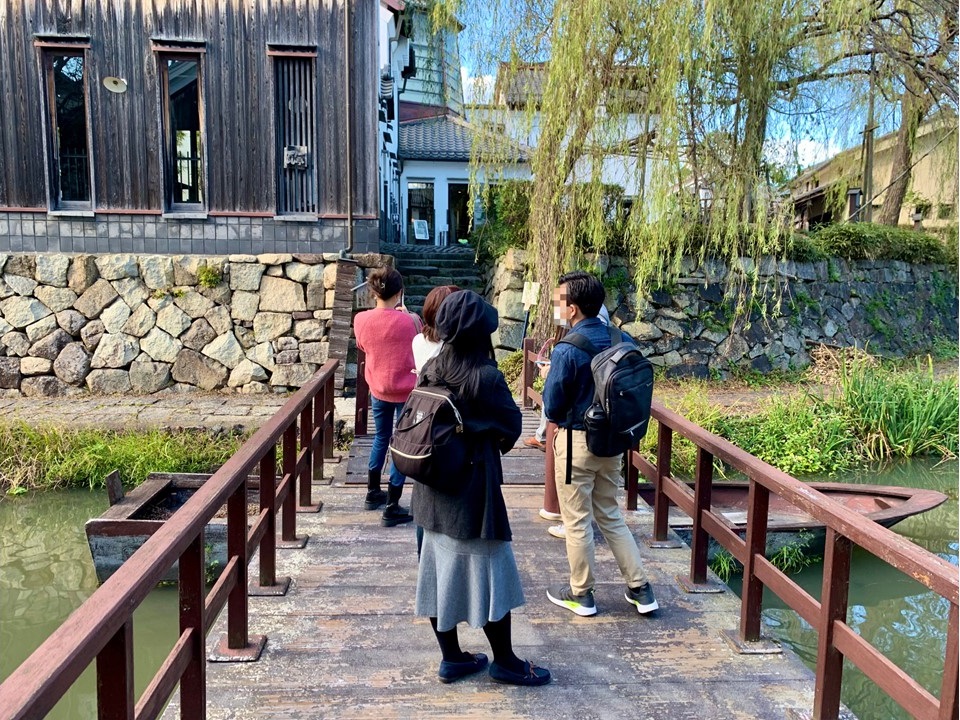 ---
15:05-15:10
Using a time machine to transport ourselves back, we got on our taxi and headed towards Onenbashi-Wasen-Noribakuchi, which is where we will be getting on a traditional Japanese style boat!
---
⛵
Omihachiman Boat Cruise
15:20-16:30
We got on the boat and were taken around the beautiful canals of the Omihachiman water town, which is considered as one of the three major water towns of Japan! The strong and skillful boatman lead the boat around the canal while we listened to the sounds of birds, smelled the smell of natural streams, watched the ripples of the water, and enjoyed the scenic view of Omihachiman in front of us.
---
16:40-16:50
After finishing up with the memorable boat ride, we got on our taxi and headed towards Omihachiman Station. We started to feel sad that the beautiful day is coming close to an end..
---
It's time to leave Omihachiman…😥
17:06-17:42
The day has come to an end and it is time to head back to Kyoto. We hopped on the train with lingering feelings and said goodbye to our new friends, and our beloved Omihachiman…
The day left us with fantastic memories, and knowing that we got to explore and get to know a lesser-known side of Japan made the whole experience even more special.
With just a short train ride from Kyoto, Omihachiman and its unique charms awaits for your visit. 💚
SEE YOU AGAIN OMIHACHIMAN!!🥰🥰
---
Join Us In Omihachiman!
**Due to the current COVID-19 situation, tour operations are postponed to April.**
---
Share Your Omihachiman Experience!💛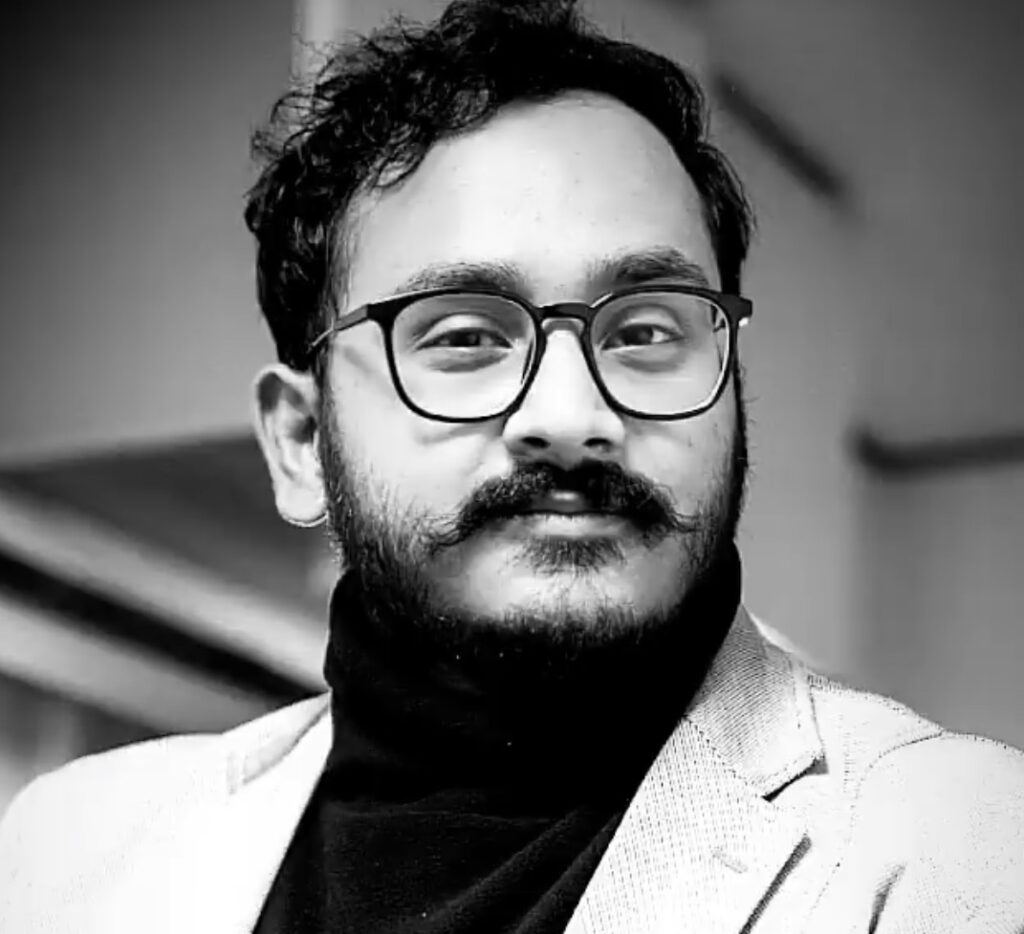 "I love photography, nature, jazz music, and company of good friends."

— Kabya, MBA student in Kyoto
"The best thing about the tour was the boat ride over the Omi-hachiman canal. All the places were amazing but the canal ride over the still water was the cherry on top. 🍒 The still water reflecting the sky above, the gentle orange autumn sun kissing with its last ray of light as it sets in the horizon, and the gentle wobble of the boat as it glides through the water makes the whole experience nothing short of a dream. A truly wholesome experience and a perfect way to end the rather magnificent day."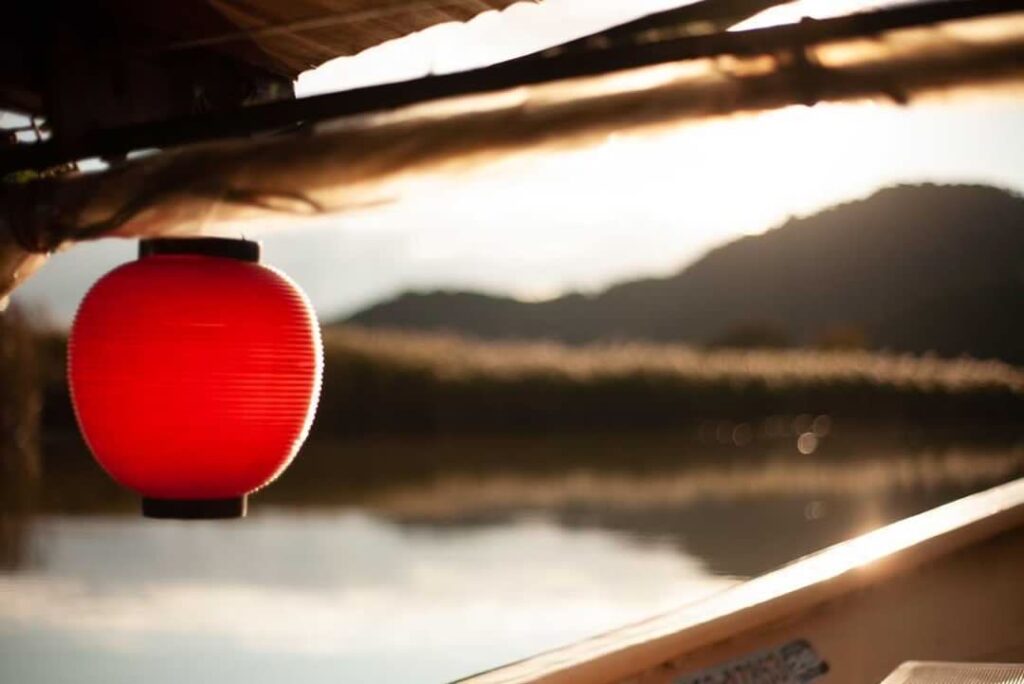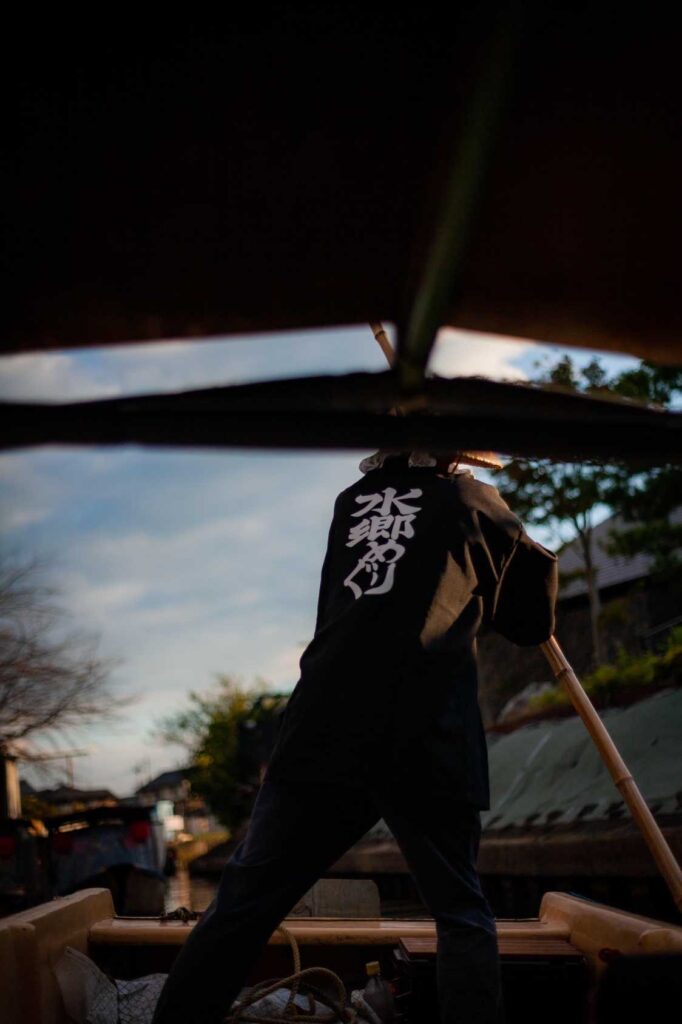 "I would recommend this trip to people who need an escape from their busy lives. This trip is immersed in rich culture and history of a rather significant period of Japan. People can enjoy a different experience away from the traditional generic temple styled city like Kyoto where all the sights starts to become monotonous."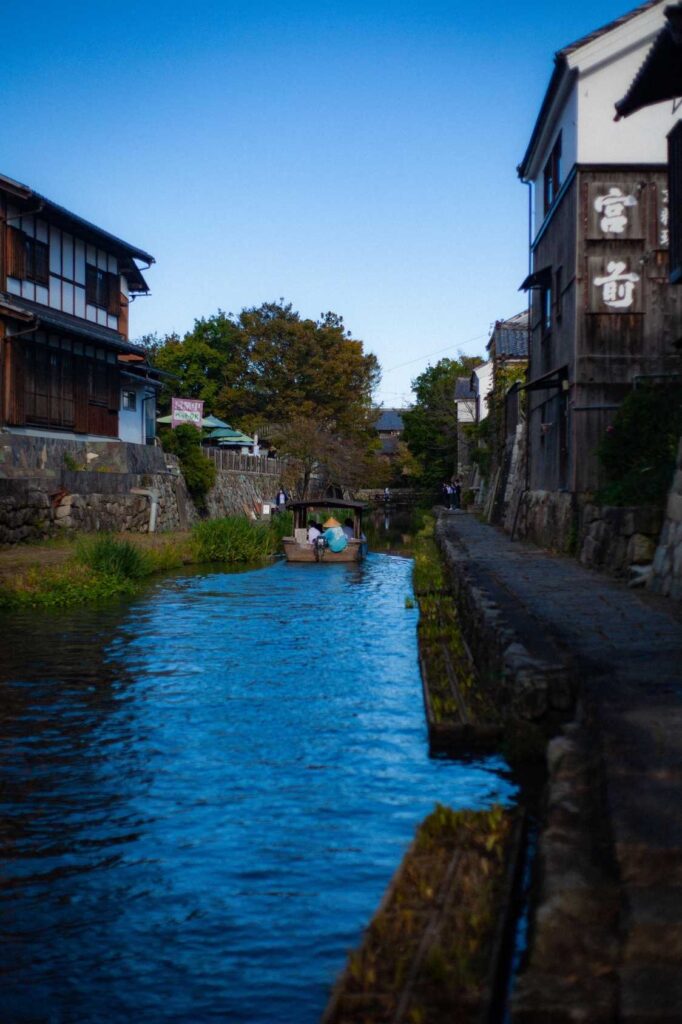 "I gained a whole range of experience from the tour. Starting from a place that values sustainability and has beautifully and seamlessly integrated modern architecture with nature. 🌿 The La Collina is the beacon of sustainability and will be a prime example of teaching children about sustainable livelihood. "
"Walking down the old streets helped us to imagine a time untouched by technology. Overall, the experience was truly magical. A hidden gem of a place. Must visit." ⭐⭐⭐⭐⭐
---
Latest Contents

Enjoy Kansai with KTIC
Tourist Information / PASS / WIFI / Day Tour
Kansai International Airport (KIX) T1
Open Everyday 9.30 – 17.30
Kyoto Tower 3F
Open Everyday 10.00 – 17.00