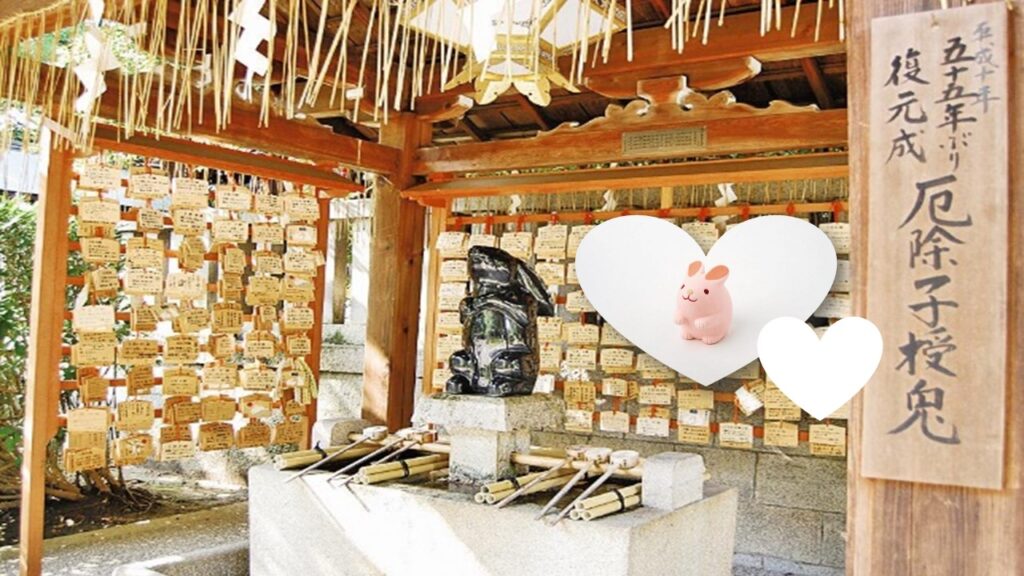 Okazaki Shrine: Unique & Absolutely Adorable Rabbit Shrine
Okazaki Shrine which is also known as the 'Rabbit Shrine', is secretly attracting attention among tourists who visit Kyoto. It is known as a popular spot with cute rabbit guardians instead of the usual guardian dogs.
Find out more in the article why many young female worshippers visit this shrine to pray for marriage and childbirth!
---
🐇⛩️🐰
東天王 岡崎神社
Higashi-Tenno Okazaki Shrine
The shrine's official name is "Higashi Tenno Okazaki Shrine". It is one of the shrines that was built to protect the royal castle when the capital was relocated to Heian in 794. It came to be called "East Tenno" because it is located on the east of the capital.
Since wild rabbits lived in this area from the old times, rabbits automatically became the messenger of the god enshrined here.
The shrine grounds are home to many rabbit sculptures including the black granite rabbit which is said to be lucky for conception, and the stone guardian rabbits which are said to be lucky for marriage.
Amulets and fortune papers found here come in cute rabbit forms because rabbits are prolific and represent fertility, childbirth, and safe delivery.
---
🐇
The Child-Granting Rabbit
This child-granting rabbit is located in the back and is made of black granite. Its head is tilted upwards because it is looking at the moon and storing power in its body.
Many people come to worship this child-granting rabbit everyday because it is believed that by pouring water on it and rubbing its stomach, you will be blessed with a child and a safe childbirth.
---
🐰
Adorable Rabbits Grants Your Wishes
The main attraction of the Okazaki Shrine is the cute pink and white rabbits and sit with adorable little smiles on their faces. You can't help but swoon over their cuteness.
These adorable little rabbits contains fortune telling papers. After taking out the fortune paper, worshippers usually leave the rabbits at the shrine creating a photogenic line of cute little mini rabbits.
The rabbit fortunes are unique with different facial expressions in each of them. Take your time to choose your favorite kawaii rabbit and see what the future holds for you!
You just can't help but love the adorable pink and white rabbits when you visit this shrine. You can get both cuteness healing AND your wishes granted at this shrine so make sure you drop by at Okazaki Shrine in Kyoto!
---
🚇
Access
📍MAP
🚇 TRAIN
Keihan Line: Get off at Jingu-Marutamachi Station (神宮丸太町駅)
Subway Tozai Line: Get off at Ke-age Station (蹴上駅)
🚌 BUS
Take the City Bus number 32, 203, 93, or 204 and get off at Okazaki-jinja-mae Bus Stop (岡崎神社前)
Take the City Bus number 5 and get off at Higashitennocho Bus Stop (東天王町)
---
LATEST CONTENTS

Enjoy Kansai with KTIC
Tourist Information / PASS / WIFI / Day Tour
Kansai International Airport (KIX) T1
Open Everyday 9.30 – 17.30
Kyoto Tower 3F
Open Everyday 10.00 – 17.00