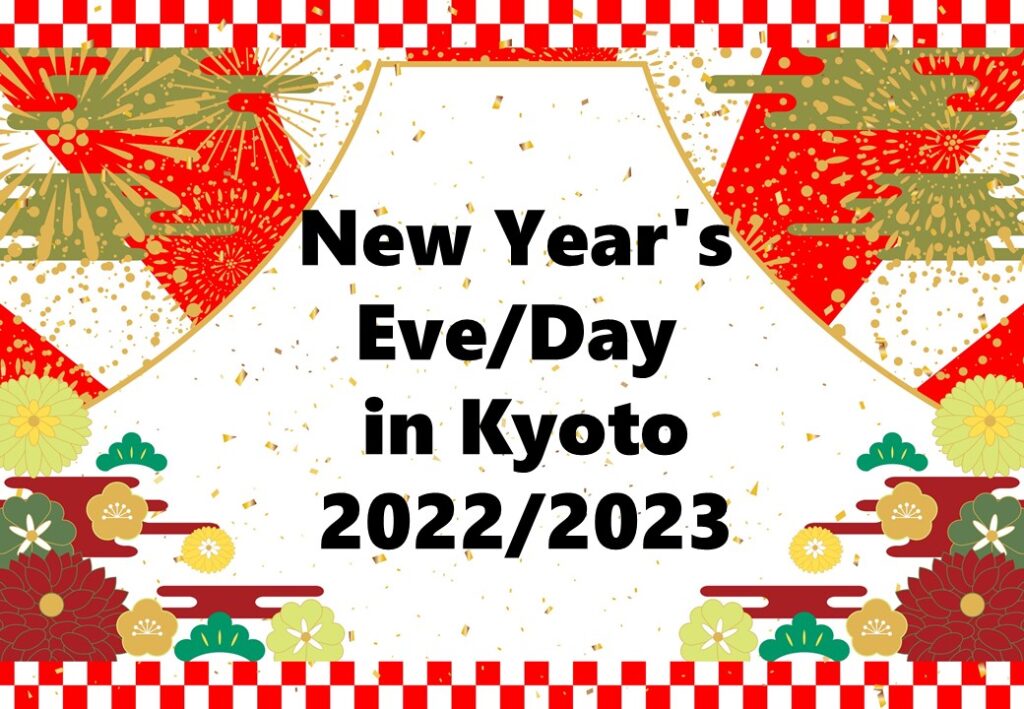 New Year's Eve/Day in Kyoto 2022/2023
Happy new year! I hope you all have a wonderful year! I'm Pon, Kansai chan writer. In this article, I would like to introduce how I spent my first New Year in Kyoto!
Various events are held at shrines and temples to celebrate the New Year. Especially from New Year's Eve to New Year, shrines and temples in Kyoto City welcome worshippers throughout the night, and many people visit shrines and temples for "Hatsumode". Hatsumode refers to the first visit to shrines and temples after the New Year.
For a detailed article on Hatsumode, click here!
New Year's Eve/Day in Kyoto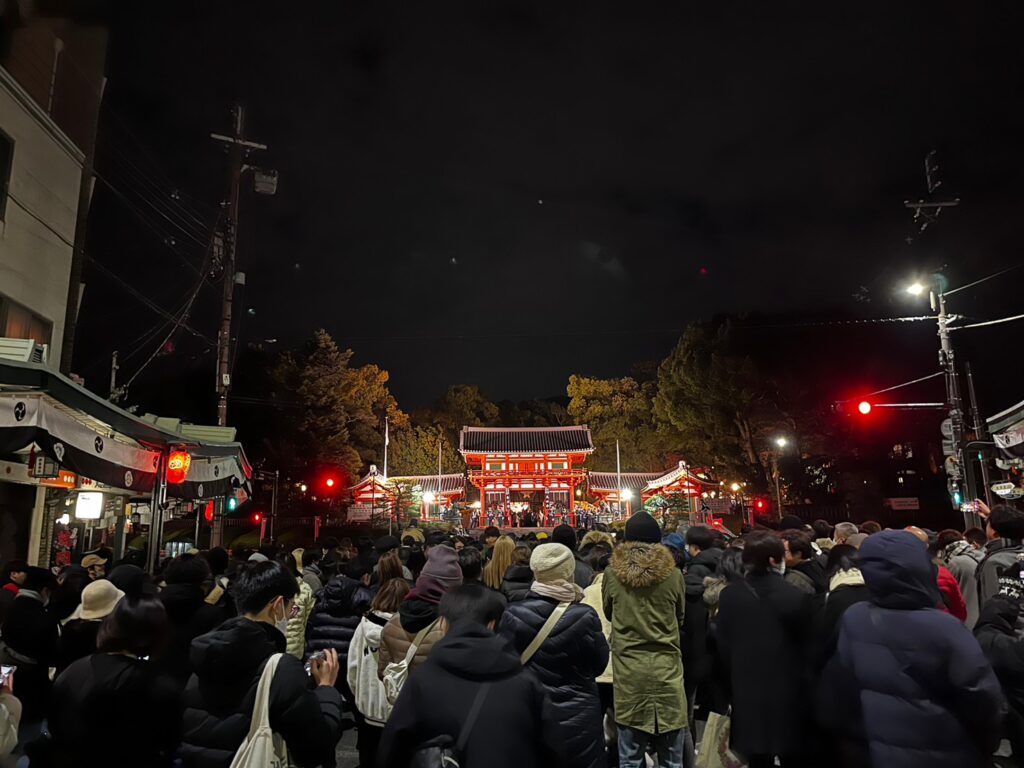 During the New Year's holidays, all shrines and temples will get so crowded that their precincts are overflowing with people. For Pon, myself, this was my first time to be in Kyoto for New Year's Eve, and because I wanted to visit as many shrines and temples as possible and avoid crowds, I decided to to move all over the Kyoto starting just before the end of Year 2022. So, here is my report of how I actually welcomed the New Year, running around from 10:30pm on December 31 to 3:00am in the morning of January 1!
10:30pm @ Kitano Tenmangu Shrine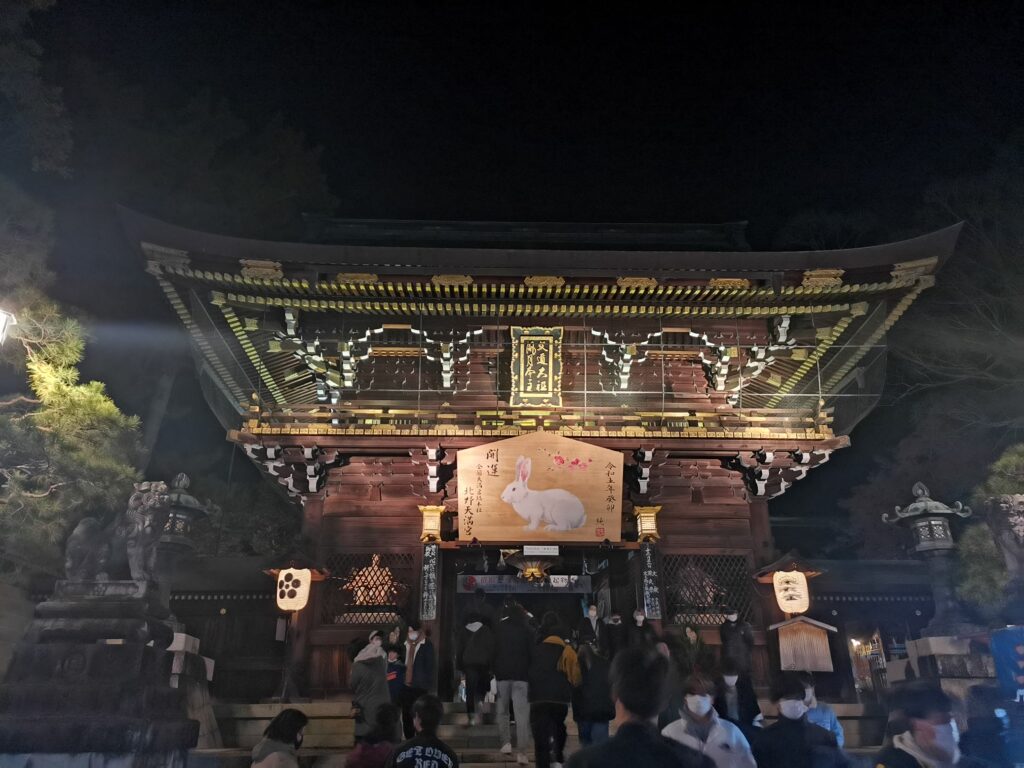 Kitano Tenmangu Shrine was built over 1,000 years ago in the northwestern part of Kyoto. Many people pray for academic success, and many students visit the shrine before examinations.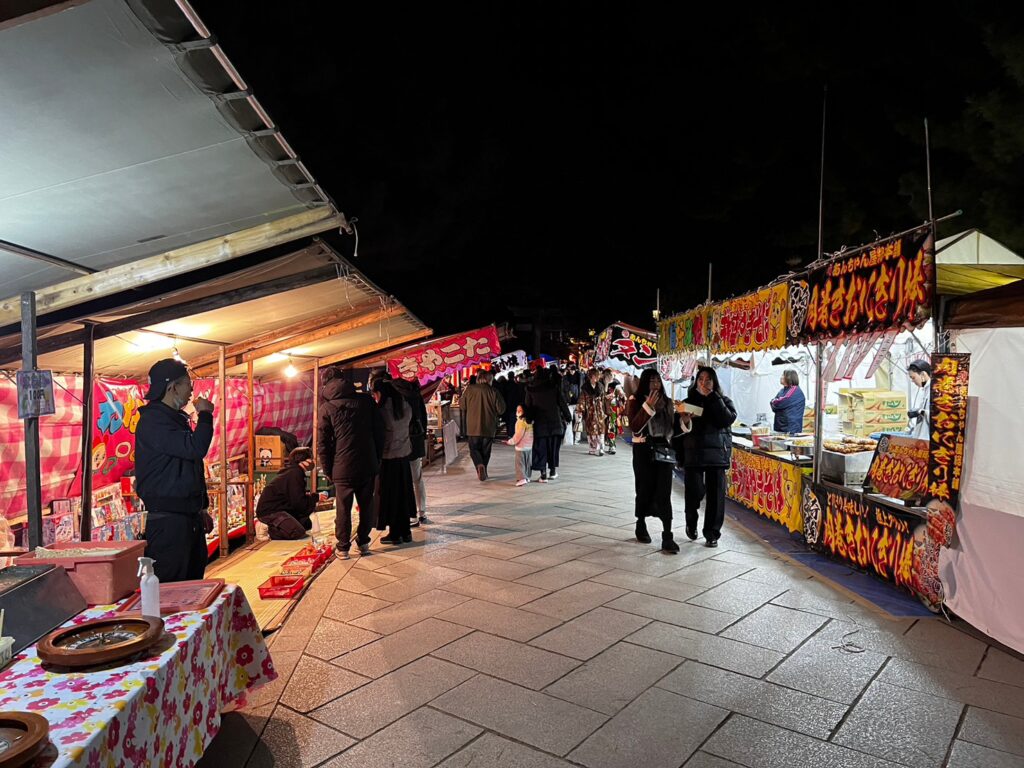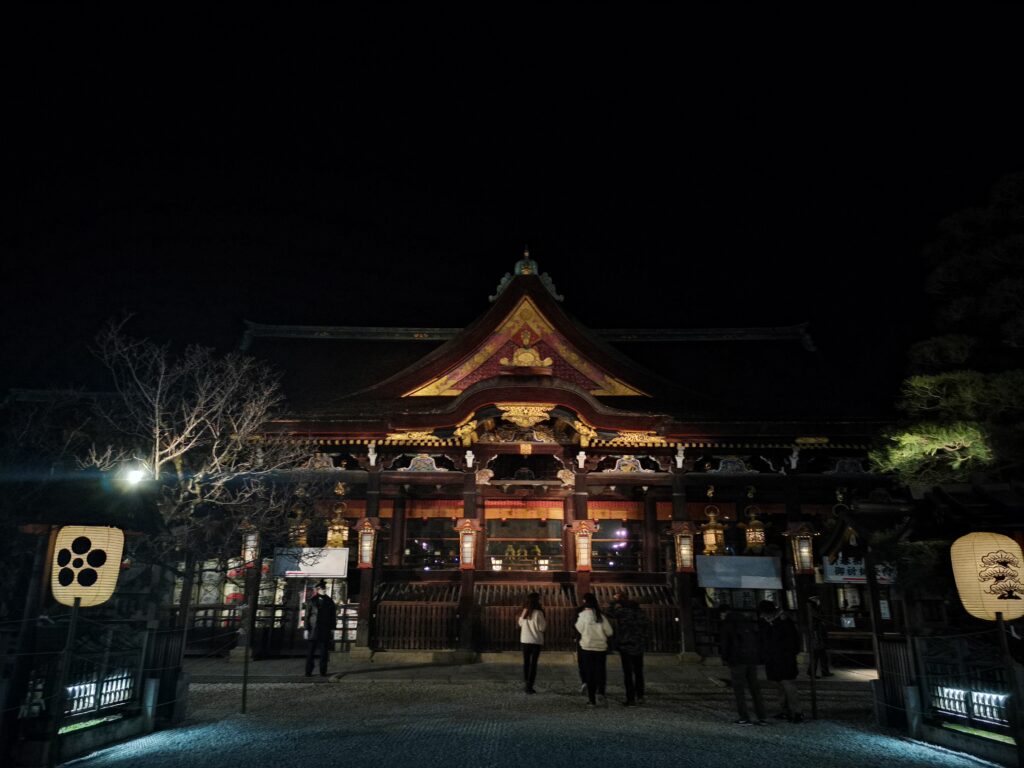 The approach to the temple was lined with many open-air stalls, and even though the year had not yet passed, many people were starting to visit the temple.
---
11:45pm Shinsen-en Garden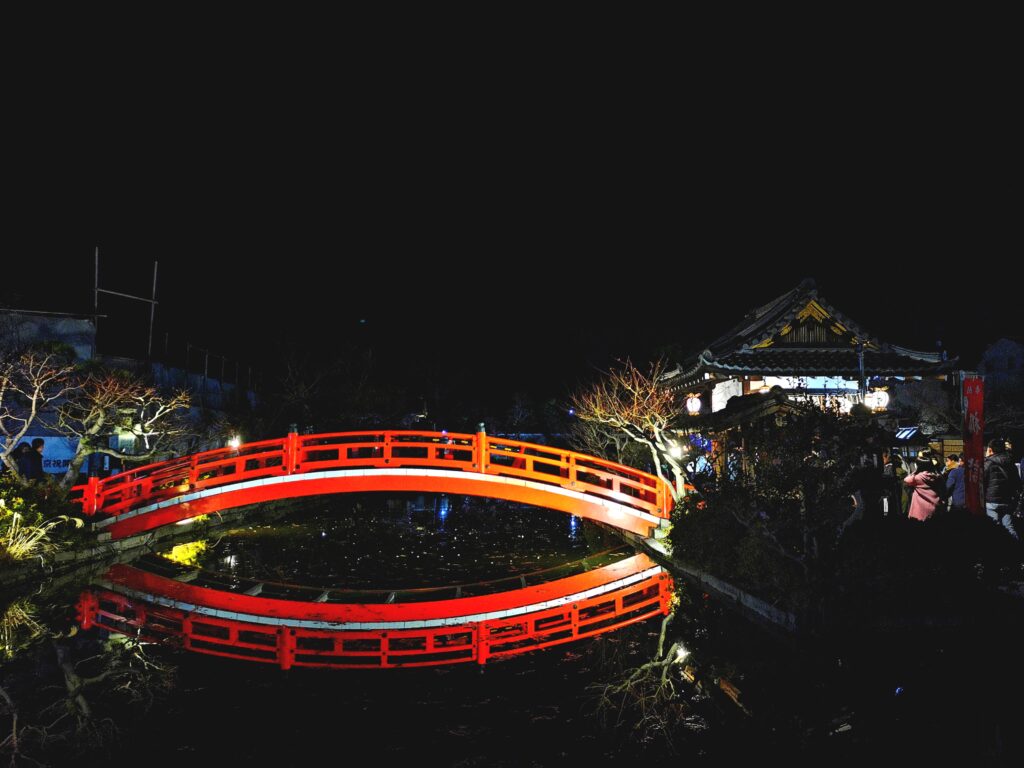 When I was wondering where to hold the New Year's Eve countdown, I decided to visit the Shinsen-en. The purpose was to ring the bells for the New Year's Eve. The "Joya no kane" is an event held at temples and other places in Japan where 108 bells are rung at nights from Eve to January 1. There are various theories as to why 108 bells are rung, but it is said that the sound of 108 bells is a wish that the suffering and troubles of the past year will be removed and that the New Year will be welcomed with a fresh and clear mind. I searched for a place where I could ring the bell by myself, and Shinsen-en was the place.
Shinsen-en, located across from Nijo Castle, has a beautiful garden with a large pond and is said to be the oldest garden in Kyoto, founded in 824. Although it is famous for its garden, it is also a temple. At this temple, visitors are allowed to ring the bell in teams of three, and will finish at 108 times.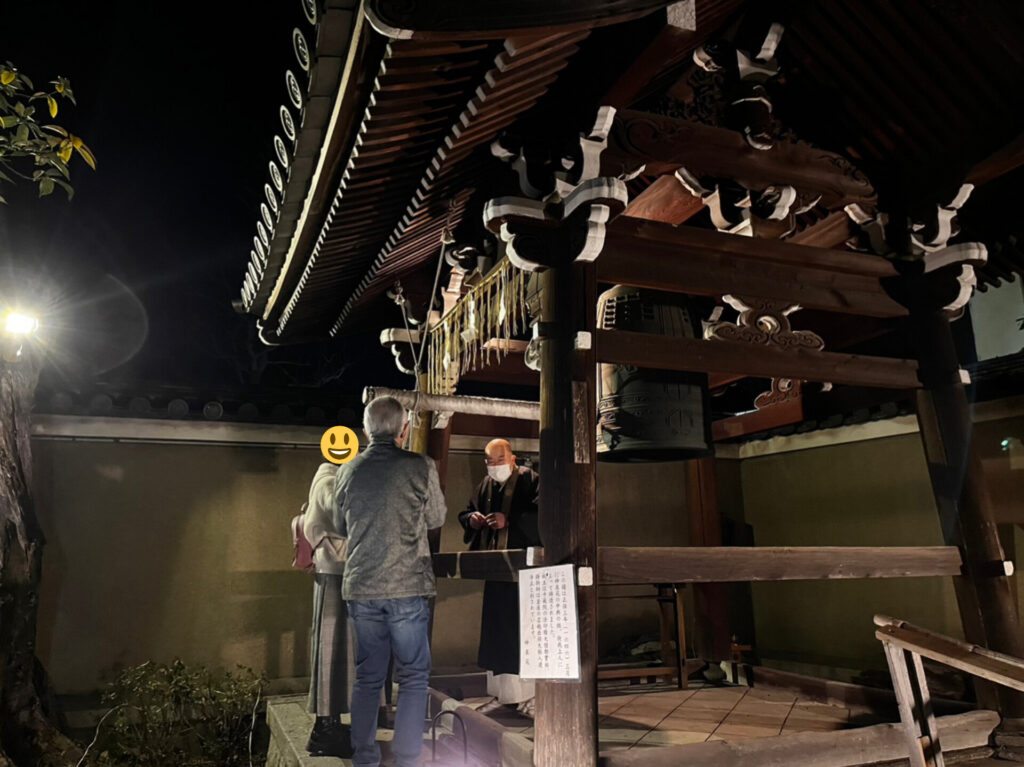 20 minutes in line to ring the bell. When the bell finally came into my view, I was able to greet the New Year. The moment the New Year arrived, there was a round of applause, and people wished with the fellows in line in front of and behind a Happy New Year. After another 10 minutes in line, it was finally my turn to ring the bell. I rang the bell with our wishes.
---
01:00am Shimogamo Shrine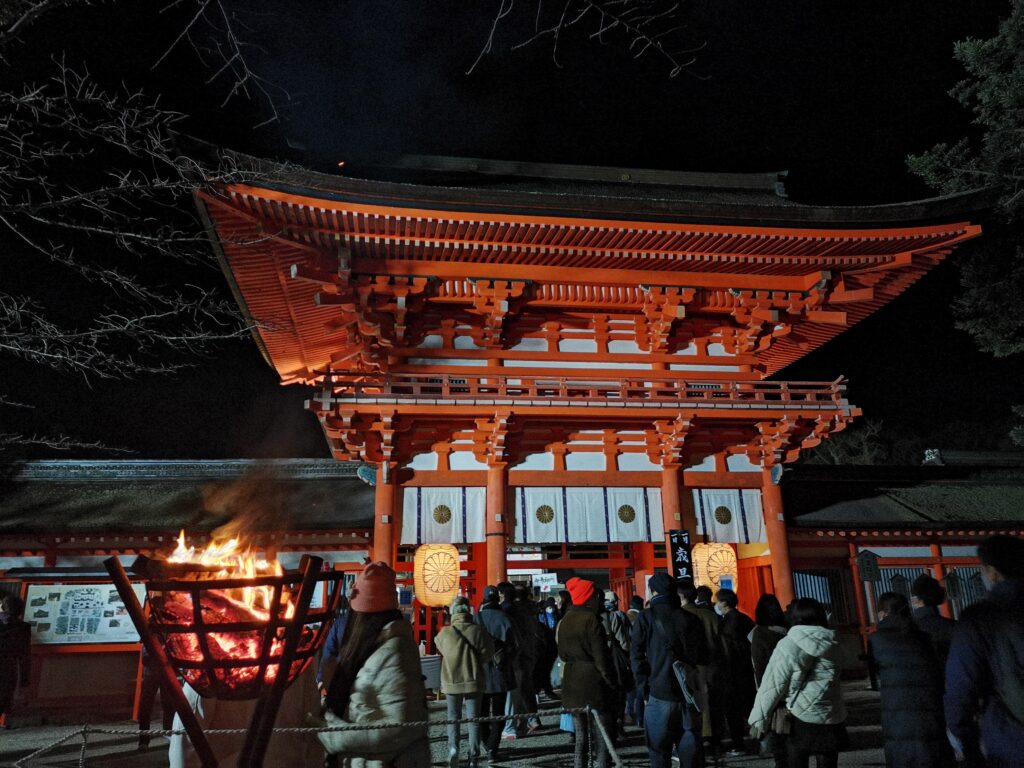 After ringing the bell safely, I next went to Shimogamo Shrine, a beautiful shrine surrounded by greenery and is also listed as a World Heritage site. On New Year's Day, large bonfire shined the vermilion torii gate very magically.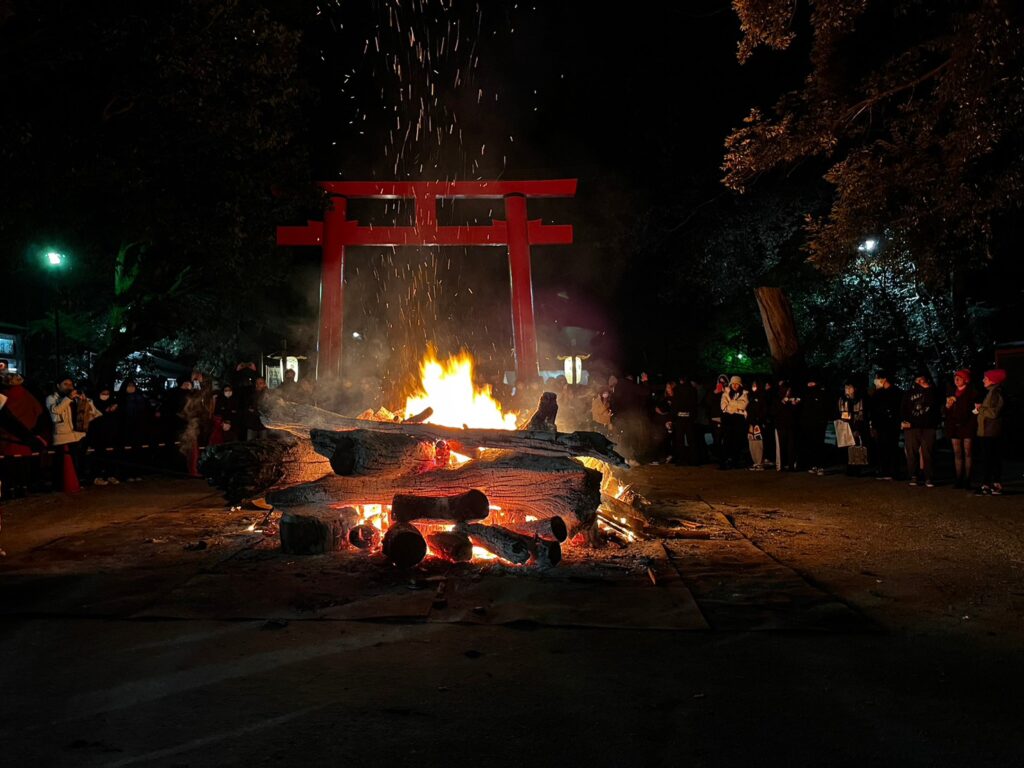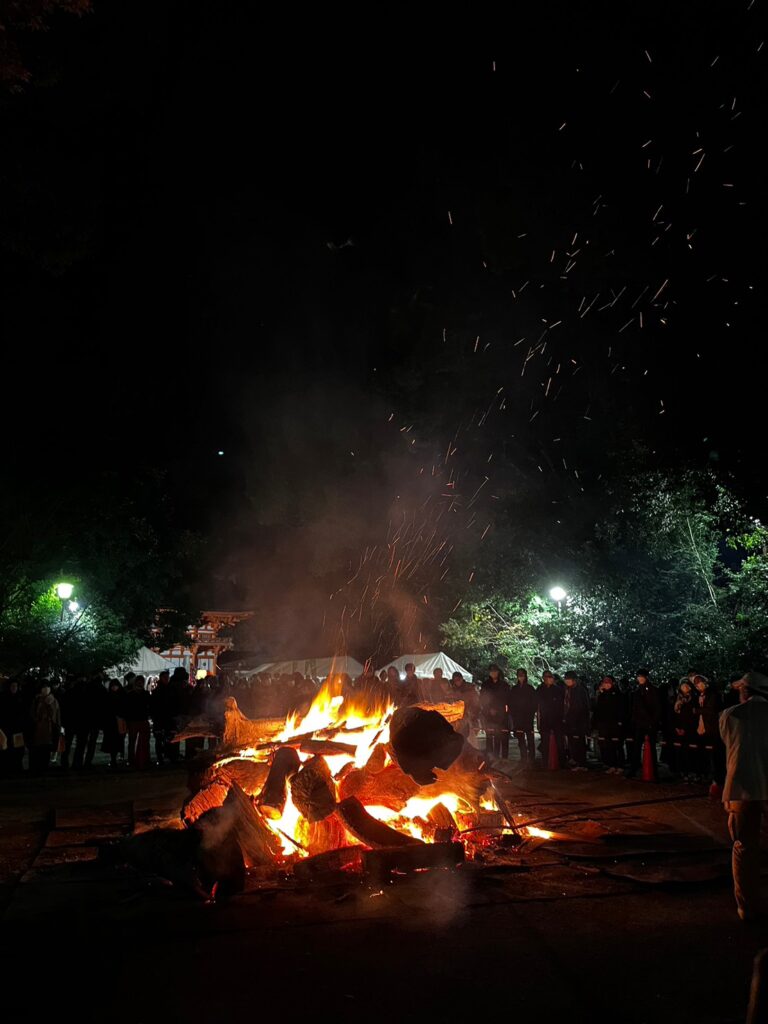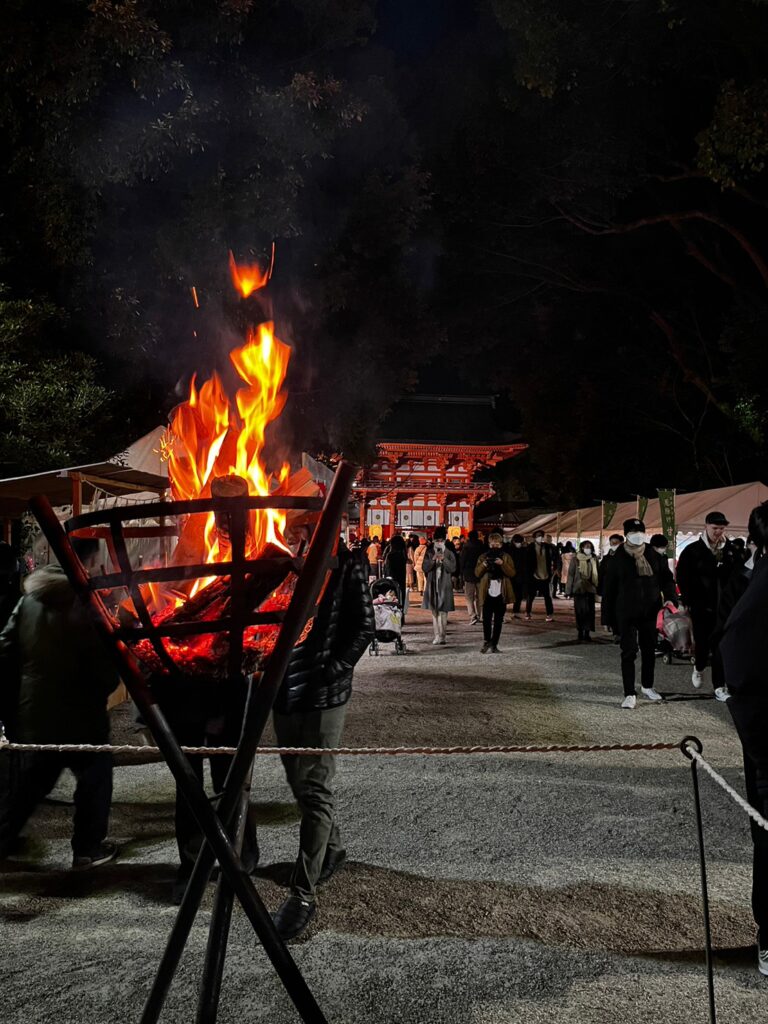 There were numerous visitors to the temple, but due to the fact that the shrine was located somewhat far from the city center, I was able to visit the temple with little waiting time. It was quite cold because it was located a little north of Kyoto city center and is in the middle of a forest. If you are planning to go there late at night, take better precautions against the cold!
---
02:00am Heian Jingu Shrine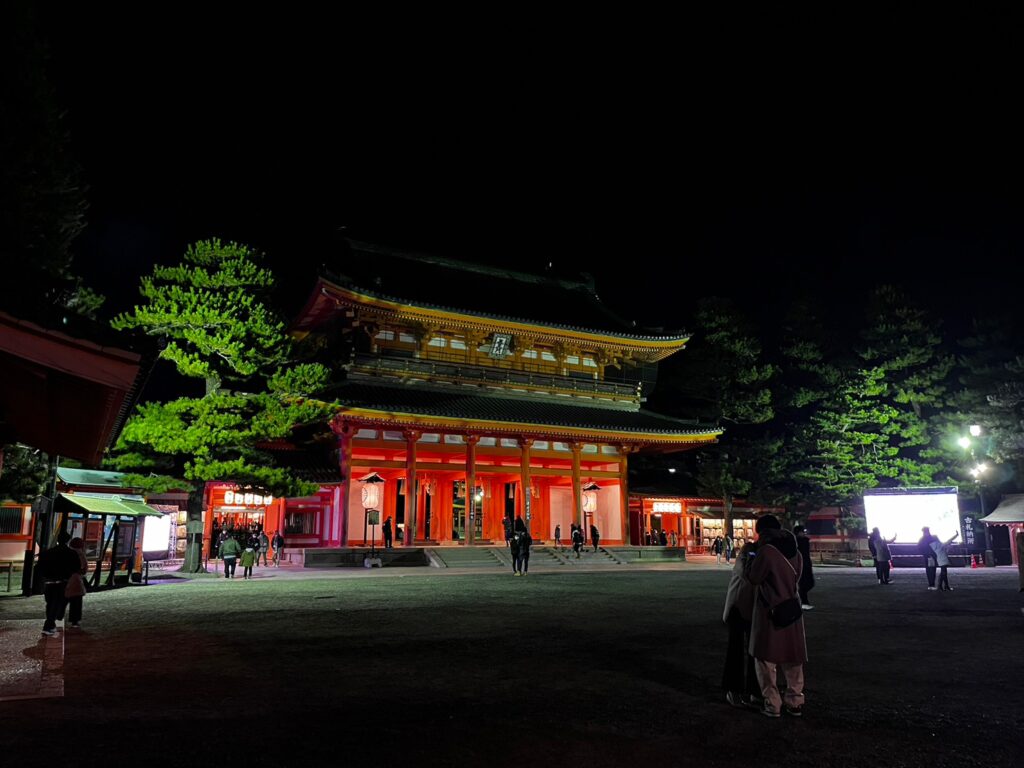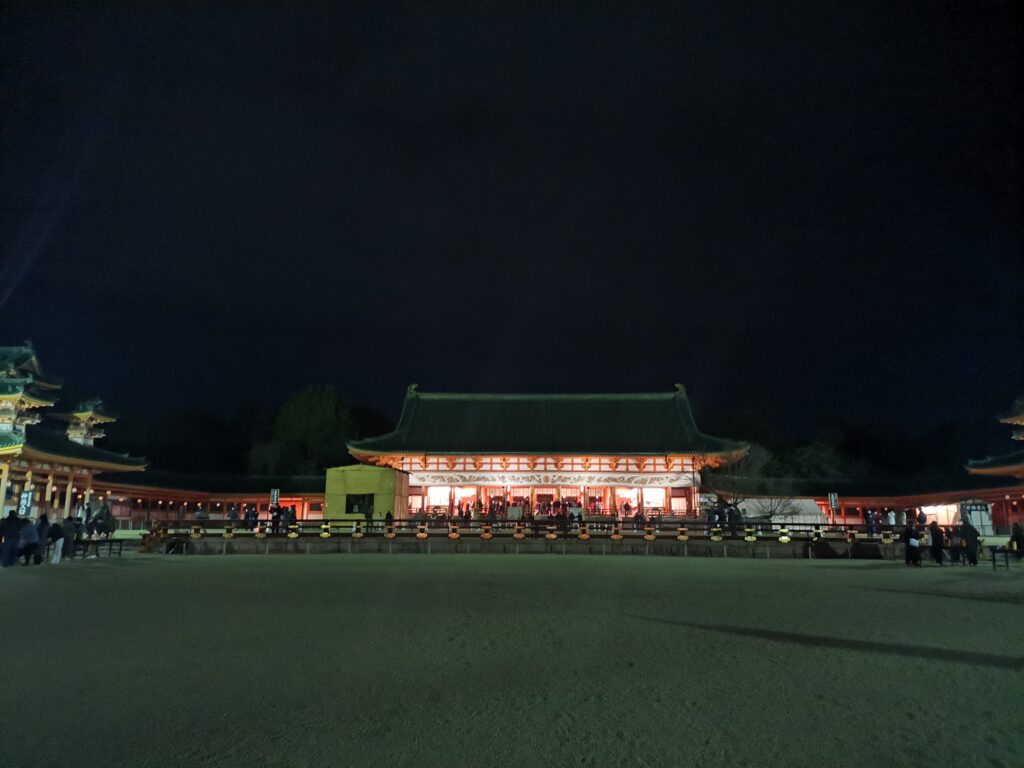 Heian Jingu Shrine, with its beautiful vermilion-lacquered shrine pavilions, is a must-see spot for sightseeing in Kyoto. Due to the large size of the grounds, I was able to visit the shrine without waiting at this time of the day. Not far from the center of the city, this may be a hole-in-the-wall spot for those who want to avoid the crowds of Hatsumode. There were several open-air stands along the approach to the shrine here as well.
---
02:30am Yasaka Shrine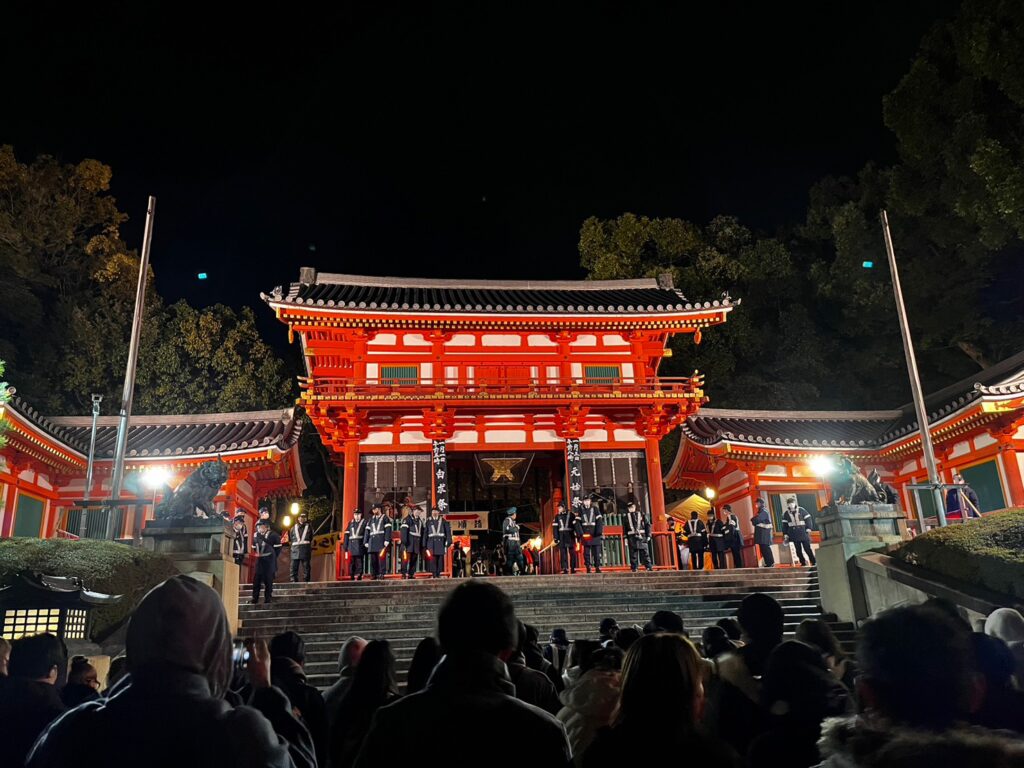 With my last ounce of energy, I went to Yasaka Shrine in Gion, in the heart of Kyoto. I had heard that the shrine is quite popular because it enshrines god of warding off evil, but it was even more crowded than I had imagined. The roads were blocked off and traffic was restricted so that people could not come and go as they pleased. Since the grounds of Yasaka Shrine are rather small, police officers were on high alert to prevent too many people from pouring into the shrine at once.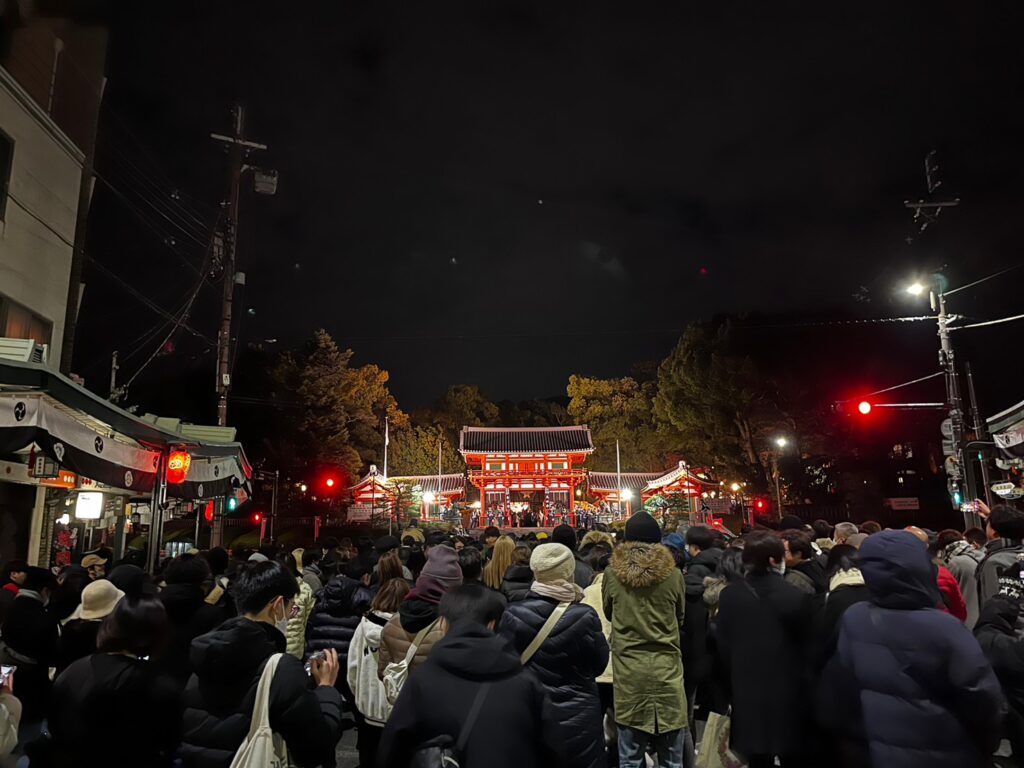 Looking at other SNS, some people said that it took more than 2 hours to enter the shrine right after New Year's Eve, but I was inside the grounds roughly 30 minutes after I started waiting in line. It took me about 10 minutes to get to the precinct to pray. Anyway, there are many roads that are impassable, so it is important to do your homework in advance.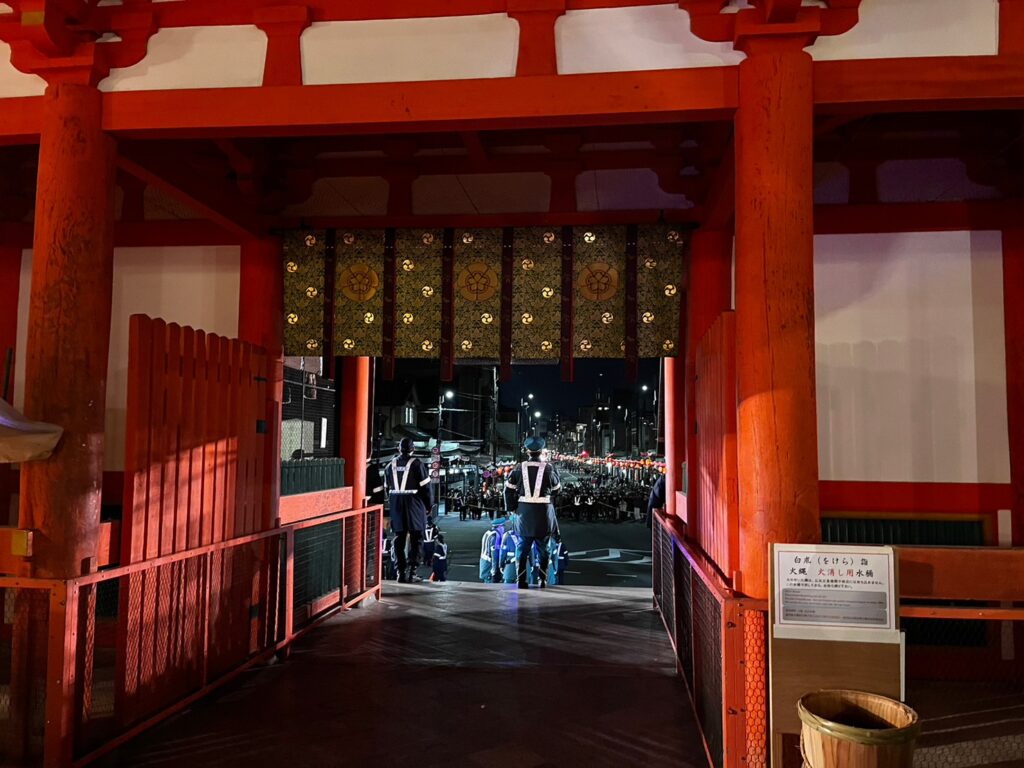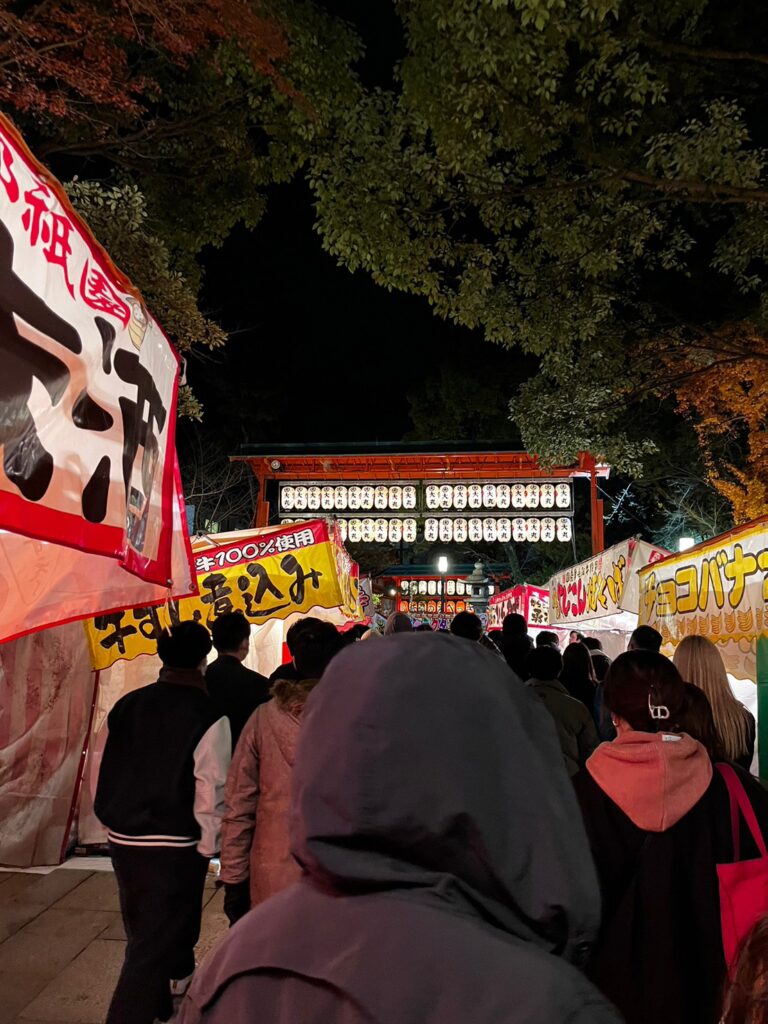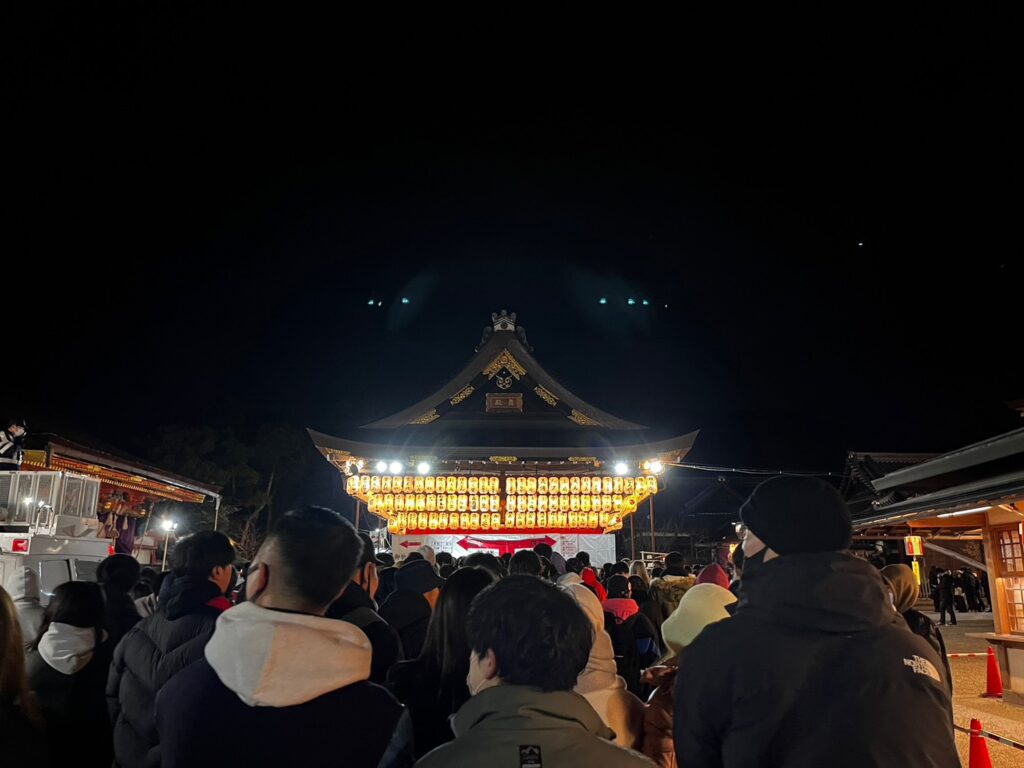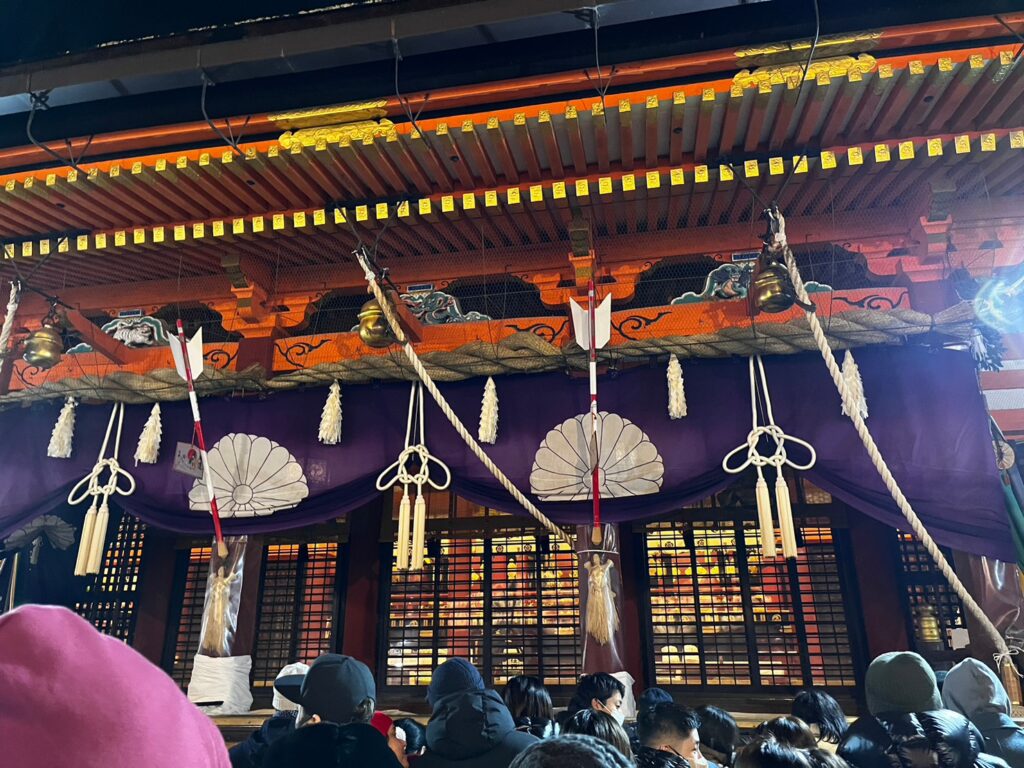 ---
Stay tuned for more articles from Kansai chan this year!
So this was my New Year's report. If you planning to spend the New Year's holidays in Kyoto, please visit nearby shrines or temples for your special experiences.

---
Latest Contents
---

Enjoy Kansai with KTIC
Tourist Information / PASS / WIFI / Day Tour
Kansai International Airport (KIX) T1
Open Everyday 9.30 – 17.30
Kyoto Tower 3F
Open Everyday 10.00 – 17.00