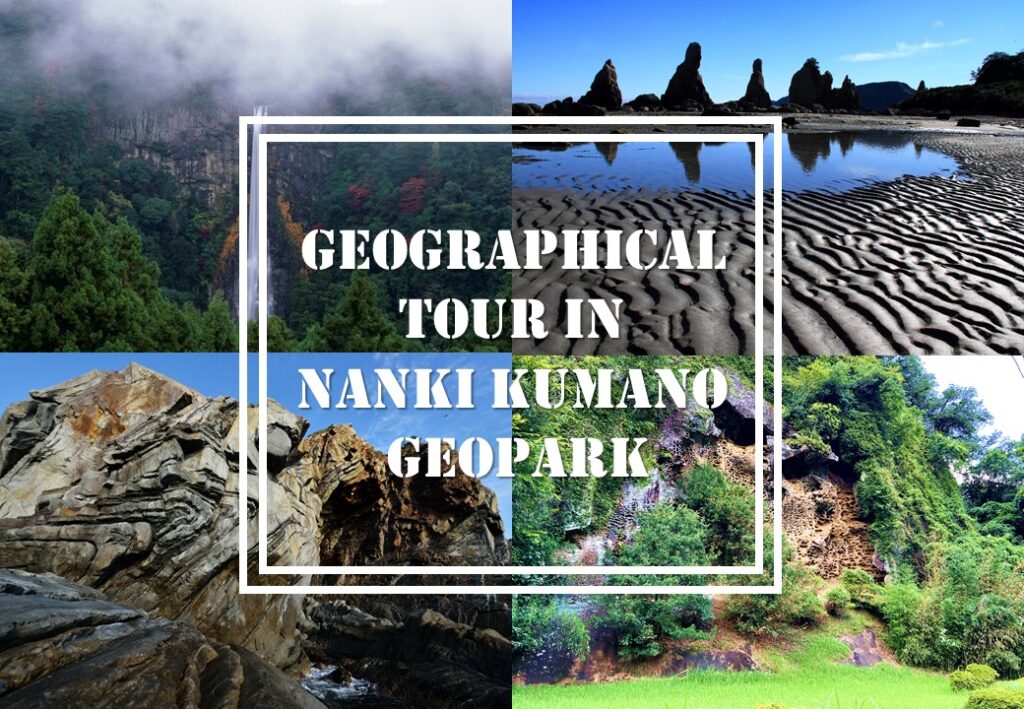 Geographical Tour in Nanki Kumano Geopark
There are many attractive sightseeing spots in Japan, but this time I would like to introduce some of the most photogenic and unique spots associated with geography!
The Japanese Islands are located on a rare place on the earth where four tectonic plates collide. The plates are to be moving little by little, which causes various phenomena such as earthquakes and volcanic activities. Due to the influence of those tectonic plates, Japan is one of the rare countries in the world where a wide variety of landforms can be seen.
About Nanki Kumano Geopark
This time, I would like to focus particularly on Wakayama. Speaking of Wakayama, many people visit Wakayama for the "Kumano Kodo (Kumano ancient road)". The Kumano Kodo is a path that many Japanese have walked on pilgrimage for more than 1,000 years. The majestic scenery of moss-steeped stone pavements leading deep into the mountains, lined with huge cedar trees, is popular not only among Japanese but also among foreign tourists. You may have seen the spectacular view of the eye-catching red three-story pagoda against the mountain backdrop and the long, narrow waterfall running through it somewhere before. Nachi Falls, one of the highlights of the Kumano Kodo Trail, is also said to have been created by a huge caldera eruption that took place about 14 million years ago, creating its distinctive geographical features.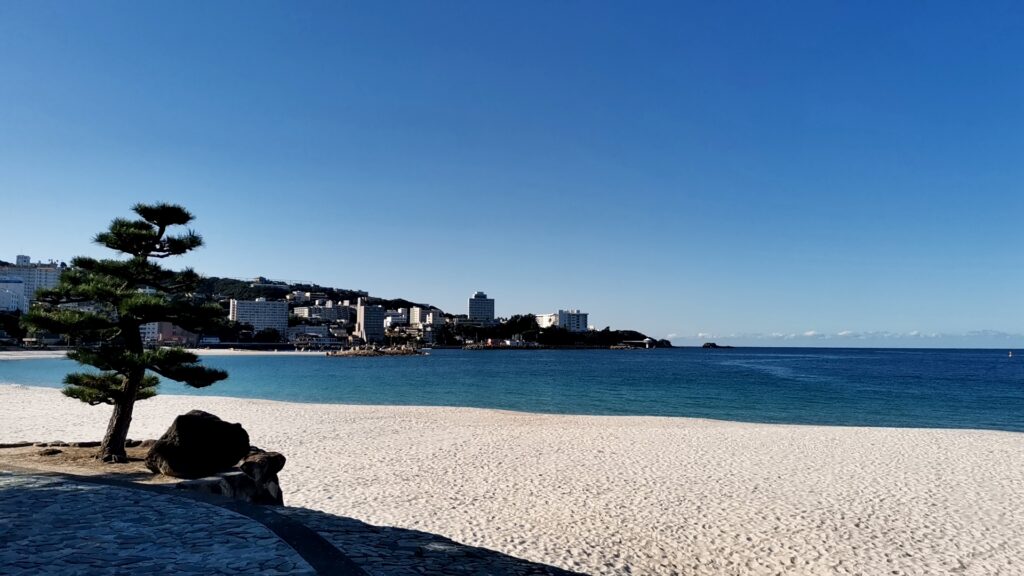 Wakayama attracts many people from nearby areas not only to the mountains, but also to Shirahama, a beach resort with ocean and hot springs. Unique topography and geology can also be seen near Shirahama, as listed below.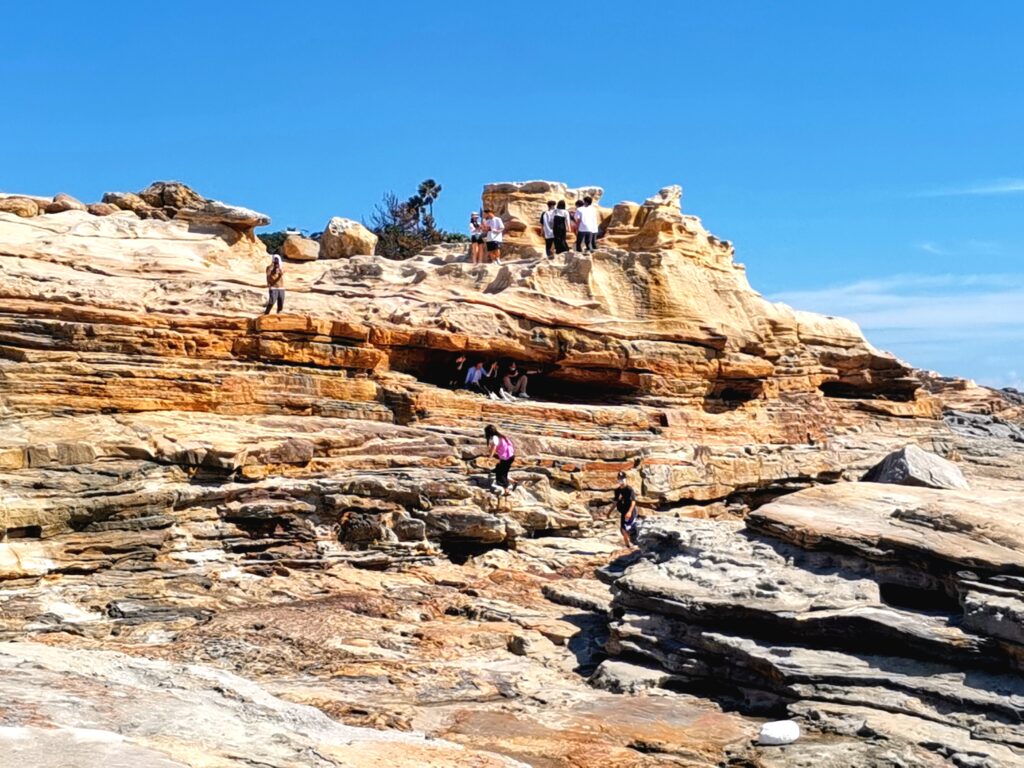 The surrounding area is called the Nanki Kumano Geopark. Three different geological strata created by plate subduction allow visitors to experience nature and culture, including unique landscapes, a wide variety of flora and fauna, and local beliefs.
5 recommended unique geographic spots in Nanki Kumano Geopark
In this article, I will introduce five of the most recommended spots. If you are not familiar with geography, that's okay. Nanki Kumano Geopark has specialized English-speaking guides who can show you around the unique geographical features. We will introduce the guides later.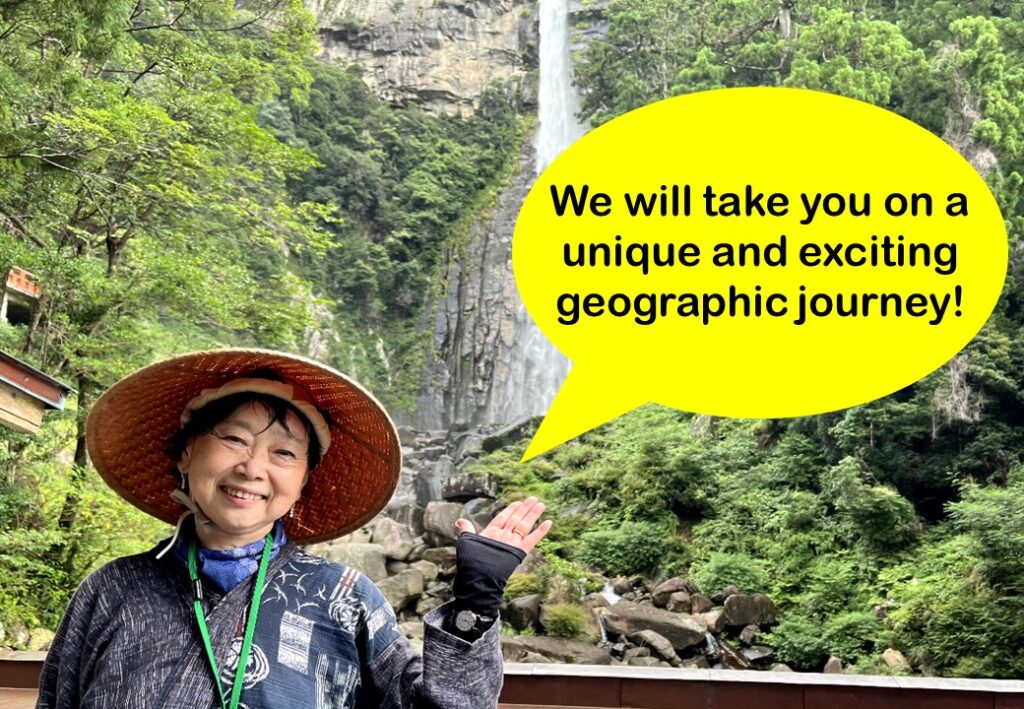 ---
①Nachi Waterfalls & Daimon-zaka slope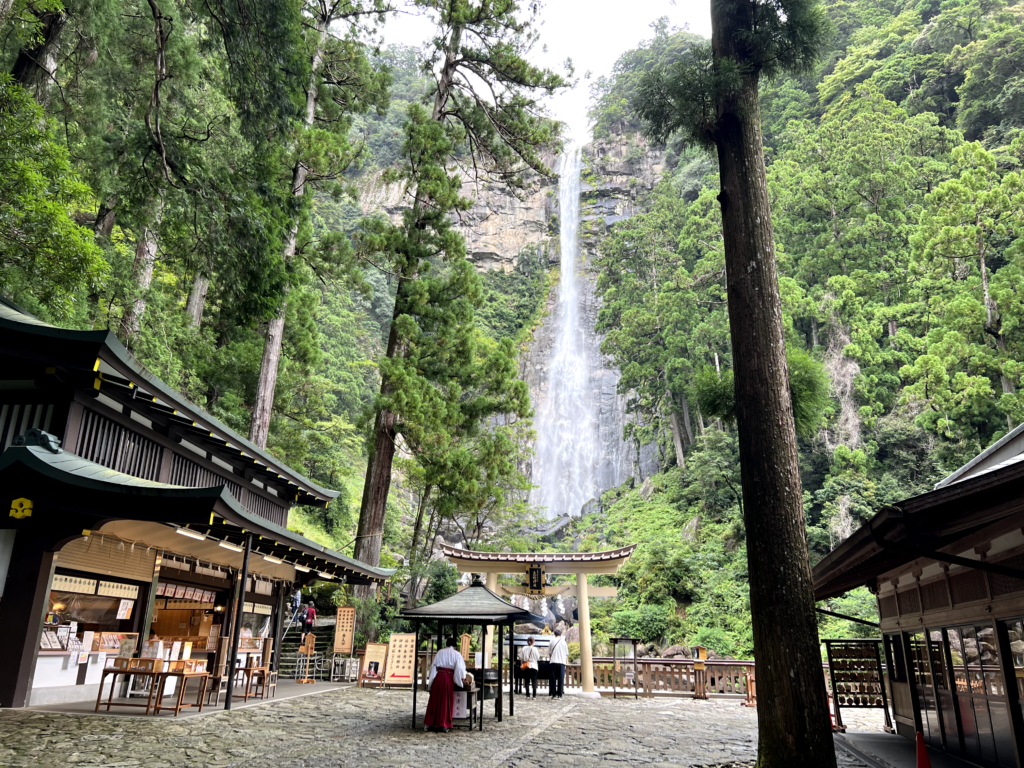 Nachi Waterfalls fall 133 meters from a sheer cliff. The shape of this waterfall is also a geological formation created by the boundary of geological strata. The straight fall amid the rising mist is very fantastic.
🗾Nachi Waterfalls
Address: Nachisan Nachikatsura-cho, Higashimuro-gun, Wakayama Prefecture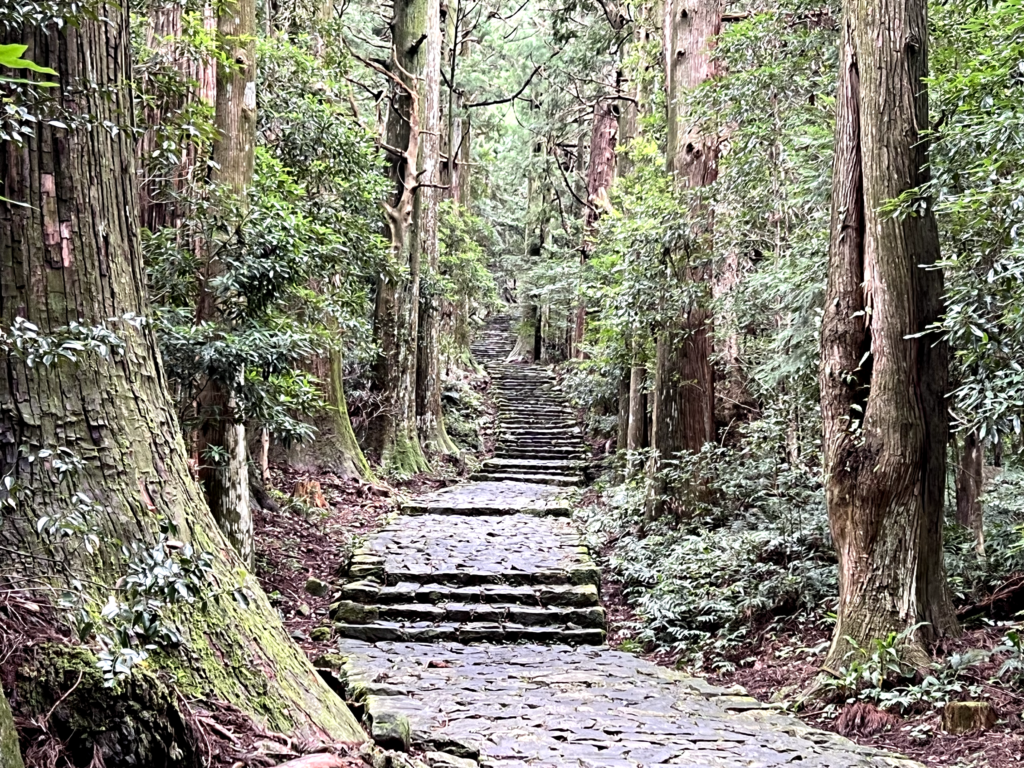 Near Nachi Waterfalls is Daimon-zaka slope, which is one of the most popular pilgrimage routes along the Kumano Kodo, and retains a strong trace of the olden days. Many parts of this path are made of rocks from this area. At Daimon-zaka slope, visitors can dress up in the costumes of the aristocrats who once worshipped along the Kumano Kodo and take a walk around the area. It might be interesting to think of the worshippers of old while wearing the costumes.
🗾Daimon-zaka slope
Address: Nachikatsura-cho, Higashimuro-gun, Wakayama Prefecture
---
②Ichimai-iwa Monolith in Kozagawa & The Mushikui-iwa Rock in Takaike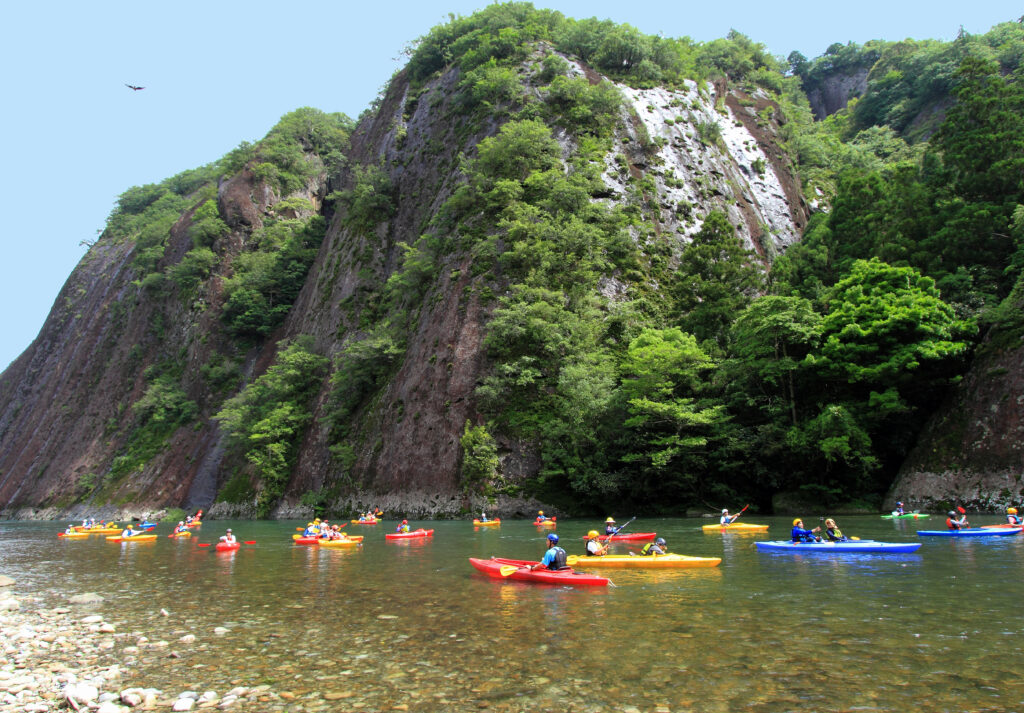 Kozagawa River is a popular activity spot for canoeing and rafting. As you go down the river, you will see a huge rock about 100 meters high and 500 meters wide. This giant rock is called the "Monolith of Kozagawa" and is designated as a national natural monument due to its unusual size. It is said that the rock was formed when magma erupted to the earth's surface about 14 to 15 million years ago.
🗾Ichimai-iwa Monolith in Kozagawa
Address: Aise Kozagawa-cho, Higashimuro-gun, Wakayama Prefecture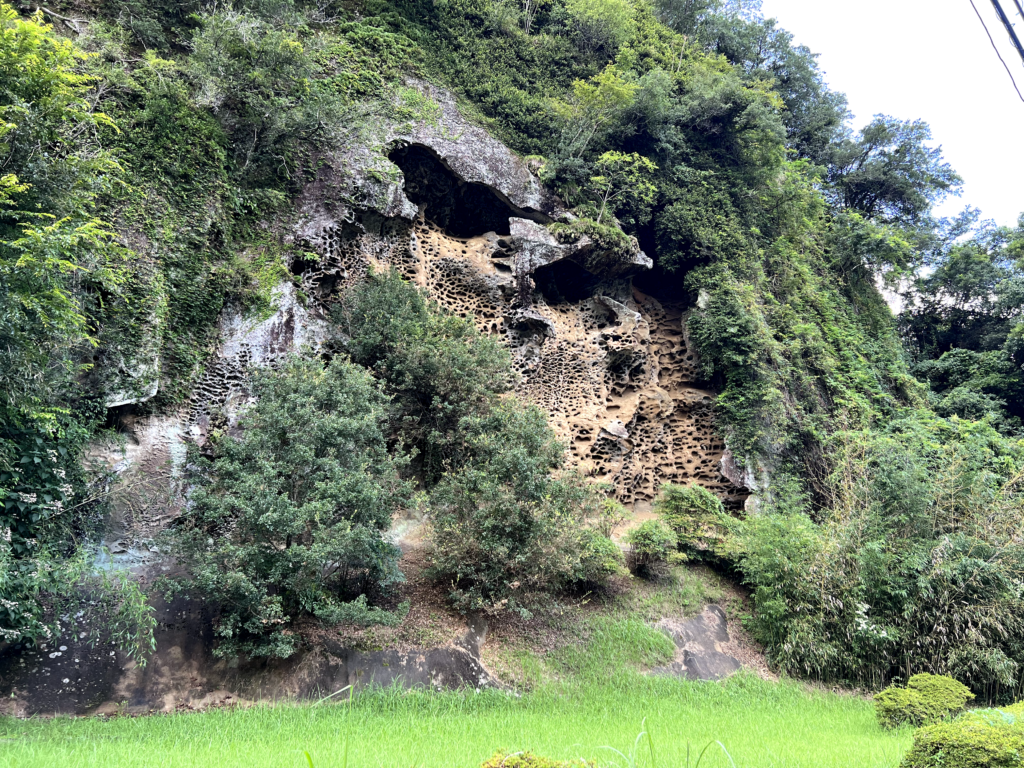 The rock may be a bit chilling for those who have a trypophobia. It is called the "Mushikui-iwa (Insect-Eaten Rock) of Takaike," because it has holes in it as if it had been eaten by insects. Of course, the holes were not eaten by insects, but were created by weathering called tafoni.
🗾The Mushikui-iwa Rock in Takaike
Address: Ikenoyama Kozagawa-cho, Higashimuro-gun, Wakayama Prefecture
---
③The Hashigui-iwa Rocks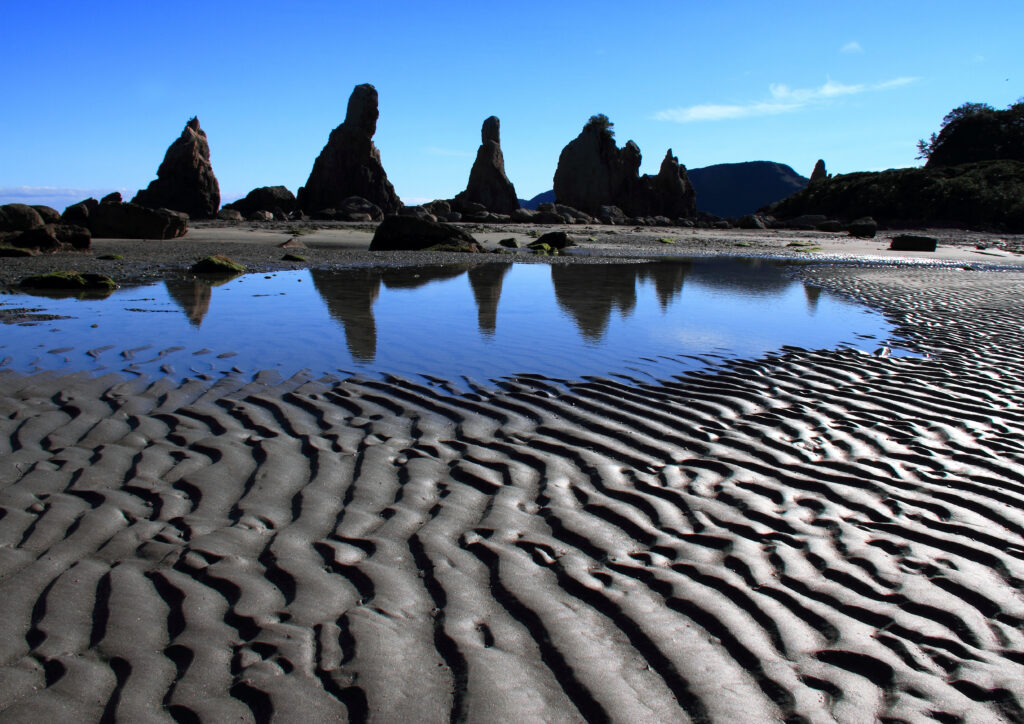 I will introduce some unique and unusual rocks adjacent to the sea. The Hashigui-iwa rocks (Bridge Pile Rock) is a unique spot where more than 40 rock pillars of various sizes line a straight line for about 850 meters out to sea. It is said to have that those rocks were formed by rising magma from the underground about 14 to 15 million years ago. At low tide, visitors can get close to the rocks and take unique photos of the unique rock formations.
🗾The Hashigui-iwa Rocks
Address: Kujinokawa Kushimoto-cho, Higashimuro-gun, Wakayama Prefecture
---
④Senjojiki Rock Plateau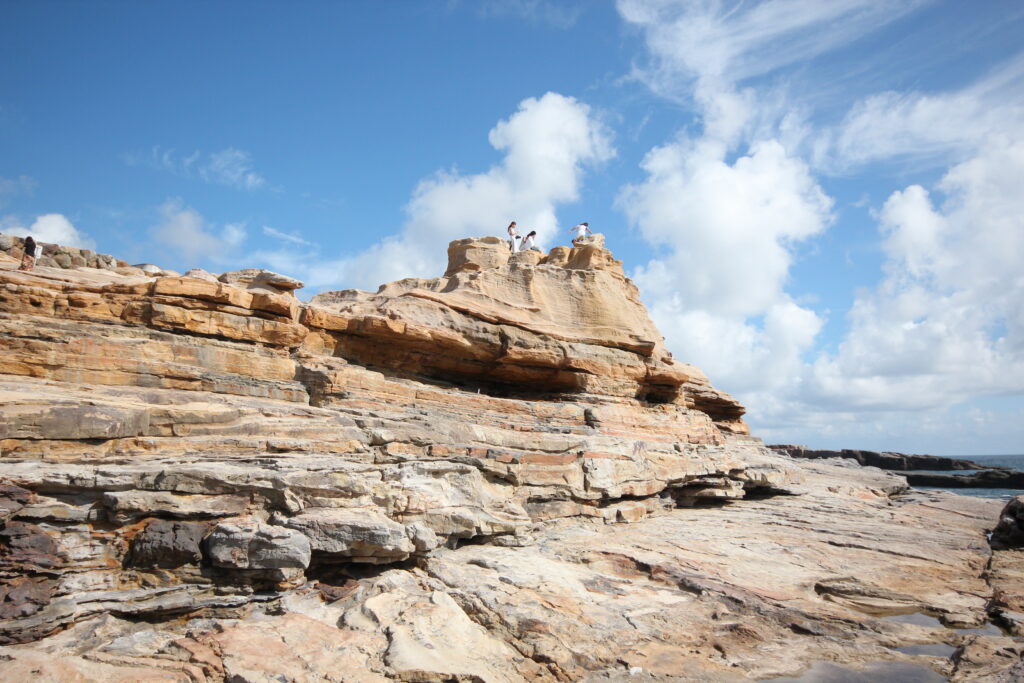 Senjojiki Rock Plateau is located not far from Shirahama, one of the Kansai region's most popular resorts. It is a terrain where flat seabed created by wave erosion has been uplifted and formed into coastal terraces. It is a vast, large bedrock formation, named for its size, which is large enough to lay a thousand tatami mats on. Visitors can walk to the edge of the waves and see and touch the multi-layered rocks up close.
🗾Senjojiki Rock Plateau
Address: 2927-72 Shirahama-cho, Nishimuro-gun, Wakayama Prefecture
---
⑤The Phoenix Fold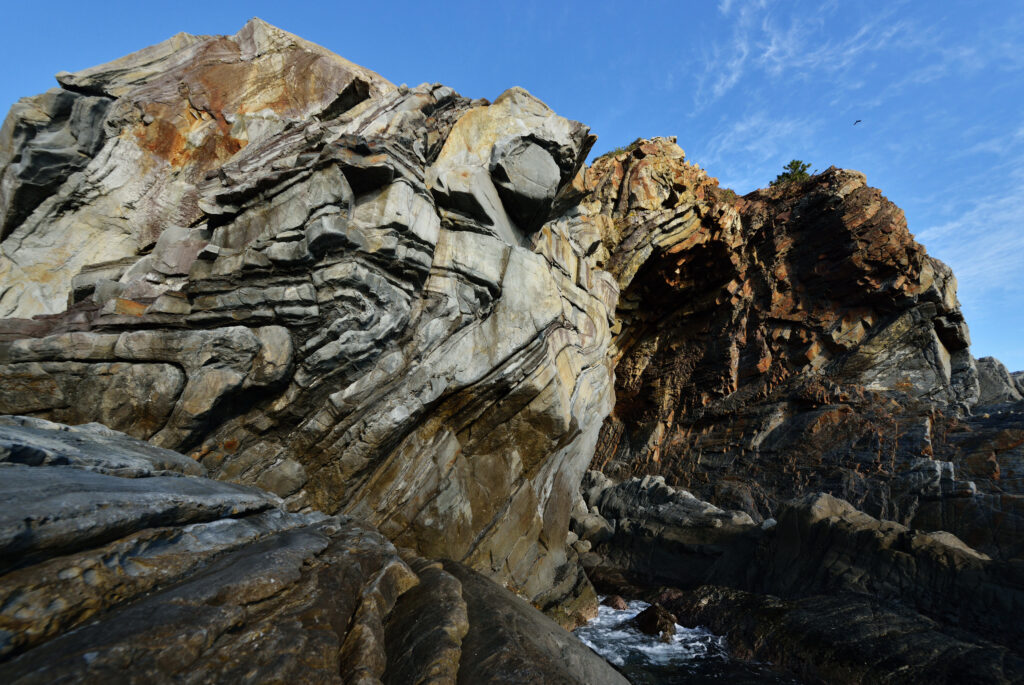 It is a strange shape, like a rock monster. Strata are generally deposited horizontally, but if they are laterally compressed by crustal movement before they are completely solidified, they bend into a corrugated shape. The Phoenix Fold is said to have been formed between 20 and 40 million years ago, and is a globally rare formation with a large fold like the letter "U" in the alphabet.
🗾The Phoenix Fold
Address: Kuchiwabuka Susami-cho, Nishimuro-gun, Wakayama Prefecture
---
Nanki Kumano Geopark Center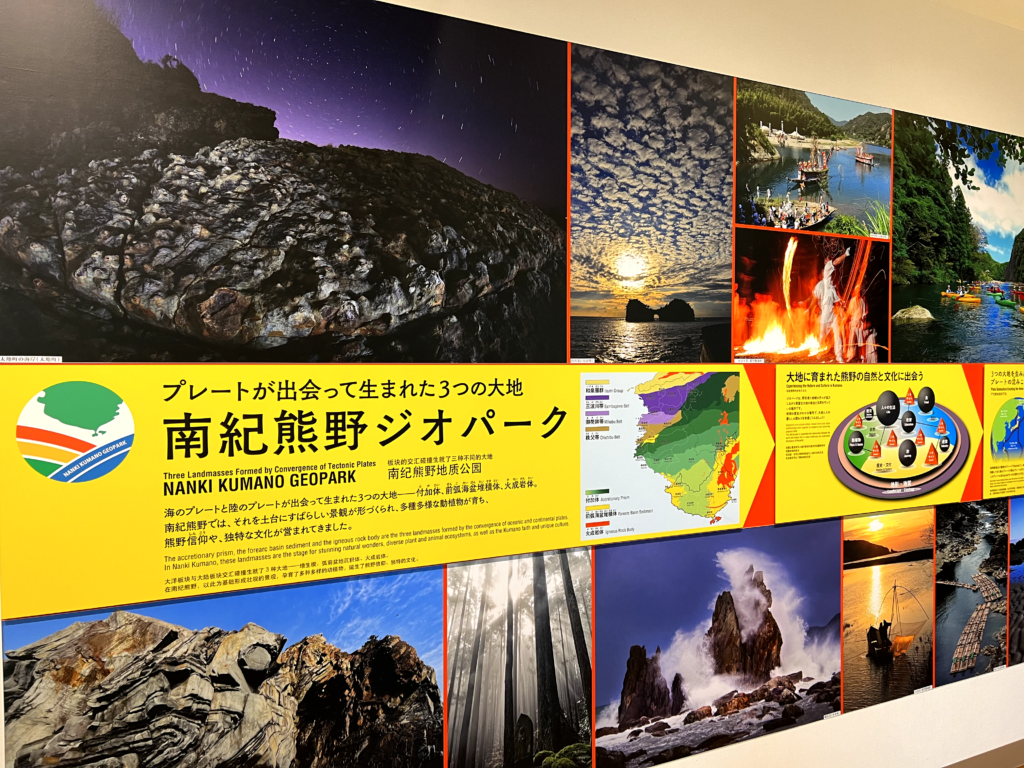 I have introduced the recommended spots in the Nanki Kumano Geopark, but if you want to know more about the Geopark, I recommend visiting the Nanki-Kumano Geopark Center. You can learn about the formation of the terrain through videos and panels.
🗾Nanki Kumano Geopark Center
Address: 2838-3 Shionomisaki, Kushimoto-town, Wakayama Prefecture
---
Find your private GEO specialist guide!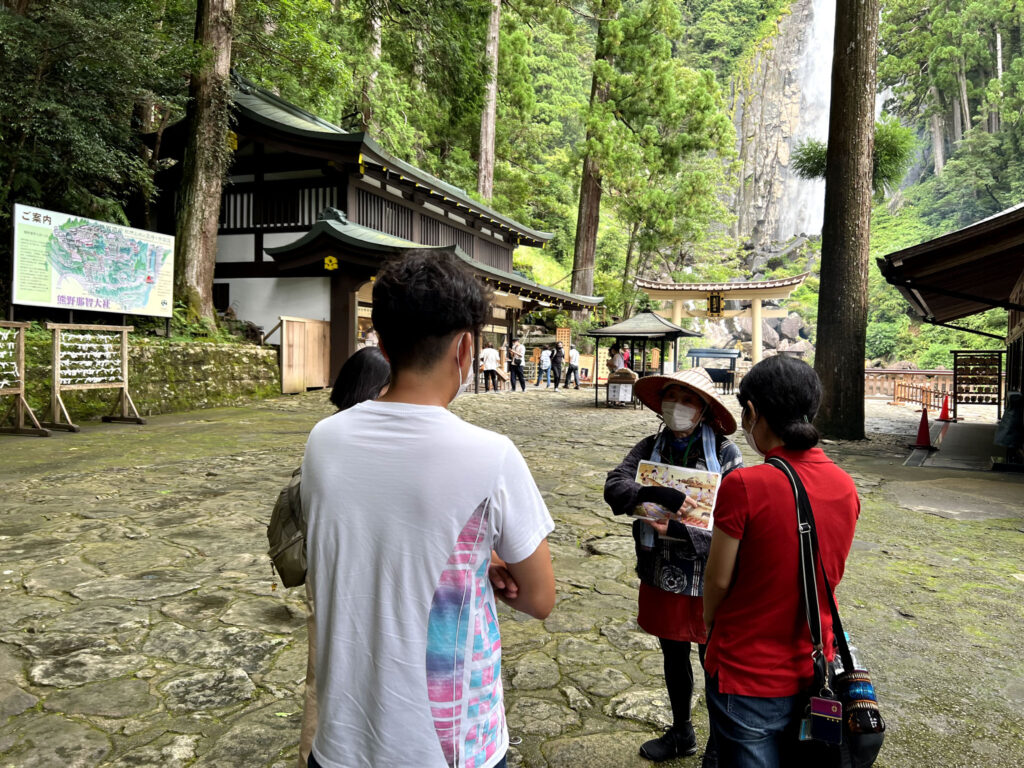 Geography Spots are fun just to look at, but the best way to enjoy them is to take a tour with a professional guide who can introduce you to the rarity, history, and uniqueness of the terrain. The tour guide will explain in an easy-to-understand manner about hidden spots that are not yet known to people and stories that will give you a sense of the history of the earth. If you are interested, please send an e-mail to the following address.
There are many themes such as food, culture, and many other things to do on a trip to Japan, but it might be fun to take this opportunity to tour Japan under the theme of "Geography"!
---
Find more geoparks in Japan!
---
Latest Contents
---

Enjoy Kansai with KTIC
Tourist Information / PASS / WIFI / Day Tour
Kansai International Airport (KIX) T1
Open Everyday 9.30 – 17.30
Kyoto Tower 3F
Open Everyday 10.00 – 17.00