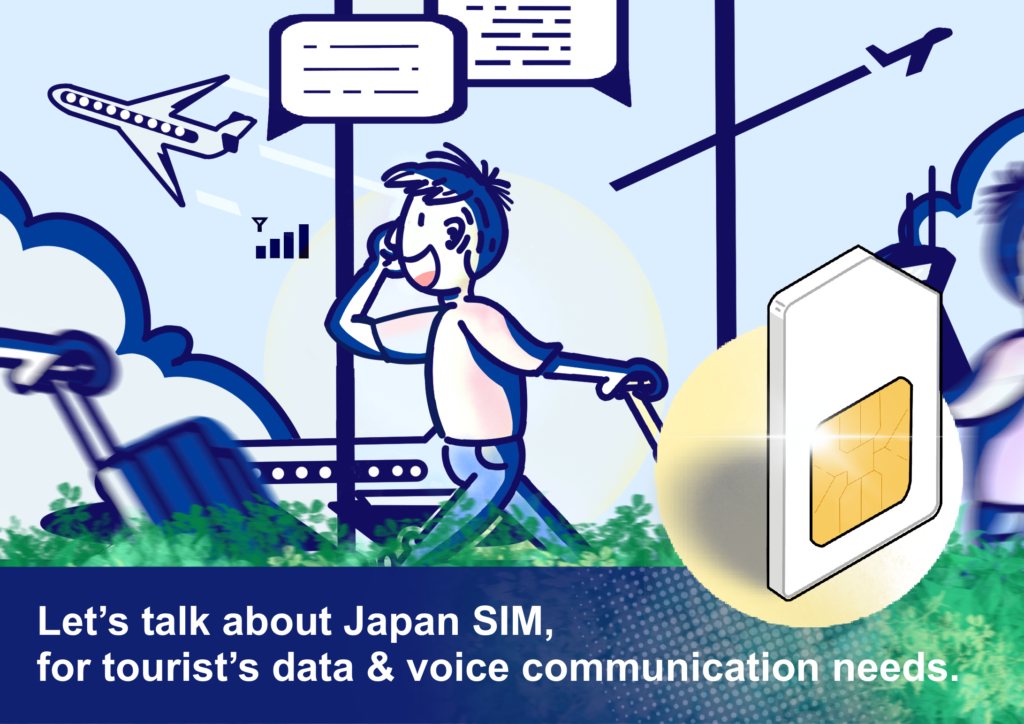 Mobal Sim Card For Hassle-Free Traveling & Living in Japan
Let's face it. Japan isn't one of those places where you can conveniently access free WIFI wherever you go. And talking from personal experience, the free WIFI provided on the public transportations, even the bullet trains, are often spotty, slow and unreliable. Although Japan is notorious for being a safe country, you never know when it coms to public WIFI. Hackers can be found ANYWHERE in the world.
🐱‍👤
Come Prepared
Not only is internet connection important while traveling, often times in Japan you will find yourself in a situation where you will need to call to make reservations or use a phone number for online bookings etc.
Looking at the few very good reasons above, it is probably a good idea to come prepared.
Save yourself from the hassle of traveling without internet by making sure that you have a SIM card with data while you are in Japan.
Even if you're coming to Japan for other reasons aside from travel, such as work or study, you'll probably need to look for a phone service provider for long term or short term use. This can be a pain in the peach🍑 especially if you don't speak Japanese.
.
.
One reliable SIM card provider is Mobal. I'll be introducing some of their services and products in this article along with reasons why you should choose them.
Although I'm not a tourist, I was transferred to work in Japan for a year. And because most mobile service providers in Japan require at least a two-year-contract, I panicked. The cancellation fees were extremely high and the installation procedures seemed outrageously complicated!
After searching and comparing different providers, I came across Mobal and after 5 days of in-depth consideration, I decided to go with them.
Find out more below!
SUBSCRIBE
AND BE THE FIRST TO GET NOTIFIED ON NEW POSTS AND DISCOUNT COUPONS
---
☎️
Mobal's Sim Cards
Short Term
📶Data Only (Unlimited)
The price and details can be checked through this LINK
---
📶📞📱Data + Voice Calling & Texting
| | | | |
| --- | --- | --- | --- |
| Plan | 30 Days | 60 Days | 90 Days |
The price and details can be checked through this LINK
---
Long Term
📶📞📱Data + Voice Calling & Texting
The price and details can be checked through this LINK
---
👍
Good Reasons To Get A SIM Card
For People Traveling to Japan
For People Moving to Japan
(Short & Long Term)
Use google maps everywhere and never get lost!
Have a phone number for opening a bank account.
Smoothly make reservations at restaurants/events/destinations.
Call for electricity and gas set up at home.
If your flight landed in Japan later than scheduled, be able to call your hotel immediately and avoid a no-show situation!
Phone numbers are required for almost any kind of registration in Japan.
Share your travel photos on social media immediately when you want to anywhere, anytime.
Be able to access the internet until WIFI is set up at home.
Let your friends and family know that you are safe and happy.
Get natural disaster notifications.
❓Why Choose Mobal?
Reliable 👌
Reasonably priced and high performance 📈
Fast and immediate 💨
Provides both data and phone calling with a real Japanese number 📱
Free worldwide delivery 🌎
Available for pickup in Japan 🗾
English customer service support provided through email, phone, and website! 🗣️
Profits go to charity 👼
---
✔️The Procedure
Choose the type of SIM card that best suits your situation.
You can order the SIM cards easily through this LINK !
Have the SIM card shipped to you or pick it up at Kansai Tourist Information Center!
Activate and enjoy!
---
📍 The Pick Up
The SIM cards can be picked up at:
①
Kansai Tourist Information Center at Kansai International Airport
Order SIM Card Here
WEBSITE FACEBOOK INSTAGRAM MAP
.
②
Kansai Tourist Information Center at Kyoto Tower
Order SIM Card Here
WEBSITE FACEBOOK INSTAGRAM MAP
.
③
Tonbori Base (Osaka)
Order SIM Card Here
WEBSITE FACEBOOK INSTAGRAM MAP

Our staffs will answer all of your questions! 🥰
---
🙋Personal Reasons Why I Chose Mobal:
I was transferred for work in Japan for one year and struggled to find a phone service that did not require long term contracts. After thorough consideration from comparing different services, I decided to land with Mobal.
⭐Here are the reasons why I chose them for my one year in Japan.
All the information they had on their website were simple, clear, and most important, in English!
The installation was extremely simple. Just provide my payment and personal information, pick up the SIM card or have it delivered, and then just activate!
It's been over 10 months and I've only had one small issue where the internet was spotty for a day. I contacted them and was surprised to get a very fast respond. The issue was fixed immediately and I never had any other issues so far.
No long term commitment!
I can fully view my invoice each month on the website so I can make sure that there are no hidden payments!
I can change my payment plan from credit card to cash payment at convenience stores later so that I'm not charged with transaction fees on my international card.
---
💡
Final Thoughts
No matter if you're planning a trip to Japan or will be moving to Japan, knowing all your options for internet and phone service is essential. Being able to call places, look up information, and use google maps will make your time in Japan smoother and more convenient!
---
Latest Contents

Enjoy Kansai with KTIC
Tourist Information / PASS / WIFI / Day Tour
Kansai International Airport (KIX) T1
Open Everyday 9.30 – 17.30
Kyoto Tower 3F