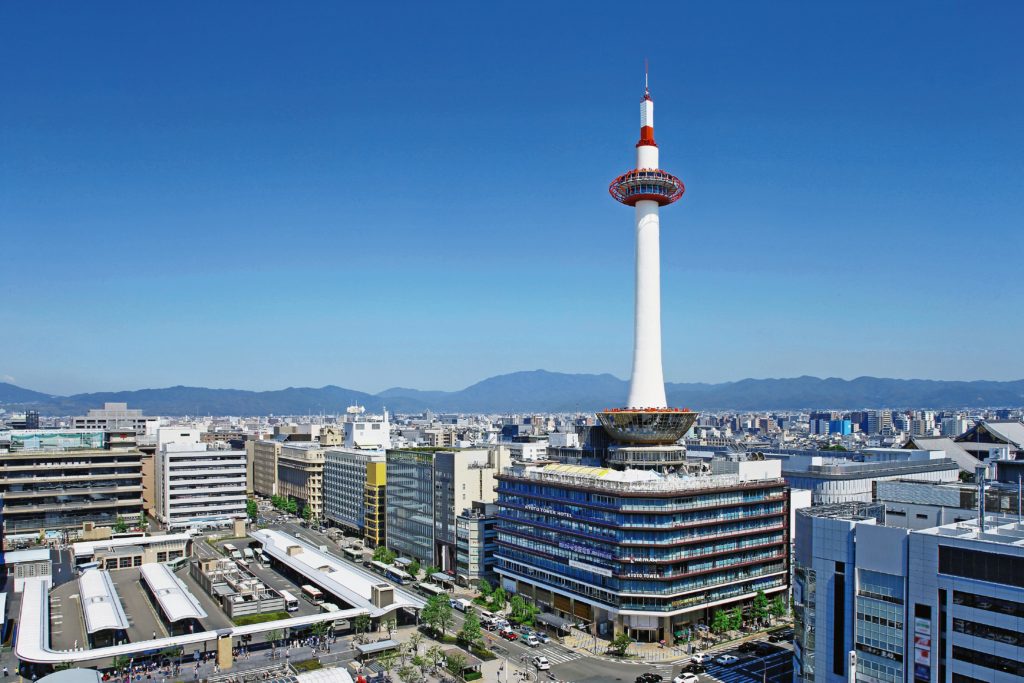 Kyoto Tower Guide
An easy guide to Kyoto tower, know what not to miss, especially discount for admission tickets, recommended activities do in the area and access in full detail
---
Kyoto Tower
Considered as the symbol of Kyoto's modern era, this tower has stood the test of time since early 1960s and helped people navigate the city center with its height of 131 meters and shape of the lighthouse. It is located right in front of Kyoto sta. (JR) and Kyoto Ekimae Bus stop. So, it is very easy to find and good choice if you look for a place to spend times around the train station.
In fact, this place is not just ad ordinary observation tower. At its base, there are hotel, department store and even public hot spring at the lowest floor. In addition, you will find workshops teaching you how to make traditional Japanese handcrafts and even sushi. You can try on Kimono at Kimono rental shop, enjoy varieties of foods, sweets and souvenir of Kyoto.
Useful Info
Time Spent: 1-2 hrs
Activity: Observation Deck (City View)
Shopping, Hot spring, Workshop
Recommend: Everyone
Restaurant : Food Hall B1F (List)
Kyoto Tower Hotel (Bar/Beer Garden/Buffet)
Access
Kyoto sta. (JR/Subway/Kintetsu system)
Central Entrance Walk 2 mins (Map)
JR Line
Osaka → Kyoto
(Rapid Express 30 min)
Nara → Kyoto
(Miyako Rapid 50 min)
Sannomiya (JR) → Kyoto
(Rapid Express yen 1 hr)
Kintetsu Line
Kintetsu-Nara → Kyoto
(Express 50 min)
Osaka-Namba → Kyoto
(Express 75 min)
Kyoto City Bus
Kyoto Ekimae stop
Walk 3 mins (Map)
Activities in the area
Observation Deck
On the top floor, You will be able to see the entire scenery of Kyoto city and also the mountain that surrounds it. We recommend you to drop by 3F to get discount ticket first.
Opening Hours
9:00〜21:20
(Last admission 21:00)
Latest Information
Admission Fees
Adult ¥800
High school ¥650
Elementary school ¥550
Under 6 years of age ¥150
Workshop (2F)
Kyoto is the city of traditions and cultures. So why not experience the real Japan through workshops. There are handcraft and cooking class you can choose. Please see the detail from the link below.
Hand-made seasonal Japanese confectionary
Sushi making workshop
traditional crafts of historic Kyoto
Hot Spring (B3F)
You can enjoy hot spring right at the center of Kyoto city. This public bath is well-equipped with everything you need to relax yourself from a long trip. The facility has standard of Japanese modernized style. So feel free to experience it like the locals!
Public bathhouse "YUU"(B3F)
7:00-22:00 (last admission 21:30)
[Adult] Weekdays: ¥770/ Weekends and holidays: ¥910
[child] (2 to 12 years old)] Every day: ¥450
Access through west entrance or the south stairs.
Where to buy tickets (Special Price)
Special price admission ticket is available only at Kansai Tourist Information Center (Kyoto Tower 3F). No advance reservation is needed. We are specialized at Kyoto sightseeing, so please feel free to drop by if you need any assistance or buy tickets for Kyoto tower and transportation in Kyoto.
Kansai Tourist Information Center (Kyoto)
Kyoto Tower 3F Open Everyday 10.00 – 17.00
800 → ¥650 (Adult)
650 → ¥500 (Highschool)
550 → ¥400 (Primary School)
¥150 (3 years old)
Latest Contents

Enjoy travelling Kansai with KTIC
Tourist Information / PASS / WIFI / Day Tour
Kansai International Airport (KIX) T1
Open Everyday 9.30 – 17.30
Kyoto Tower 3F
Open Everyday 10.00 – 17.00