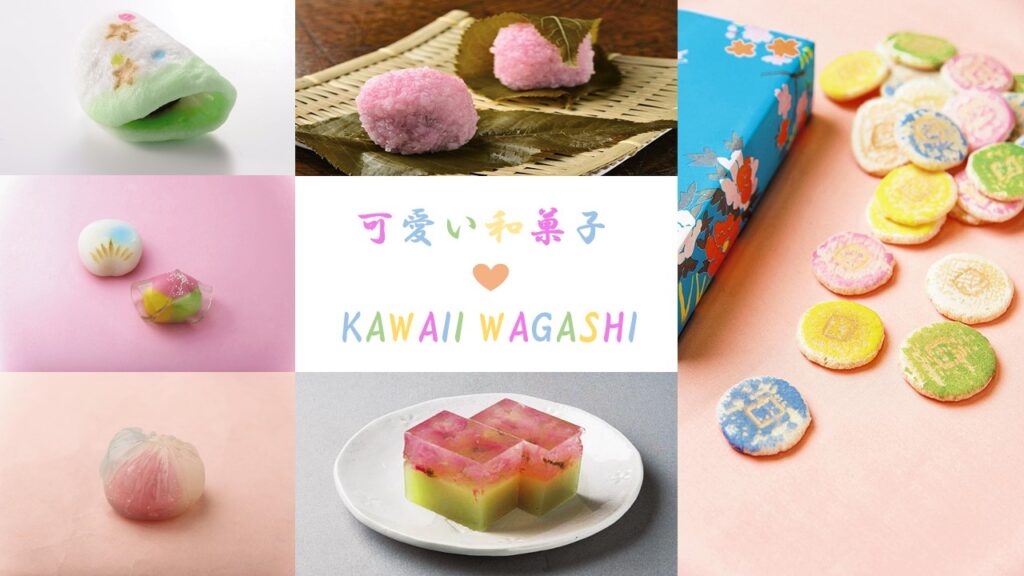 Kawaii Wagashi: 5 Places To Get Cute Traditional Japanese Sweets In Kansai
Wagashi (和菓子) are traditional Japanese sweets that are usually served together with green tea and are usually made from plant based ingredients! The process of making wagashi usually takes a lot of work and reflects the detail-oriented side of Japanese culture.
Why is wagashi so special and why do Japanese people usually buy it and give it as gifts? Traditionally, each wagashi is hand made carefully and is usually named after natural scenery, historical events, or poetry. Wagashi has a lot of different varieties but they are usually very aesthetically pleasing. I always hesitate to eat the wagashi that was gifted to me because it's just so beautiful that I want to put it on display in my house and enjoy looking at it forever!
Wagashi is a great gift you can bring home from your trip to Japan and also a great gift to give during festivals or when you visit someone's house in Japan! Different places in Japan have different wagashi with different characteristics so it can be very interesting.
My favorite kind of wagashi are of course the kawaii ones! They are just so fun to look at and it puts a smile on my face and puts me in a good mood when receiving them as gifts. So here, I have collected 5 places in Kansai where you can get your own Kawaii Wagashi! 🍡🍡🍡 Enjoy!
---
①
末富
Suetomi
(Kyoto)
This is a store selling Kyoto-style sweets. They make sweets for official businesses such as temples and tea ceremony schools. Their fresh Japanese sweets are like a work of art, with the appearance of the four seasons magnificently expressed in each of them. They also make fun items for Christmas season, such as tree shaped sweets! People also visit this place for the bite-sized rice cracker "Kyoto Fusen". It is filled with light and soft melt-in-your-mouth feeling, color, sensitivity and honey!
💛
---
②
萬松堂
Manshodo
(Nara)
This long-established Japanese confectioner stands just in front of the Nio-mon gates of the Kinpusen-ji Temple. Their kusa-mochi (mugwort rice cake), and sakura-mochi (pink rice cake filled with red bean paste and wrapped in pickled cherry leaf) are handmade. They are the perfect snack during your sightseeing walks! The sakura-yokan is a type of cake containing pickled cherry blossoms layered on top of a matcha-yokan (a jellied green tea-flavored bean paste).I highly recommend you to buy this as a souvenir or a gift!!
💛
---
③
鍵善良房
Kagizen Yoshifusa
(Kyoto)
This is a long-established wagashi shop in Gion. There is a tea shop at the back on the first floor where guests can enjoy Kuzukiri (Japanese traditional dessert that looks like noodles). Fresh Kuzukiri is kept in iced water throughout the year and served with Kuromitsu (brown sugar syrup). They also sell very kawaii dried sweets which are made of wasanbon-to sugar.
💛
---
④
伊勢屋本店
Iseya Main Store
(Hyogo)
Iseya is a long-established wagashi store founded in the Genroku era. It is famous for Tamatsubaki, one of the representative sweets of Himeji. It is a mellow dessert with an elegant sweetness made for the wedding ceremony of Lord Sakai Tadanori and the daughter of Tokugawa Ienari back in the days. The filling is made with white bean paste mixed with egg yolk. The outside is covered in soft dough similar to Turkish Delight! Pink and kawaii and delicious!
💛
---
⑤
老松 嵐山店
Oimatsu Arashiyama Branch
(Kyoto)
Oimatsu is one of the best confectioners in Kyoto. This tearoom has a tsuboniwa backyard garden with seasonal plants such as verdant moss, maples, plums, camellias, and azaleas. Hon-arabimochi with rare bracken starch from Kyushu, seasonal fresh wagashi sweets, and Gion tsujiri matcha can be enjoyed here!
💛
---
Check Out More Food Lists Here!!
---
Latest Contents

Enjoy travelling Kansai with KTIC
Tourist Information / PASS / WIFI / Day Tour
Kansai International Airport (KIX) T1
Open Everyday 9.30 – 17.30
Kyoto Tower 3F
Open Everyday 10.00 – 17.00