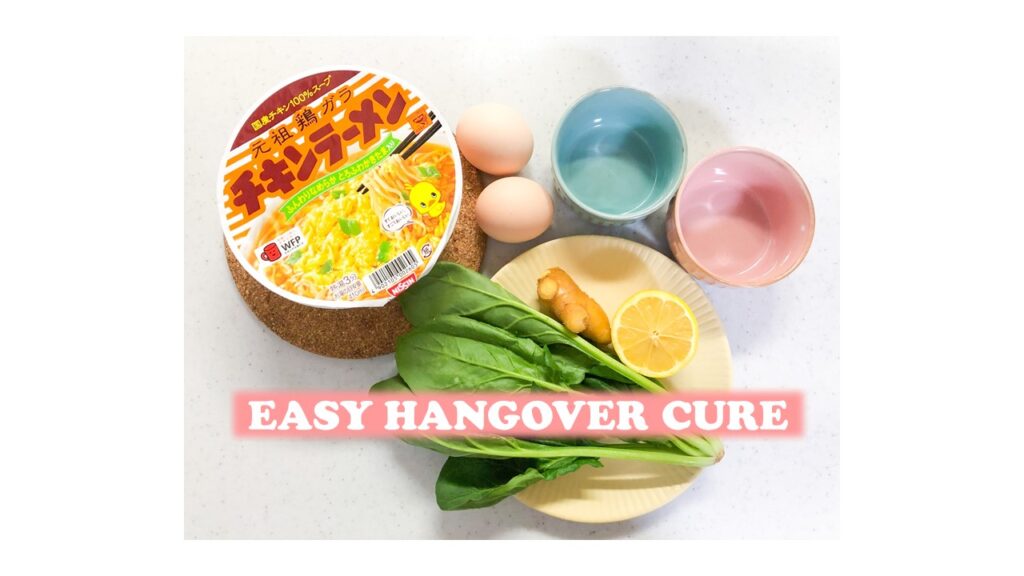 Easy Hangover Recipe That Works: Japanese Chicken (Instant) Noodle Soup
Went out last night? Partied too hard? Drank too much? Woke up with a horrible headache? Your body and soul is crying for help? Hangover from hell? I feel your pain… But suffer no longer because we are going to show you an easy hangover recipe that can be made in no time and will guarantee to revive you from the dead.
🍺🍷🍸
---
🍜
Reasons why you should make this easy hangover recipe
🥴Reason 1: The instant noodle's chicken broth seasoning is packed with sodium, therefore, it will help restore your body's sodium level and replenish the electrolytes in your body. This will help reduce symptoms of the hangover.
🥴Reason 2: Protein from the eggs and chicken breast help boost liver detoxification. Eggs are especially the hero here. They're full of vitamin B12 which will energize you and their hard working amino acids will break down the alcohol's toxins, and boost your liver function.
🥴Reason 3: Spinach is packed with all kinds of nutrients that will help fight off those evil hangover from hell symptoms. It is an anti-inflammatory agent that gives a helping hand in detoxifying your sad liver.
🥴Reason 4: Ginger has a long history of curing an upset stomach, which might help with that morning sickness after a long drunken night.
🥴Reason 5: Lemon provides vitamin C, helps detox your digestive system, and adds deliciousness to the recipe.
🍜
Ingredients For This Easy Hangover Recipe
Ganso Tori Gara Chicken Ramen (1 pack)
Chicken Breasts (as much as you can eat)
Ginger (one thumb, julienned)
Spinach (a handful)
Eggs (2)
Lime or Lemon
🍜
Method For This Easy Hangover Recipe
Boil 500ml of water in a pot.
Add the instant chicken broth seasoning from the instant ramen package.
Add the chicken breasts.
Add the instant noodles.
Add the spinach and stir until noodles start to soften (2 mins).
Scramble the eggs in a bowl then pour it on top of the noodles.
Once eggs start to solidify, remove from heat and garnish with chopped ginger.
Squeeze in some lemon or lime juice.
Rest back and enjoy!
Let us know in the comments if this recipe cured your hangover!
---
More Recipes To Try
---
Latest Contents

Enjoy Kansai with KTIC
Tourist Information / PASS / WIFI / Day Tour
Kansai International Airport (KIX) T1
Open Everyday 9.30 – 17.30
Kyoto Tower 3F
Open Everyday 10.00 – 17.00