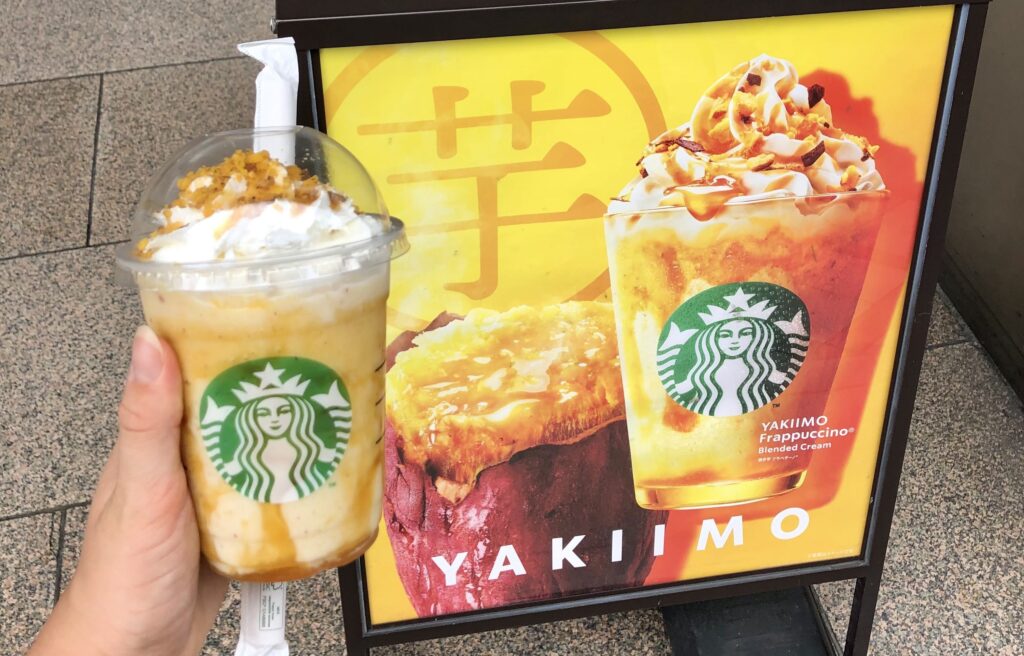 Starbucks Japan's Special Autumn Drink: Roasted Sweet Potato Frappuccino!
When thinking of Autumn season, pumpkin probably comes to mind. You'll know that it's officially autumn season when Starbucks announces the Pumpkin Spiced Latte. However, in Japan roasted sweet potato is the seasonal autumn treat. Sweet potato flavored anything can be found at cafes and convenience stores. Starbucks Japan also caught on with the trend and presented the Yakiimo Frappuccino as their special autumn menu! Find out what I personally thought about it in the article!
SUBSCRIBE
AND BE THE FIRST TO GET NOTIFIED ON NEW POSTS AND DISCOUNT COUPONS
---
🍠
Starbuck Japan's
Yakiimo (Roasted Sweet Potato)
Frappuccino
Checking Starbucks Japan's official website (https://www.starbucks.co.jp/cafe/yakiimo/) about the Yakiimo Frappuccino, their main concept is to have us "feel the depth of autumn" through the delicious drink.
Apparently, this Frappuccino is packed with roasted sweet potato deliciousness expressed through the chewy texture, the sparkling golden sweet potato honey, and the crispy potato skin topping. Seems like real sweet potato is blended together with the drink too!
After reading this, I couldn't help but run to the nearest Starbucks to give it a try.
---
🍠
Personal Thoughts On Starbucks Japan's
Yakiimo Frappuccino
I loved it !! I might be biased because I am a yakiimo (roasted sweet potato) enthusiast and would almost always go out of my way for a good aromatic roasted sweet potato. The drink tasted just like it was described with a mixture of sweet potato and honey aroma. I enjoyed the chewy sweet potato bits and crispy potato skin texture that added to the experience.
I finished the drink way too fast and really wanted to get another one but I had to use all of my will power to stop myself!
What I didn't like about the drink: I didn't like that this drink is seasonal and is only available for a certain period of time. I wish it was available all year-round!!! 🍠
Any fellow Yakiimo enthusiasts out there?? Say hi in the comments!! 🍠 🍠


*THIS IS NOT A PAID ADVERTISEMENT*
---
Related Article
---
LATEST CONTENTS

Enjoy Kansai with KTIC
Tourist Information / PASS / WIFI / Day Tour
Kansai International Airport (KIX) T1
Open Everyday 9.30 – 17.30
Kyoto Tower 3F
Open Everyday 10.00 – 17.00