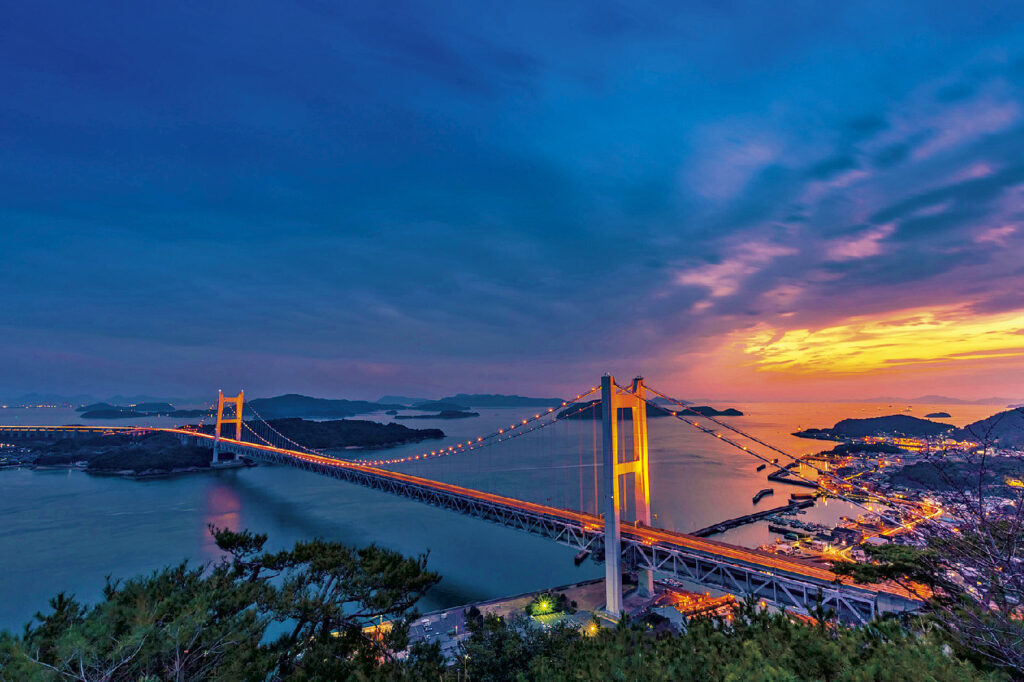 Mount Washu: The Spectacular View of Seto Inland Sea & Best 100 Sunset in Japan
Introducing Mount Washu, a spectacular scenic spot that everyone should visit and see with their own eyes at least once!
---
👀
Mount Washu at a Glance
Mount Washu (鷲羽山, Washuzan in Japanese) is a small hill located in Kojima district, the southern part of Kurashiki City, Okayama Prefecture. It is part of the Setonaikai National Park, Japan's first and biggest national park. The name Mount Washu came from the shape of the mountain which looks like an eagle (washu in Japanese) with its wings spreading.
The peak, known as Shoshuho (鐘秀峰,133 meter above sea level) offers a panoramic view of the Seto Inland Sea dotted with about 50 small islands and a majestic view of the Seto Ohashi Bridge, one of the three bridges connecting Shikoku with main Honshu Island.
On top of the hill are a visitor's center, a rest house, and two observation platforms. It will take around an hour to tour around the hill. As you walk towards the summit, you will have a great view of the Seto Inland Sea and the Bridge from different angles. If you need a coffee break, you can take a rest at the rest house which also sells souvenirs and provides light meals with a magnificent view.
---
⭐
Highlight 1: The Seto Ohashi Bridge
Seto Ohashi Bridge is one of the three bridges connecting Okayama Prefecture in Honsu Island with Kagawa Prefecture in Shikoku. Opened in 1988, Seto Ohashi Bridge with a total length of 13.1km is composed with six separate bridges including suspension, cable-stayed, and truss bridges. It is also the world's longest double-decker bridge that accommodates both road and rail traffic across 5 islands in Seto Inland Sea. This bridge which combines both natural and man-made wonders will surely take your breath away.
Illumination is scheduled from sunset onwards on Saturday and public holidays.
---
⭐
Highlight 2: Best 100 Sunsets in Japan
In the day time, the view from the the Observatory is beautiful but it is exceptionally stunning during the sunset time. When the glowing golden colors make up the backdrop of the Seto Inland Sea and the Seto Ohashi Bridge, you will be enveloped in the beauty of this breathtaking panorama. This location has been selected as one of the "Best 100 Sunset in Japan".
---
👍
Recommended Spot Around Mount Washu: Shimotsui Port Town
Shimotsui is an old port town at the bottom of Mount Wushu. Cargo ships stop here making it an important hub in the Seto Inland Sea for transporting goods during the Edo period (1603-1867). It was also bustling with people who made pilgrimage to Sanuki Kotohira in Shikoku. Even today, the traditional old houses, temples and shrines formed the beautiful townscape with a peaceful atmosphere.
Located in the main street of the town, the Shimotsui Shipping Agent Museum is the main attraction of the town. The house was renovated in the Meiji period (1868-1912) and it is a place where you can learn about the history of this old fishing port while having seasonal treats and shopping for souvenirs.
Click to see more about Shimotusi Shipping Agent Museum
(Available in Japanese Only)
Since this fishing town is located under the Seto Ohashi Great Bridge, it is interesting to have a close up of the bridge from the village.
It is recommended to visit this old town first before heading to the Mount Washu Observatory II for sunset viewing.
---
🚗
How to get there
🚅 Take the Shinkansen to Okayama Station, then change to JR train (Seto Ohashi Line) heading to JR Kojima Station.
🚇From JR Kojima Station, take the Shimoden Bus (Shimotsui Junkansen Line) to "Shimotsui Shipping Agent" (if you want to visit the old fishing port) or go directly to "Washuzan Observation Deck No. 2 ". It takes about a 10 minute walk from the bus station to the Observation Deck No. 2
Click for Shimoden Bus (Shimotsui Junkansen Line) Schedule
(Available in Japanese Only)
⚠️Please check the bus schedule before your go as the bus runs only every 1 hour.
---
"Washuzan and Seto Ohashi Sunset Viewing Bus"
This tour bus which runs only on Fridays, Saturdays, Sundays and public holidays will bring you to two scenic viewing spots including Mt. Sanhyaku and Washuzan Observation Deck no. 2. You will have 15 minutes at each spot to enjoy the sunset view.
You can take this sunset touring bus from JR Kojima Station or use the pick up service available from a few local hotels in Kojima. Tickets are sold on the bus.
---
📍
MAP
---
Latest Contents

Enjoy Kansai with KTIC
Tourist Information / PASS / WIFI / Day Tour
Kansai International Airport (KIX) T1
Open Everyday 9.30 – 17.30
Kyoto Tower 3F
Open Everyday 10.00 – 17.00