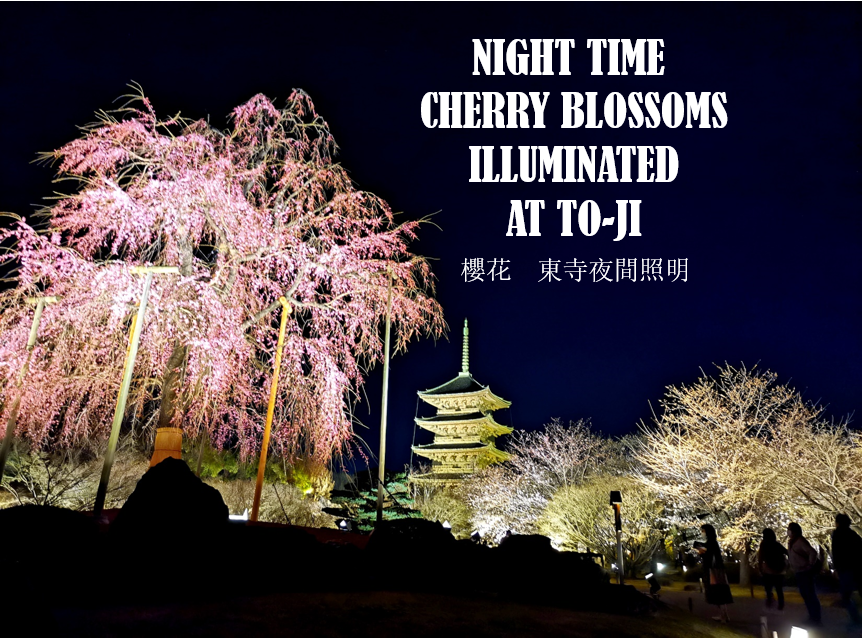 Kyoto cherry blossoms 2022: Night time illumination at To-ji
There are many things to do in Kyoto. But what about at night…? Enjoying a traditional meal such as kaiseki cuisine? Bar-hopping in Ponto-cho? How about fantastic illuminated cherry blossoms in Kyoto that can only be seen during this time around? Many shrines and temples are illuminated, offering unique beautiful night views of Kyoto.
🌸To-ji🌸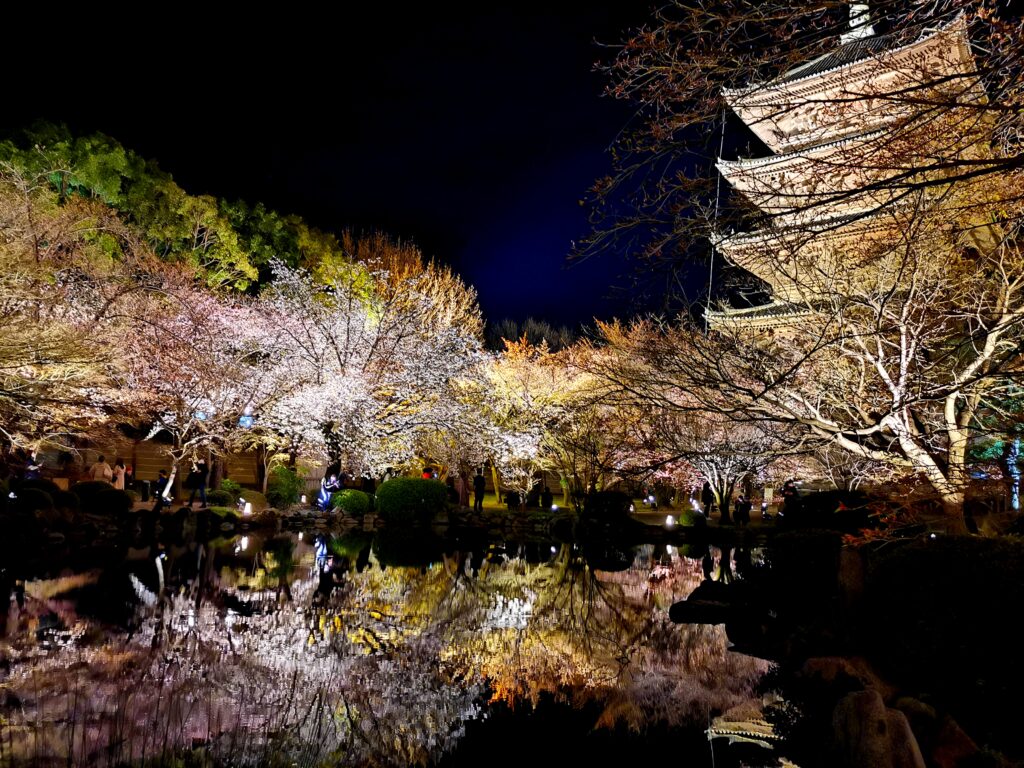 To-ji Temple, founded in 796, is one of the Kyoto's World Heritage Sites and a famous cherry blossom viewing spot. The 55-meter tall five-storied pagoda, the symbol of Kyoto, is the tallest wooden pagoda in Japan and can be located from many places in Kyoto.
🌸 The fantastic Kyoto Cherry Blossoms 🌸
There are about 200 cherry trees planted in the precincts of the temple. Please look for the "Weeping Cherry ". This 13-meter tall cherry tree is said to be about 130 years old. The cherry blossoms photographed with the five-storied pagoda in the background are a true springtime tradition.
🌸 Dynamic 3D Mandalas 🌸
After enjoying the cherry blossoms, try to visit the "Kondo(main hall)" and the "Ko-do(lecture hall)". To-ji Temple is famous for its dynamic and powerful "three-dimensional mandala". Mandalas are usually drawn on a flat surface to convey esoteric Buddhist teachings, but this three-dimensional mandala are arranged and expressed in three dimensions using Buddhist statues.
In the "Ko-do", which is dimmer than in the daytime, the powerful Buddha images are illuminated by faint lights, creating a solemn atmosphere. Of the 21 Buddhist statues in the lecture hall, 16 are designated as National Treasures and 5 as Important Cultural Properties. (Photography is prohibited inside the lecture hall and the main hall.)

There are many more beautiful sights that color the night in Kyoto. We will continue to introduce them in "Kansai-chan"!💖
🌸 Night Cherry blossom viewing at To-ji 2022 🌸

🗾Address:
Kujo-cho 1, Minami-ku, Kyoto

🚪Opening Times:
-March 19-April 17, 2022: Open from 6:00pm to 9:30pm *Last Admission: 9:00pm

🎟️Admission Charges:
-Adult 1,000 yen
-Children (under junior high school student) 500 yen

🚉Nearest stations and bus stops:
-Kintetsu Line Toji Station (a 10-minute walk)
-JR Kyoto Station Hachijo-Exit (a 15-minute walk)
-Bus stops : 'Toji Minamimon-mae' , 'Toji Higashimon-mae' , 'Kujo Omiya' and 'Toji Nishimon-mae' bus stops.
Latest Contents

Enjoy Kansai with KTIC
Tourist Information / PASS / WIFI / Day Tour
Kansai International Airport (KIX) T1
Open Everyday 9.30 – 17.30
Kyoto Tower 3F
Open Everyday 10.00 – 17.00