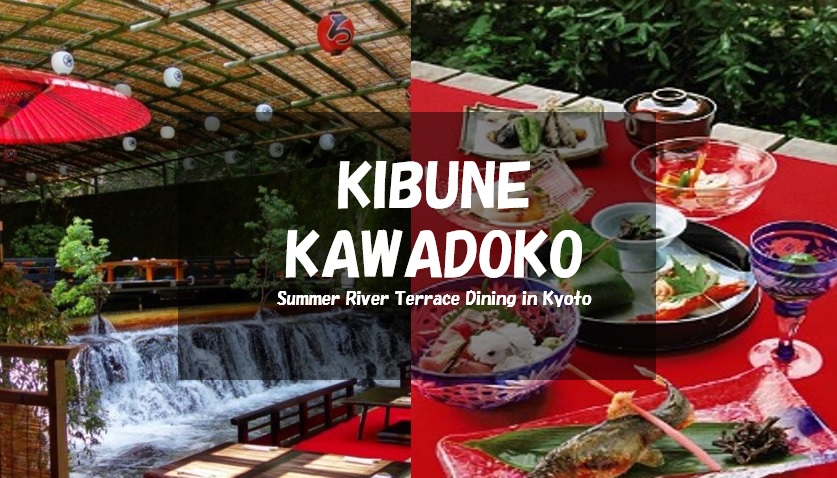 Kibune Kawadoko Lunch Ticket: Summer River Terrace Dining in Kyoto
Summer in Kyoto is hot and humid. How about a day trip to the mountainous area to breathe fresh air and to cool down? Kibune, located in the north of Kyoto City, is used as a retreat spot to escape the summer heat. During May to September, the restaurants in Kibune offer a charming and seasonal dinning style known as "Kawadoko" for visitors to enjoy seasonal delicacies in a cool and relaxing atmosphere. With the Kibune summer special discount 1 day ticket, you can explore this historical town of Kibune and experience the summer charm of Kibune Kawadoko riverside dining.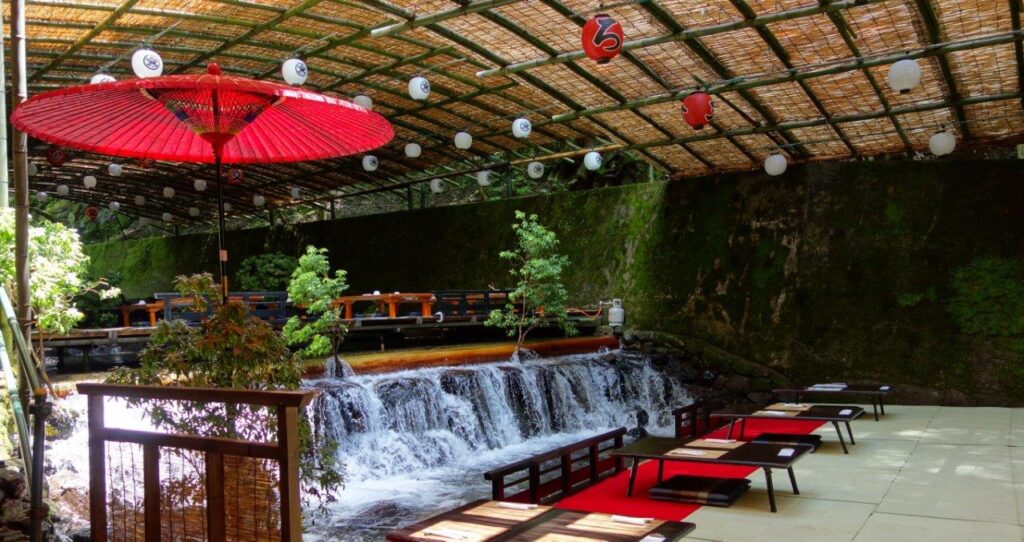 ---
"Kawadoko"~ The Summer Charm of Kyoto
Kibune is used as a place for summer retreat in Kyoto as the temperature in Kibune is about 10 degrees cooler than downtown Kyoto. Kawadoko, which literally means "floor on top of a river" is a special and seasonal way of dining to escape the summer heat and is also one of the summer charms of Kyoto.
It is said that the Kawadoko culture started about 400 years ago in Kyoto. It began when establishments such as tea houses along the Kamogawa riverbed lined up shogi, or little folding stools for people to enjoy the cool evening outdoors. Kawadoko at Kibune started during Japanese Taisho Period (1912-1926) when the tea shops offered refreshments for the shrine visitors at the riverbed as a form of hospitality during hot summer.
Many traditional style Japanese restaurants in Kibune offer this stylish dining from May to September. A patio-like tatami floor is built above a river where guests can sit and dine on while listening to the sound of stream and enjoying the cool breeze. You can even touch the water if you stretch out your arm.
The typical cuisine for Kawadoko is "Kaiseki", a traditional multi-course meal made by seasonal ingredients and local delicacies. Perhaps Kawadoko meal is bit pricy but the combination of authentic and traditional Japanese cuisine, nature, tranquility and coolness will surely be an unforgettable and unique experience for your Kyoto trip in summer.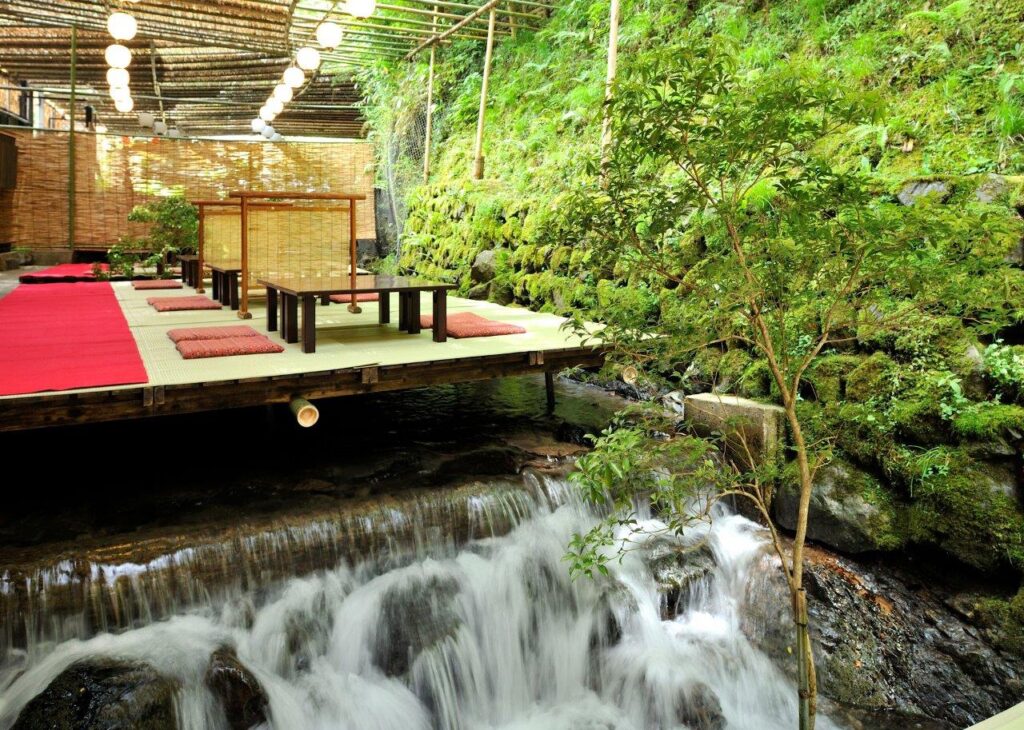 ---
What to See in Kibune
The legend of Kibune and Kifune Shrine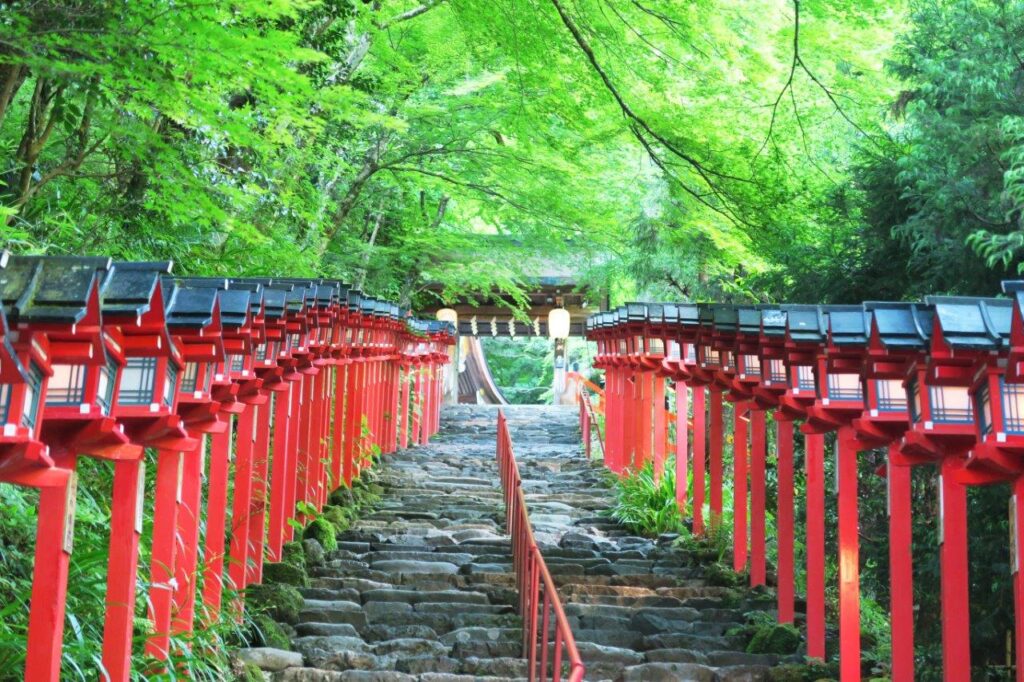 Although most people head to Kibune for Kawadoko dining in the summer, this small village itself is definitely worth visiting. Kibune is a small forested village located in the mountains of the northern part of Kyoto City. It is also home to Kifune Shrine, the center of the village, and a Shinto shrine which was said to be built over 1600 years ago high in the mountains dedicated to the deity of water and rain. Since ancient times, Kibune has been regarded as a scared place as pure water associates with agriculture and life.
Legend has it that the goddess Tamayori-hime (Princess Tamayori, mother of the legendary first emperor of Japan, Jimmu) traveled in a yellow boat from Osaka Bay all the way up the river into the northern mountainous area of Kyoto. Kifune Shrine's Okunomiya was believed to be the place where the goddess ended her journey and Kifune Shrine was built at this site to enshrine the local deity of water. Even today people still believe that the remnants of the original yellow boat were buried beneath a huge stone. For that reason, the shrine is named after the holy boat that the goddess took. ("Ki" means yellow or holy and "fune" also pronounced "bune" refers to a boat).
Nowadays, the red lantern lined stone steps of Kifune Shrine has become one of the representative scenes of Kyoto sightseeing spots. The Shrine consists of three separate locations including the main shrine, Yui no Yashiiro and the Okunomiya.
---
What to do in Kibune
Hiking Trail to the Town of Kurama
If you want to hike a little bit, there is a 5-km forested hiking trail connecting Kibune to the neighboring town of Kurama. Kurama is also known to be the training grounds for the legendary warrior Benkei, a famous figure of Japanese folklore. On your way to Kurama, you will pass some historical sites like Kurama Temple and Yuki Shrine. The Kinone-michi (Path of Tree Roots) covered in rugged tree roots is a beautiful display of nature.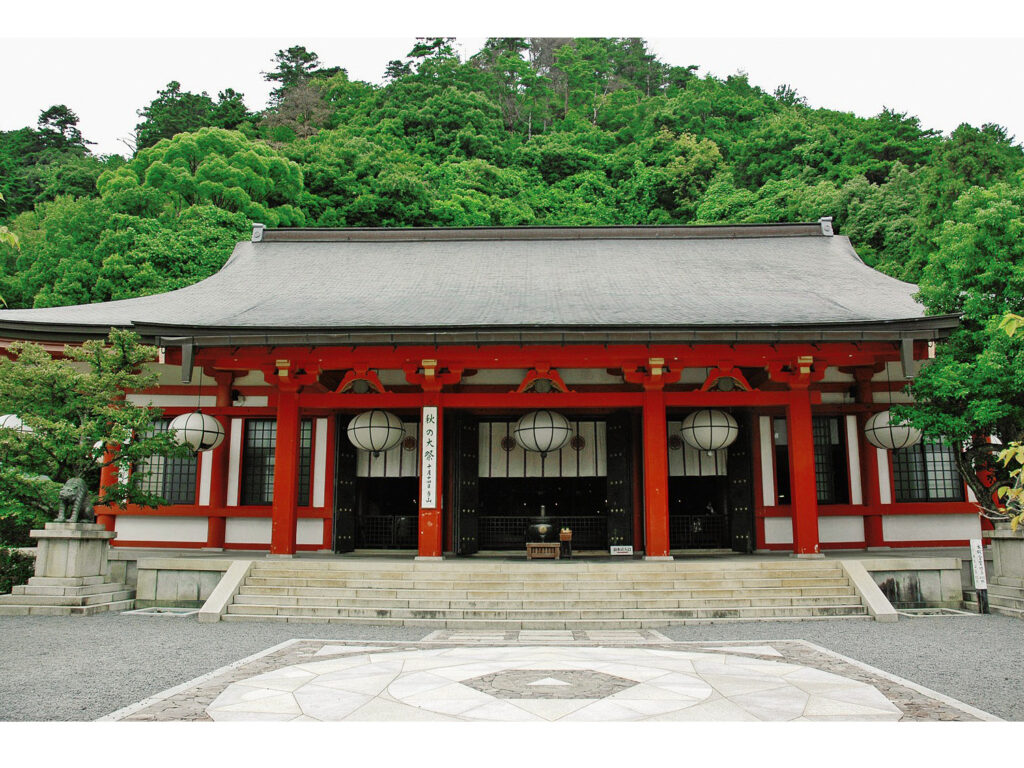 ---
Details of Kibune Kawadoko Lunch Ticket
[ Sold At KTIC (Kansai Tourist Information Center) Kyoto Tower 3F ]
*KTIC Kyoto will help you and provide you with useful information for your trip so you can travel smoothly without worries and be prepared for all circumstances and situations! *
Open Everyday 10:00 – 17:30
Ticket Price: May/June 6,900yen ・July/August 9,900yen
Sales Period: May 20 to Aug 31, 2022
Locations to Purchase: Kansai Tourist Information Center & Demachiyanagi Station of Eizan Railway
Covered Details:
1. 1-Day Free Ride for Eizan Railway
This ticket enables you to get on and off at any station on the Eizan line. Eizan Railway has two lines connecting to the northern part of Kyoto called "Rakuhoku". The starting point of Eizan Railway is Demachi-yanagi Station near Kyoto Imperial Palace and Shimogamo-jinia Shrine. Along Eizan Railway, there are a number of temples and shrines which are worth visiting in different seasons. If you travel to Kibune on the Kurama Line, it is recommended to take the special scenic train called "KIRARA" which provides passengers with a wide view through large windows.
2. Kyoto Bus for Kibune Area
Free ride for Kyoto bus between Kibuneguchi bus top ~ Kibune bus stop.
3. Kawadoko River Terrace Lunch
With this ticket, you can experience Kawadoko lunch (with one free soft drink) at one of the designated restaurants in Kibune. Reservation is recommended but not required.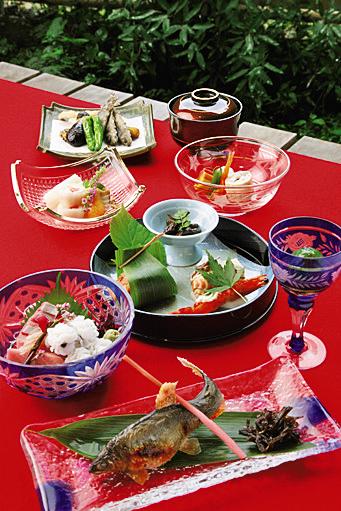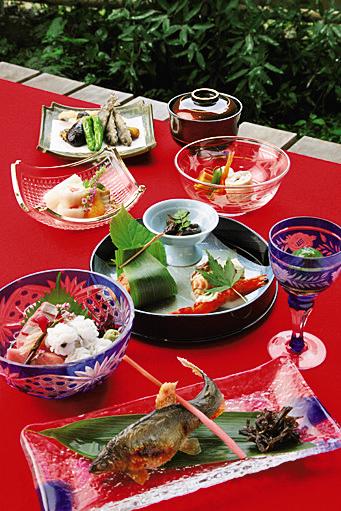 ◎Attention : Please check the weather before your go as the Kawadoko may be cancelled because of heavy rainfall or bad weather. In that case, you might be asked to sit inside the restaurant.
4. Water Fortune Telling & Souvenir
Water fortune telling (Omikuji) is also a popular and unique experience at Kifune Shrine. As Kifune Shrine worships the god of water, water is used as a medium for fortune telling. Simply place the sacred slip (Omikuji) on water and once the slip gets wet, your fortune will be revealed. No worries even if you don't speak Japanese, as a QR code scan translation service is available in four languages. Also, a small souvenir will be given to you as a memory.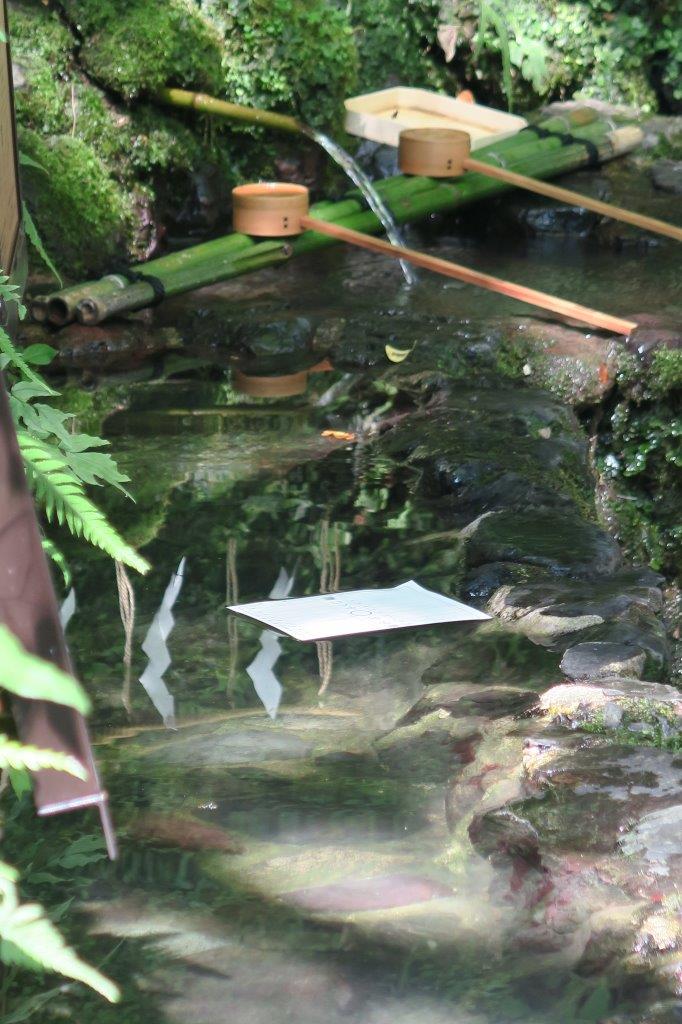 Ticket Pamphlet (Japanese Only):
---
Access
Take bus no. 17 from Kyoto Station or take Keihan Train from Gion Shijo to Demachi-yanagi and then change to Eizan Railway to Kibuneguchi Station. From Kibuneguchi Station, take bus no. 33 to Kibune.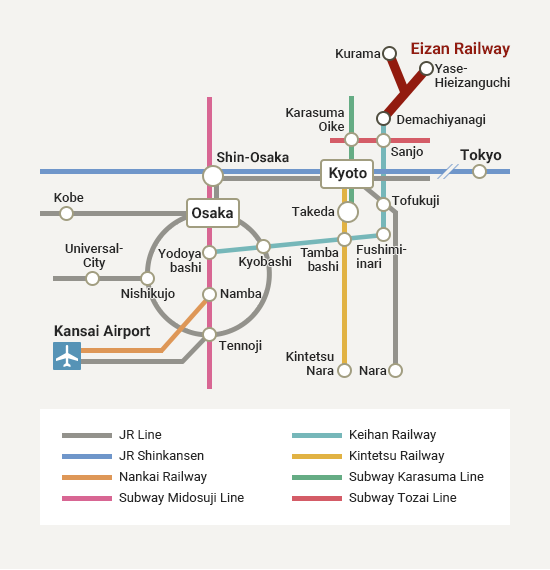 Map
---
Latest Contents

Enjoy travelling Kansai with KTIC
Tourist Information / PASS / WIFI / Day Tour
Kansai International Airport (KIX) T1
Open Everyday 9:30 – 17:30
Kyoto Tower 3F
Open Everyday 10:00 – 17:30