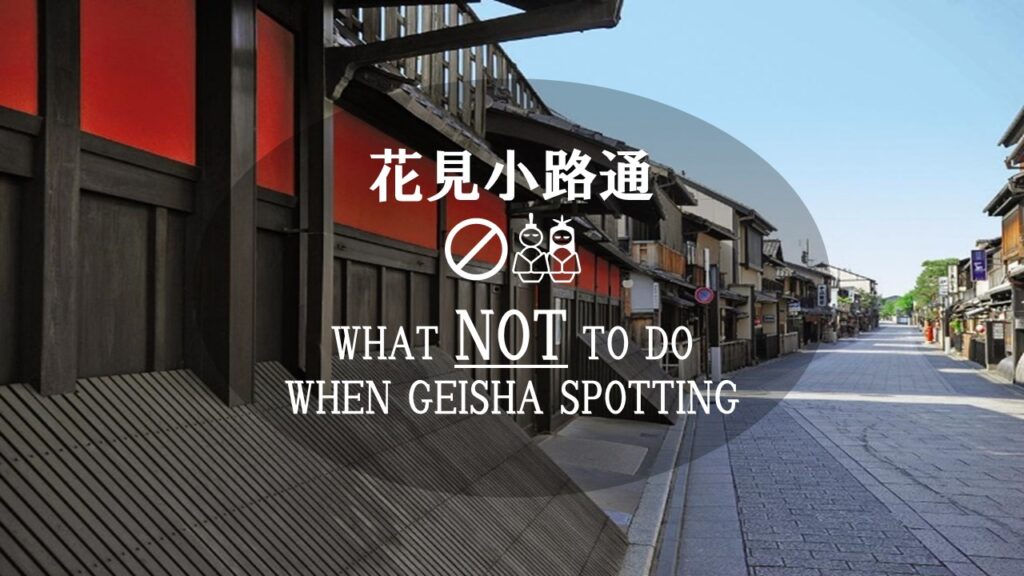 Hanamikoji Street: What NOT To Do When Geisha Spotting
Hanamikoji Street is one of the streets in Kyoto that has become extremely popular in the recent years among tourists. It is famously known as the top spot for "Geisha Hunting".
However, this phenomenon has caused a lot of issues and has affected the lives of locals in the area. There have been many complaints about tourists behaving disrespectfully to Maikos (apprentice Geishas) and getting in their way.
Spotting a Maiko on her way to an appointment is a rare sight and tourists may not want to miss a chance to capture the spectacular moment on camera. However, photography has now become prohibited in the area.
Find out more in this article about Hanamikoji street, learn about the basic manners and what to NOT do when Geisha spotting!
SUBSCRIBE
AND BE THE FIRST TO GET NOTIFIED ON NEW POSTS AND DISCOUNT COUPONS
---
🏮
花見小路通
Hanamikoji Street
Hanamikoji Street is the main street that runs through the center of Gion, about 1km from Sanjo-dori street in the north to Yasui Kitamon-dori street in the south. Here, you can find rows of traditional tea houses that represents Gion's traditional atmosphere.
When the sun goes down, the shops and street lights are lit, creating a fascinating atmosphere that is unique to Kyoto. Many long-established prestigious and traditional tea houses can be found here which are where Geishas and Maikos entertain customers.
---
"Take a walk through the nostalgic streets of Kyoto"
Kyoto is an extremely popular tourist destination both for locals and foreign tourists as it represents the old and traditional Japan. Each person has there own way of enjoying Kyoto, but taking a walk through the charming streets is definitely a must.
Gion area is one of the most popular destinations in Kyoto as it is full of Kyoto-like streets. Among those streets is Hanamikoji , which runs through the center of Gion.
Hanamikoji Street is definitely one of the spots recommended for your Kyoto walk. You can enjoy visiting traditional cafes and souvenir shops while enjoying Kyoto's traditional cityscape!
If you are lucky, you might be able to spot a real Maiko (apprentice Geisha) in this area, on their way to their appointment . However, Maiko spotting has become extremely popular in reason years and it has raised some issues. Make sure you follow proper manners and rules so that you don't get in the way and become a troublesome tourist to Maikos and locals.
---
⛔
What NOT to do when spotting a Maiko (Apprentice Geisha)
1. Don't take photos without permission 📸
You will find that there are "no photography" signs in the area. Taking a photo without a special permission will end you up with an expensive fine. Refrain from taking photos of the Maikos or Geishas, let them take a peaceful walk to their appointment and keep the special and rare scene in your memory.
2. Don't touch 👉
There have been complaints and cases of rude tourists who touch or pull on their kimonos to get their attention. Some tourists even put their arms around the Maikos for photos. This is extremely rude and gives foreign tourists a bad name. Please show respect.
3. Don't be in the way 🙅‍♀️
If you happen to spot a Maiko, it is most likely that they are hurrying their way to an appointment. Observe from a distance and be mindful of where you are standing or walking.
---
🚗
Access
📍 MAP
🚌BUS:
From Kyoto station, take bus number 100 or 206 and get off at Gion Bus Stop.
🚇TRAIN:
Subway Line: get off at Shijo Station
Hankyu Line: get off at Kawaramachi Station
Keihan Line: get off at Gion-shijo Station

---
💡
Fun Fact
Did you know that Maikos cannot be seen at Starbucks and Mc Donalds? This is because they have to maintain a certain image and these modern foreign places distances them from their traditions.
---
Latest Contents

Enjoy travelling Kansai with KTIC
Tourist Information / PASS / WIFI / Day Tour
Kansai International Airport (KIX) T1
Open Everyday 9.30 – 17.30
Kyoto Tower 3F
Open Everyday 10.00 – 17.00