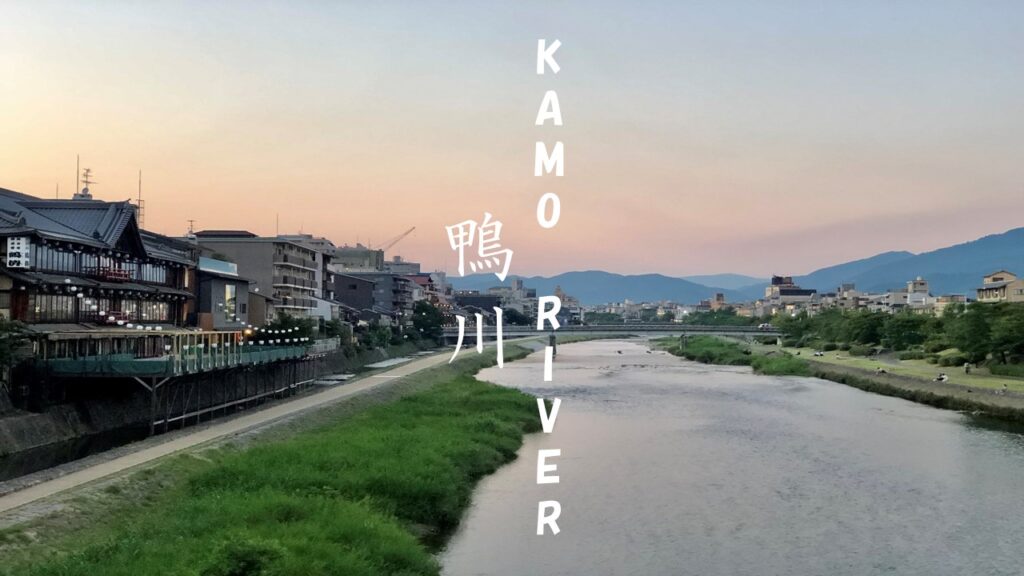 Kamogawa River Kyoto: What It Looks Like During COVID-19 (With Video)
Kamogawa (鴨川) literally translates to duck river, Kamo (鴨) meaning duck and kawa/gawa (川) meaning river. Kamogawa River is one of the most important rivers that flows through the heart of Kyoto and is a place where locals and travelers gather to do various activities.
Walking along Kamogawa, you will see families and groups of friends having picnics, playing games, or even dipping their feet in the river on hot summer days. In the evening you will often see couples taking a walk, people jogging, or groups of young people having drinks they got from convenience stores nearby!
If you have traveled to Kyoto before, you have probably been to Kamogawa river. What was the experience like for you at the time? Were the restaurants along the river crowded? Were the sides of the river lined with lively crowds of people?
If you wonder what Kamogawa looks like during COVID-19, I've gathered some photos and videos to show you.
---
SUBSCRIBE AND BE THE FIRST TO GET NOTIFIED ON NEW POSTS AND DISCOUNT COUPONS
---
Recommended Restaurants With Kamogawa's View
---
🌸
Kamogawa River During Spring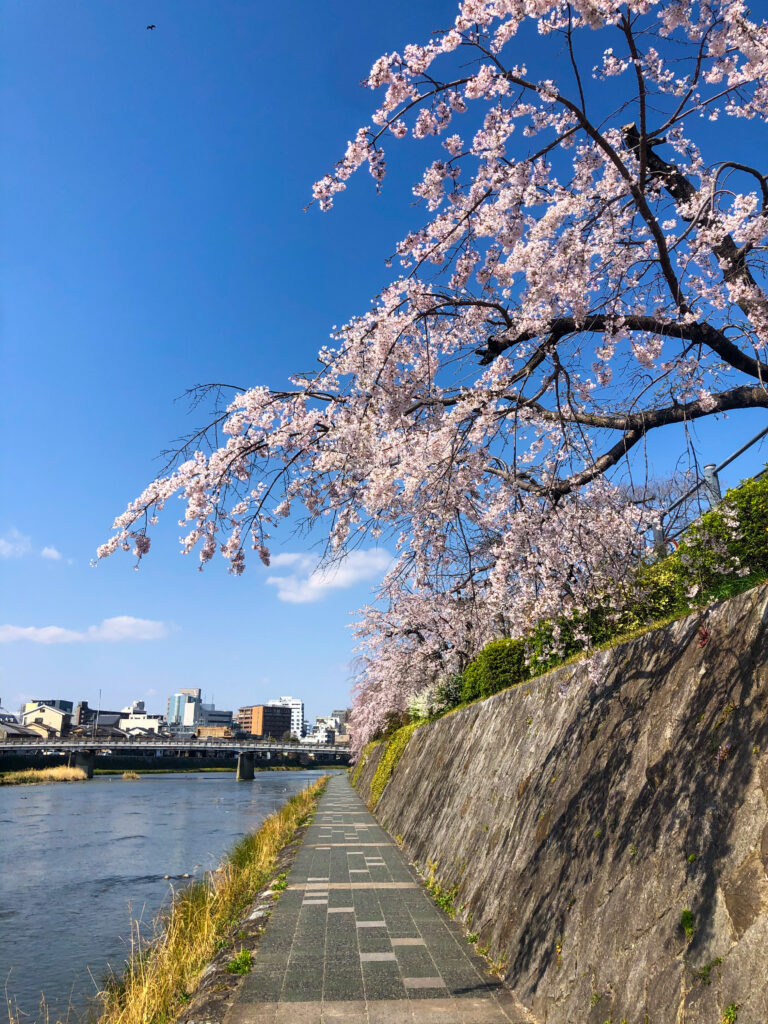 This photo was taken while strolling along the river on a sunny spring day with cherry blossoms in full bloom. The walk was peaceful with only the sound of the flowing river and the spring blossoms fluttering lightly with the wind.
---
🌻
Kamogawa River During Summer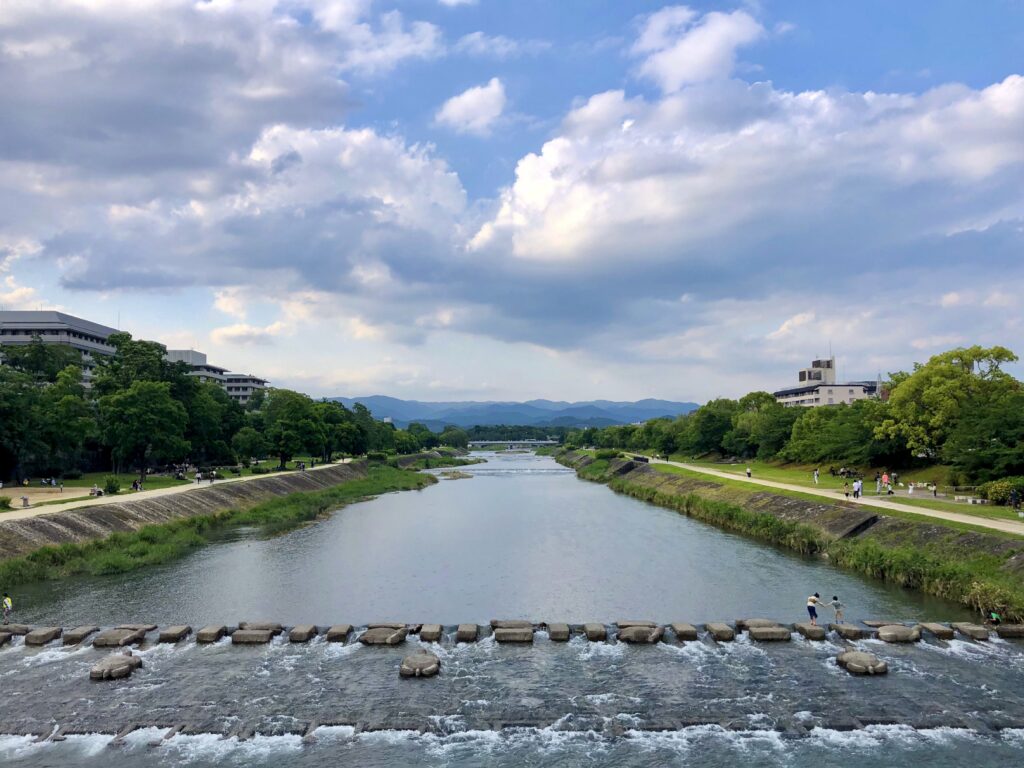 This photo was taken on a hot summer day in Kyoto. You can see some children laying in a river and groups of people picnicking alongside the river. I was happy to see some life along the river on this day! ☺️
One of the best activities to do along the river is to have a picnic! I personally like to do take out from a Mexican restaurant nearby that sells amazing burritos. Leave a comment if you would like to know the name of this burrito place! 🌯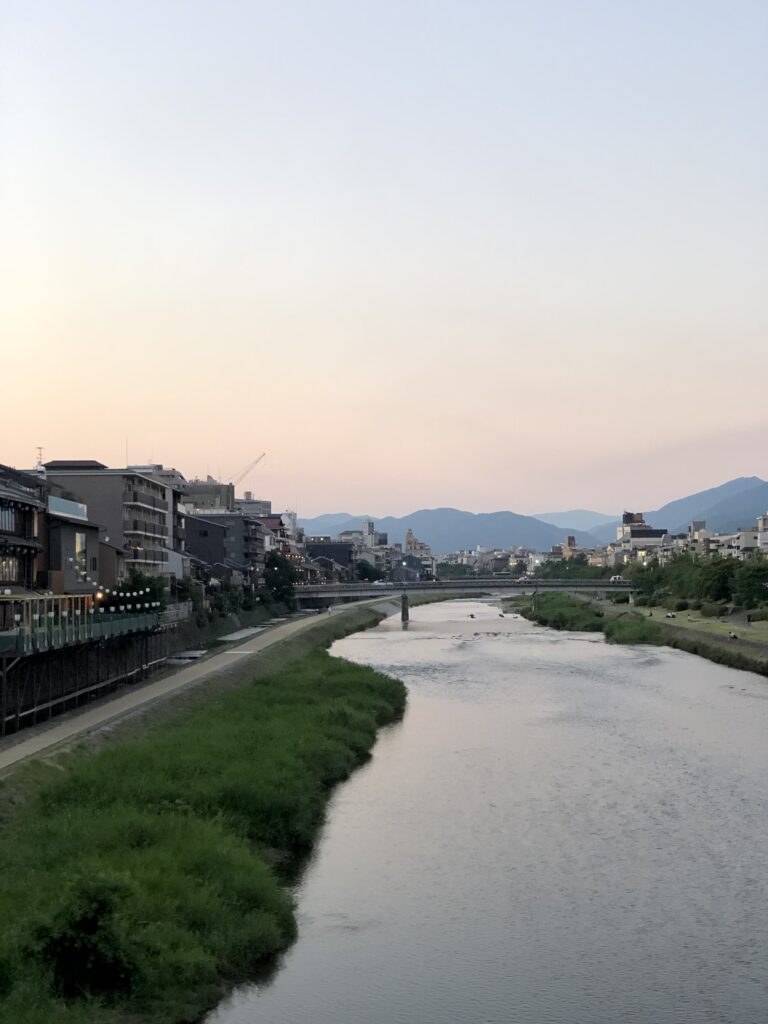 This photo was taken one summer evening while cycling across town to get some groceries. I had to stop and stare at the pink vanilla sky for a while because the view in front of me was truly beautiful. You can see on the left side of the photo that it was quite empty with only a few restaurants were open.
---
🌙
Kamogawa River In The Evening
Kamogawa River has a different ambience when the sun goes down. The river reflects the lights from the restaurants along the river and creates a mysterious and romantic atmosphere. Before COVID-19 the restaurants are usually lively filled with people enjoying the dinner by the river. The sides of the river are also filled by people sitting and chatting and drinking the night away.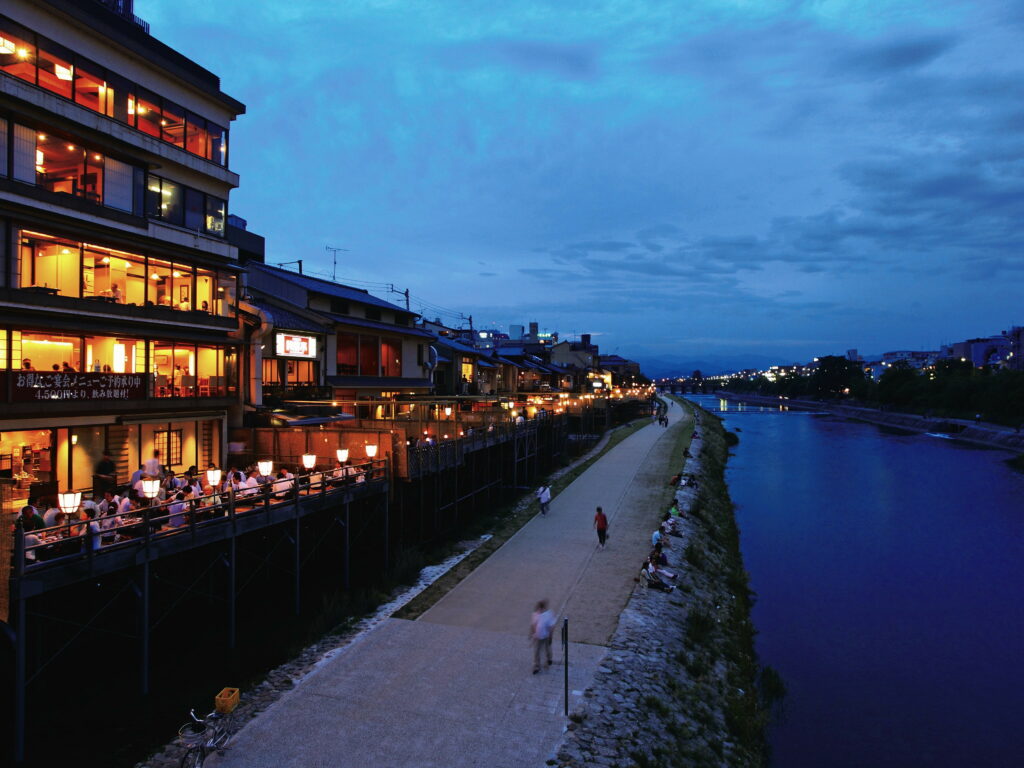 This photo was taken while cycling along the river one summer evening. At first I didn't realize how quiet this photo looked until I compared it with the photos above that were taken before the COVID-19 pandemic.
---
Kamogawa River During COVID-19 Video Clip

"I love Kamogawa so much. I go there whenever I want to feel refreshed. I do so many things there such as take walks, jog, cycle, do picnics and drink with friends. The atmosphere at Kamogawa is best around the evening time because the river reflects the beautiful evening sky and the restaurants along the river start to light up which creates a relaxing and romantic ambience."

Female, 25, Living and Working in Kyoto
---
Similar Contents
---
Latest Contents

Enjoy travelling Kansai with KTIC
Tourist Information / PASS / WIFI / Day Tour
Kansai International Airport (KIX) T1
Open Everyday 9.30 – 17.30
Kyoto Tower 3F
Open Everyday 10.00 – 17.00