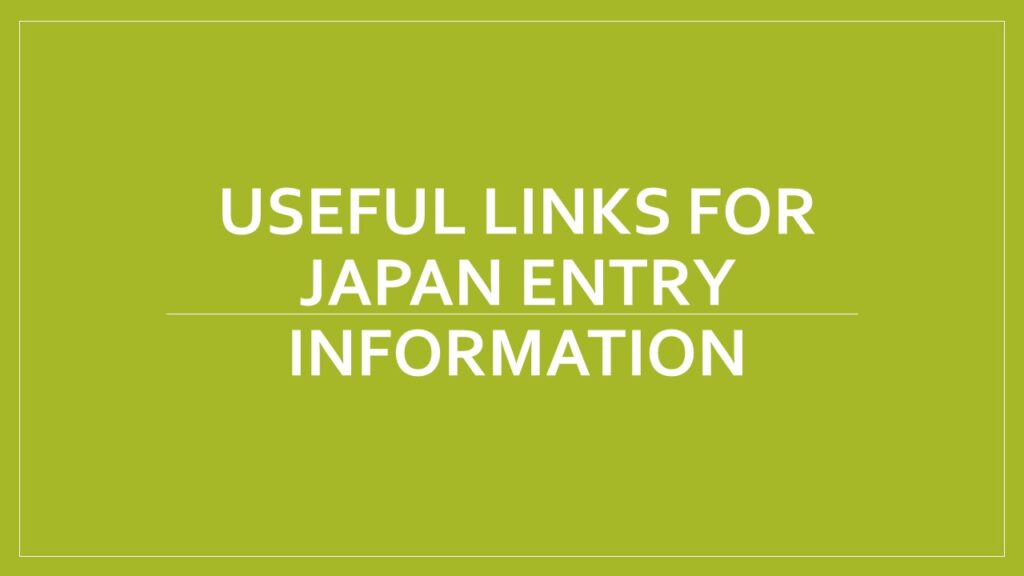 Japan Entry Information: Useful Links
A lot of people are dreaming of traveling again and can't wait for international travel to resume. According to several surveys, Japan is one of the top countries that people wish to visit after the pandemic.
We have been getting a lot of questions regarding when Japan will open its borders and resume welcoming international tourists again.
Because of that, we have gathered useful links regarding this matter from official and trustable websites for you guys!
SUBSCRIBE
AND BE THE FIRST TO GET NOTIFIED ON NEW POSTS
---
⭐
Useful & Trustable Links

---
😷
COVID-19 Situation in Japan
🦠Topic: Coronavirus Updates
🌎Organization: NHK World-Japan
🔗Link: https://www3.nhk.or.jp/nhkworld/en/news/tags/82/
---
🇯🇵
Japan Immigration Information
🦠Topic: Border Enforcement Measures to Prevent the Spread of Novel Coronavirus (COVID-19)
🌎Organization: Ministry of Foreign Affairs of Japan
🔗Link: https://www.mofa.go.jp/ca/fna/page4e_001053.html
---
🦠Topic: Phased Measures for Resuming Cross-Border Travel
🌎Organization: Ministry of Foreign Affairs of Japan
🔗Link: https://www.mofa.go.jp/ca/cp/page22e_000925.html
---
🦠 Topic: Valid Format of Certificate of Negative Test Result
🌎Organization: Ministry of Foreign Affairs of Japan
🔗Link: https://www.mofa.go.jp/ca/fna/page25e_000334.html
---
🦠 Topic: Application for Visa for foreign nationals eligible for Phased Measures toward Resuming Cross-Border Travel
🌎Organization: Ministry of Foreign Affairs of Japan
🔗Link: https://www.mofa.go.jp/ca/fna/page22e_000921.html
---
🦠 Topic: Border Control Measures Japan
🌎Organization: Ministry of Health, Labour and Welfare, Japan
🔗Link: https://www.mhlw.go.jp/stf/covid-19/bordercontrol.html
---
🦠 Topic: Information Related to COVID-19
🌎Organization: Immigration Services Agency of Japan
🔗Link: https://www.isa.go.jp/en/covid-19_index.html
---
🦠 Topic: COVID-19 Information
🌎Organization: U.S. EMBASSY & CONSULATES IN JAPAN
🔗Link: https://jp.usembassy.gov/covid-19-information/
---
Latest Contents

Enjoy travelling Kansai with KTIC
Tourist Information / PASS / WIFI / Day Tour
Kansai International Airport (KIX) T1
Open Everyday 9.30 – 17.30
Kyoto Tower 3F
Open Everyday 10.00 – 17.00