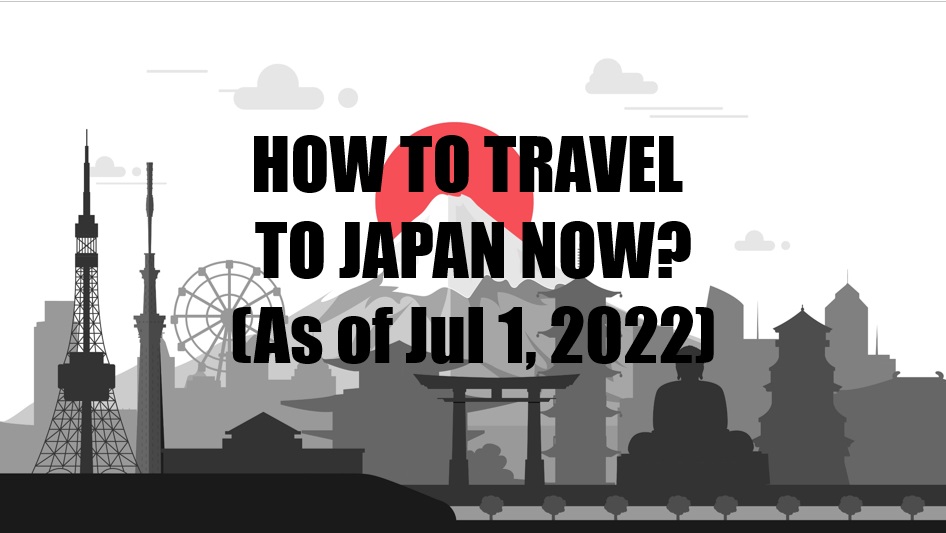 How to travel to Japan Now? (As of July 1, 2022)
After long waiting, it is now possible for foreign tourists to travel to Japan starting this June. However, there are many requirements to enter the country, and it is difficult to understand how to prepare for the travel. Therefore, we have compiled a five-steps guide on how to travel to Japan right now for those who are considering a trip to Japan. We hope you will find it useful for your planning.
5 STEPS TO TRAVEL TO JAPAN
Here is the 5-steps guide to what you need to do to travel now in Japan. This is the latest information as of July 1, 2022. The border measures by the Government of Japan is subject to change, please do your own research or consult with a travel agency before you travel.
STEP 1 Is your country or region of your stay the group "Blue"?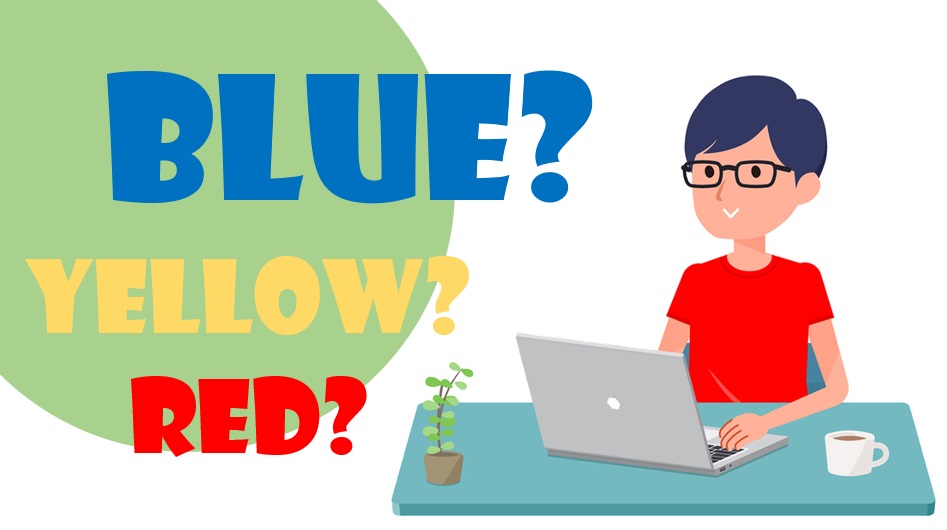 Foreign nationals who will be allowed new entry into Japan for a short-term stay for tourism will be limited to those who will enter from the countries/regions of the group "Blue". Check your group here!
Ministry of Health Labour and Welfare, Japan/ COVID-19: Current Japanese Border Measures
STEP2 Find a guided tour
Currently foreign nationals newly entering Japan for a short-term stay for tourism can only enter when a travel agency among others organizing the trip serves as the receiving organization of the entrants. The travelers are regarded as those with "special exceptional circumstances" and are allowed for new entry into Japan in principle, if the receiving organizations located in Japan complete prescribed applications in the Entrants, Returnees Follow-up System (ERFS). For example, you can find guided tours organized by a Japanese travel agency which offers complete prescribed applications of the ERFS .
STEP3 Apply to the guided tour you like
After you applied the guided tour, the receiving organization will apply for ERFS and you will receive a certificate for completion of Registration to the ERFS along with other visa application documents in response to the purpose of visit.
STEP4 Apply for Visa
To apply for the visa, please submit the required documents to Japan's overseas establishments in your country / region (Please see the following articles for further information. There are some cases where Japan's overseas establishments request additional documents). After the application has been successfully accepted, the visa would be issued at the consular affairs section of the Japan's overseas establishment. The visa should be received by the applicant or his / her representative and is needed upon applying for landing permission. For more details, please click !
Ministry of Foreign Affairs of Japan/ Application for Visa for foreign nationals eligible for Phased Measures toward Resuming Cross-Border Travel
STEP5 Prepare for the trip
Purchase a Travel Insurance which covered COVID-19 related problems.
The travelers are required to purchase private medical insurance that includes coverage for medical expenses related to new coronavirus infection and that provides adequate coverage and services.
Register to "Visit Japan Web" and prepare for the "Fast Track" of airport quarantine procedures by installing "My SOS" app
Only test certificates which show the results of the test using valid samples and testing methods below are valid. Sample collection must be done within 72 hours before the departure time of the flight. For more details, please click !
Ministry of Health Labour and Welfare, Japan/ Requirements for Certificate of Testing for Entering Japan
So what kind of tours are there…?
Sunrise Tours
Since 1964, Sunrise Tours has welcomed more than 8 million visitors from across the world.Sunrise Tours offers about 300 courses of a wide range of tours with a focus on classic, recommended destinations that are perfect for first-time visitors to Japan.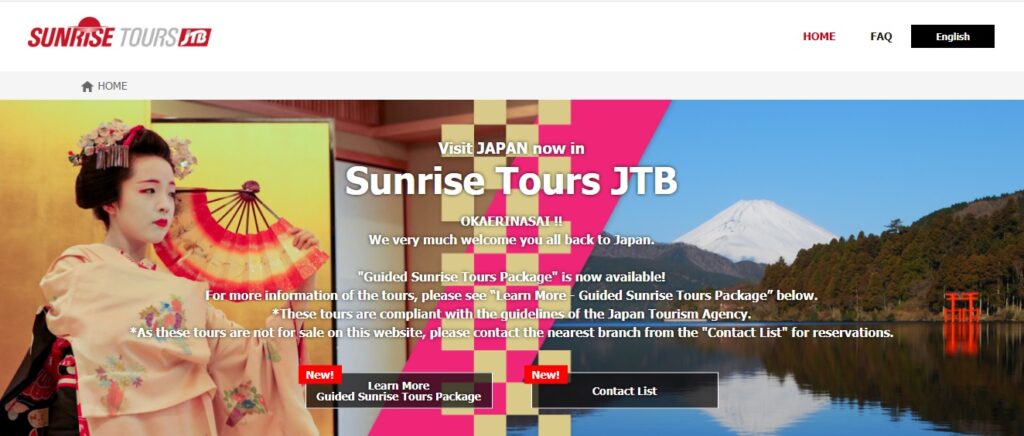 🌸 Recommended Tour 🌸
6-Day Sunrise Golden Route: Tokyo,Mt. Fuji,Hakone,Kyoto,Hiroshima & Miyajima (Round Trip from Tokyo)
🌸Departure Dates/ Tour Period: Every Sunday (17 Jul. – 21 Aug.)
🌸Tour Point: Visit more popular spots along the Golden Route of Japan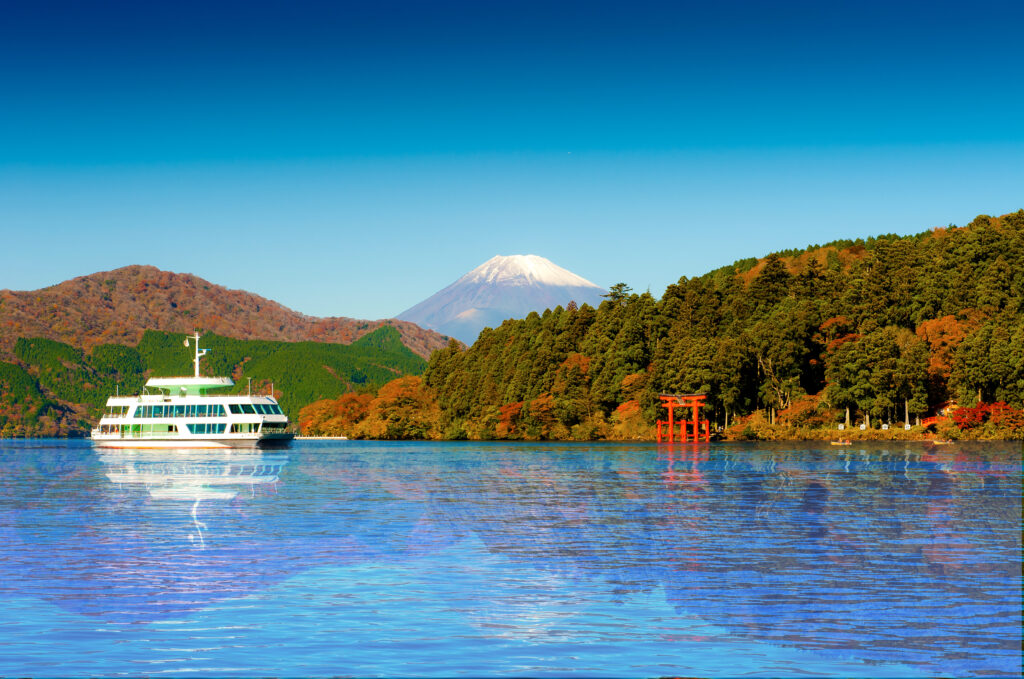 This managed tour package combines popular tours that visit major sightseeing locations in Japan, such as Tokyo, Mt. Fuji, Kyoto, Hiroshima, and Miyajima over the span of 6 days. Of course, the authorized travel agents distributing this package are willing to assist ERFS registration.
Visiting Spot 1  Mt. Fuji and 5th station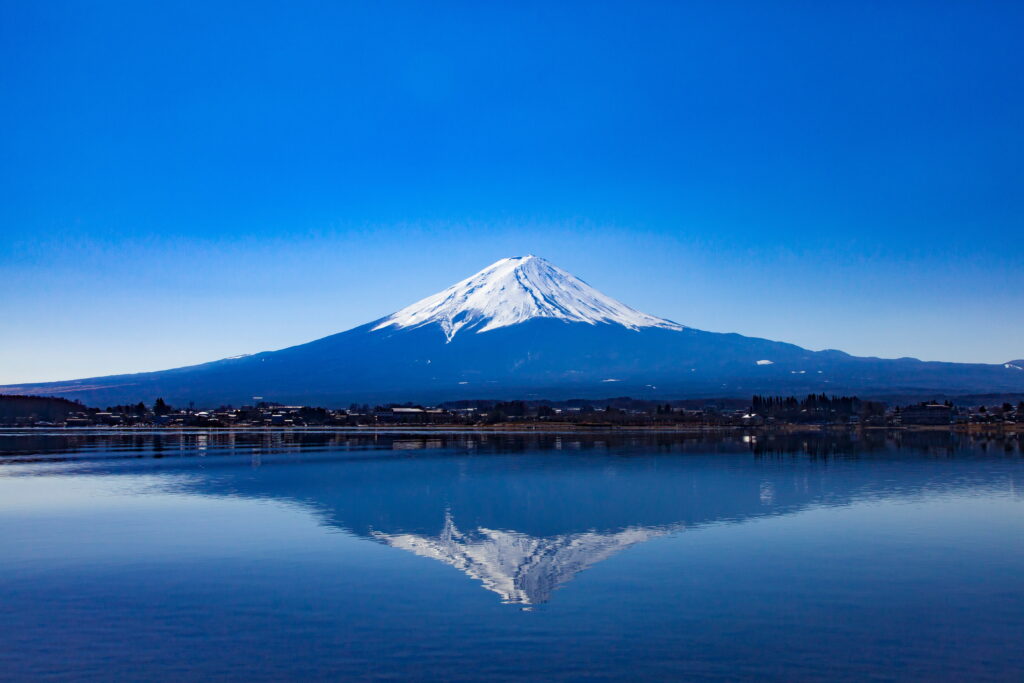 Since ancient times, Mt. Fuji has been a sacred mountain and worshipped by Japanese people. Now Mt. Fuji attracts hikers and climbers from the world over, and they start their ascents at the 5th station, halfway up the mountain. Experience the atmosphere of this symbol of Japan and spectacular views.
Visiting spot 2 Miyajima and Itsukushima shrine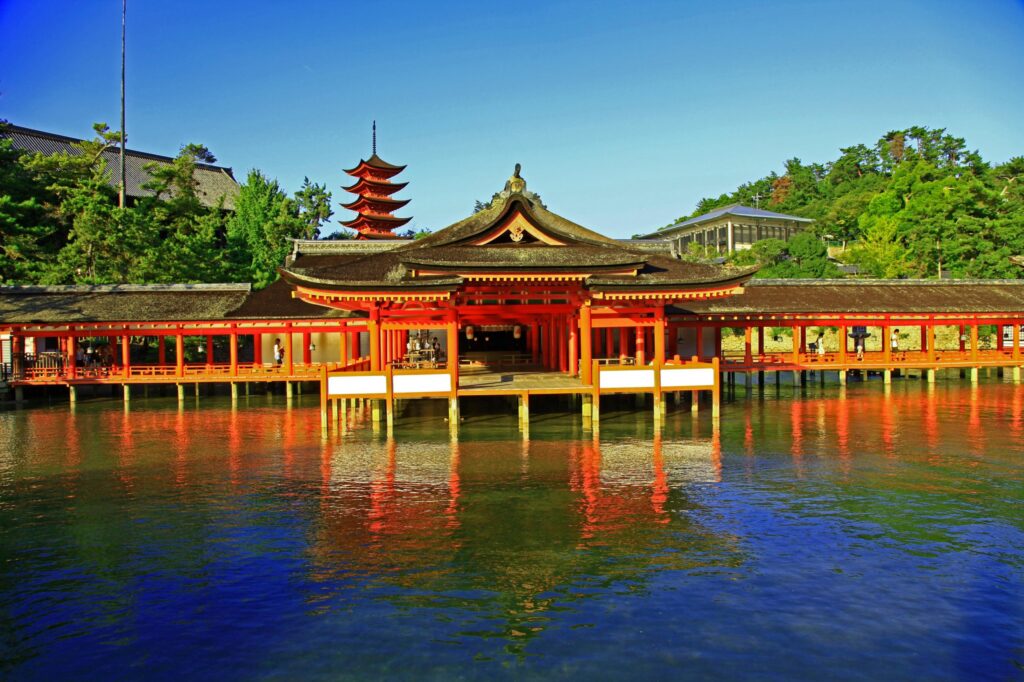 Known as one of the three most scenic places in Japan since the 17th century, Miyajima is a beautiful island in the Inland Sea. A UNESCO World Heritage Site. Arriving on the island, it's a short walk to the stunning Itsukushima Shrine, famous for vermilion Torii gate floating on ocean.
---
Latest Contents
---

Enjoy Kansai with KTIC
Tourist Information / PASS / WIFI / Day Tour
Kansai International Airport (KIX) T1
Open Everyday 9.30 – 17.30
Kyoto Tower 3F
Open Everyday 10.00 – 17.00