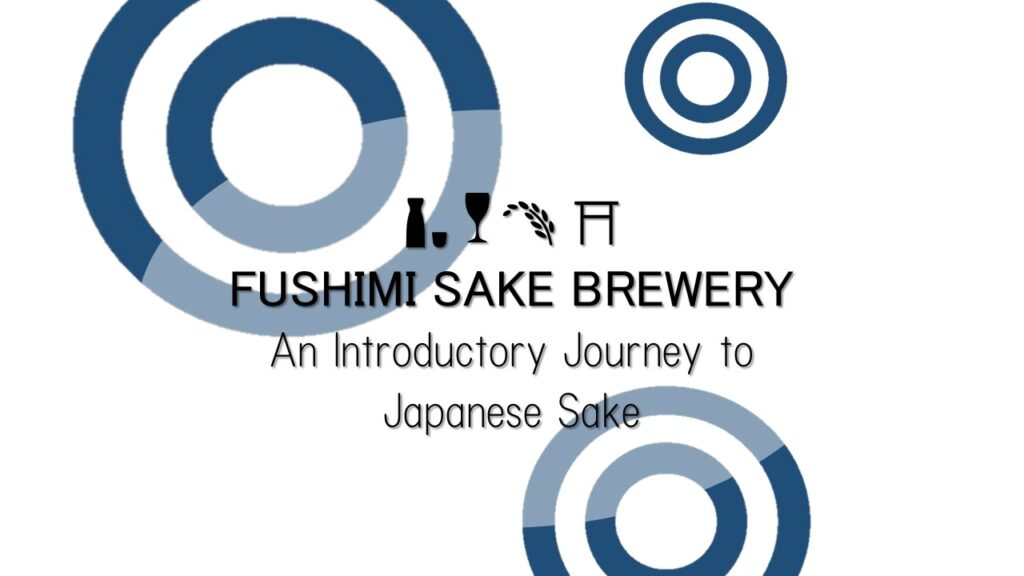 Fushimi Sake Brewery: An Introductory Journey to Japanese Sake
"Fushimi Sake Brewery and Kyoto's food culture"
Fushimi has a long historical significance in both Sake brewing and the town itself. It is one of the three major Sake breweries in Japan!
That said, Fushimi Sake represents Kyoto's nature, lifestyle, culture, and traditions that have been passed down from generations to generations along with the development of the town of Fushimi. This can be seen through Fushimi's natural abundance that sources its water and rice, Sake lee that embodies the culture that treats food as very valuable, and Sake related crafts.
We had the chance of joining a Sake Brewery tour in autumn and would like to share our experience with you guys! Come along on a trip with us to explore Japanese Sake!
---
🍶
The Concept
"A journey to experience Kyoto's food culture and traditions through Fushimi's Sake and natural water source."
In addition to learning about traditional Japanese Sake brewing, this trip includes other Kyoto-like activities such as zazen meditation and Matcha green tea experiences. This way, even people who do not possess deep knowledge about Japanese Sake can have fun and enjoy their time!
Come and explore the charms of Fushimi's Sake through Fushimi's famous natural water source that produces the famously known "Kyoto Vegetables"!
Moreover, explore dishes made with Sake lee, and the unique combination of non-Japanese dishes paired with Japanese Sake.
⭐Kyoto Vegetables or 'Kyoyasai', are vegetables that are grown in Kyoto and are known to be extra tasty because of Kyoto's special naturally rich water source.
---
🍶
The History of Fushimi Town and Japanese Sake
Fushimi town possesses a long history and the name even shows up in the Chronicles of Japan. During the Heian period (794-1185), this place served as the imperial family's and the noblemen's scenic villa. During the Azuchi-Momoyama period (1568-1600), Toyotomi Hideyoshi built Fushimi Castle and formed a large castle town.
Along with the construction of Fushimi Castle, Fushimi town prospered greatly. And with the increase in Sake demands, the town's Sake came into the limelight!
Blessed with a rich natural climate, Fushimi Sake, which has been refined by Kyoto's culture, is said to have begun during the Yayoi period when rice cultivation was introduced to Japan. Since then, the tradition of Sake brewing that has been passed down started blossoming during the Azuchi-Momoyama period (1568-1600).
During the Edo period (1600-1868), the town prospered as a gateway to the Yodogawa river transport that connected Kyoto and Osaka. In the latter half of the Meiji era (1868-1912), Fushimi became well known throughout the country for its Sake.
Currently, Sake Breweries in Fushimi and Joyo continue to take on new challenges as union members while preserving old traditions. This project will be carried out by the Sales Countermeasures Subcommittee, which is organized by 15 sake breweries.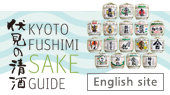 ---
DAY 1
---
🥕🌽🥒🥬🍆🥦🍄
"Learn about Sake Rice and experience harvesting Kyoto Vegetables that are brought up by Fushimi's famous water."
Sake Rice tour and Kyoto Vegetable harvesting @ Yamada Farm
On this tour, we had a fieldtrip to the Iwai Rice field which is rice that is used for making Sake. We also got to see the preservation process of Momoyama radish and got to check out where all the work gets done here!
We got to taste the pickled Momoyama radish and see the rice polishing procedure too! Momoyama radish is one of the traditional vegetables in Kyoto, and is cultivated and preserved only at Yamada Farm in Japan!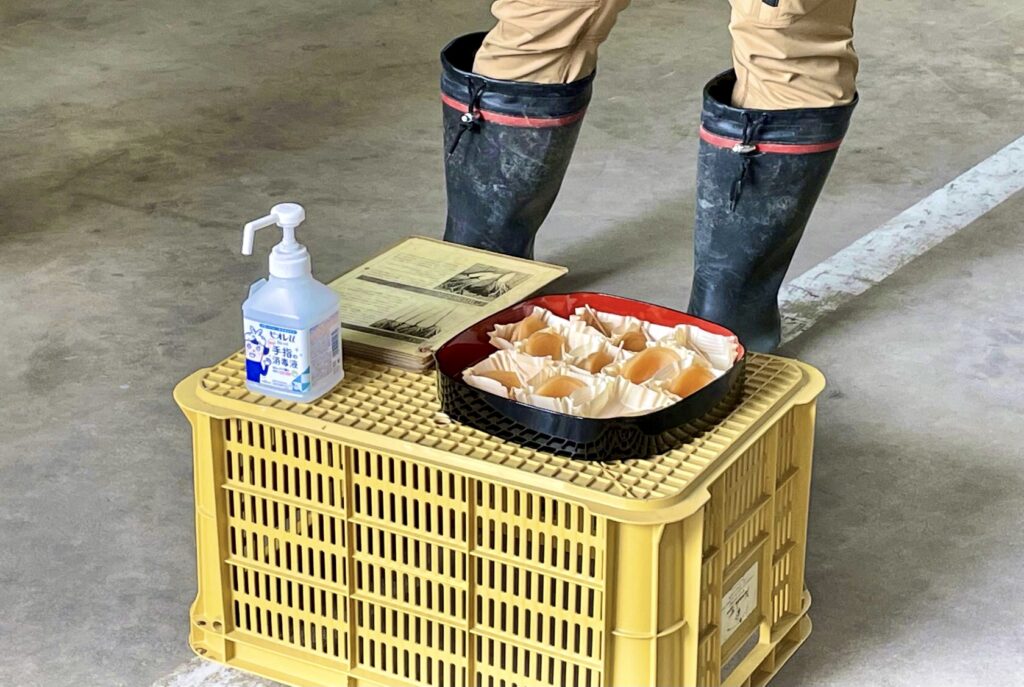 Yamada farm cultivates more than thirty kinds of seasonal Kyoto Traditional Vegetables such as Kujo Green Onions and Kamo Eggplants. They cultivate western vegetables and herbs as well. They also cultivate a type of rice called "Iwai" which is indispensable for brewing Fushimi Sake!
All crops are cultivated with no pesticides and no chemical fertilizers which brings out the original taste and sweetness of the vegetables.
"Yamada-san and his son were very friendly and welcoming! Their explanations and demonstrations gave good insights into their farming as well as the importance of rice quality."
📸
CHECK OUT YAMADA FARM'S AESTETIC VEGETABLE INSTAGRAM
---
🌾
Iwai Rice
Iwai rice is characterized as being taller than ordinary rice. It is high quality and low in protein which allows for easy brewing, making it the most suitable for Sake production.
---
🍽️
"Taste Sake lee and vegetables grown with Fushimi's famous water"
Lunch made with Kyoto's vegetables and Sake lee @ Seiwasō
Lunch is served with original menus made with Sake lee and Kyoto Vegetables harvested from Yamada Farm. Kyoto cuisine here is made with delicious and fresh ingredients using Fushimi's famous water in the process. We also had the chance to eat 'Kasujiru', which is a home-cooked soup made with Sake lee.
"Making the most out of the uniqueness of cooking Sake lee with Kyoto Vegetables."
Sake lee produced from the Iwai rice used in Fushimi's Sake brewing combined with the pesticides-free vegetables from Yamada farm, produces a mellow taste. Enjoy the hearty and gentle taste of the ingredients born from the soil of Fushimi!
Sitting inside the traditional building built in the early Showa period (1926-1945), you can see the beautiful Japanese garden from the windows. Experience the Japanese-ness in a space where you can forget about the hustle and bustle of everyday life!
⭐ Sake lee (Sakekasu in Japanese) is the lees that is leftover from Sake production and is highly nutritious with a lot of health benefits. Using Sake lee in various dishes represents Kyoto's culture of making the most out of food and doing their best to avoid food waste!
🌐Official Website: https://seiwasou-kyoto.com/
---
🍶
"Learn about Fushimi's traditional Sake brewing."
Japanese Sake Lecture @ Gekkeikan Okura Memorial Hall
As mentioned many times in this article, Fushimi is known as one of Japan's leading Sake destinations.
The Gekkeikan Okura Memorial Hall is a place where you can truly experience the culture, history, creativity, and traditional techniques of Sake through the Sake brewery built in 1909. We visited the exhibition of historical materials that allowed us to feel the history, see the main sake brewing tools, and watched a video about Sake brewing.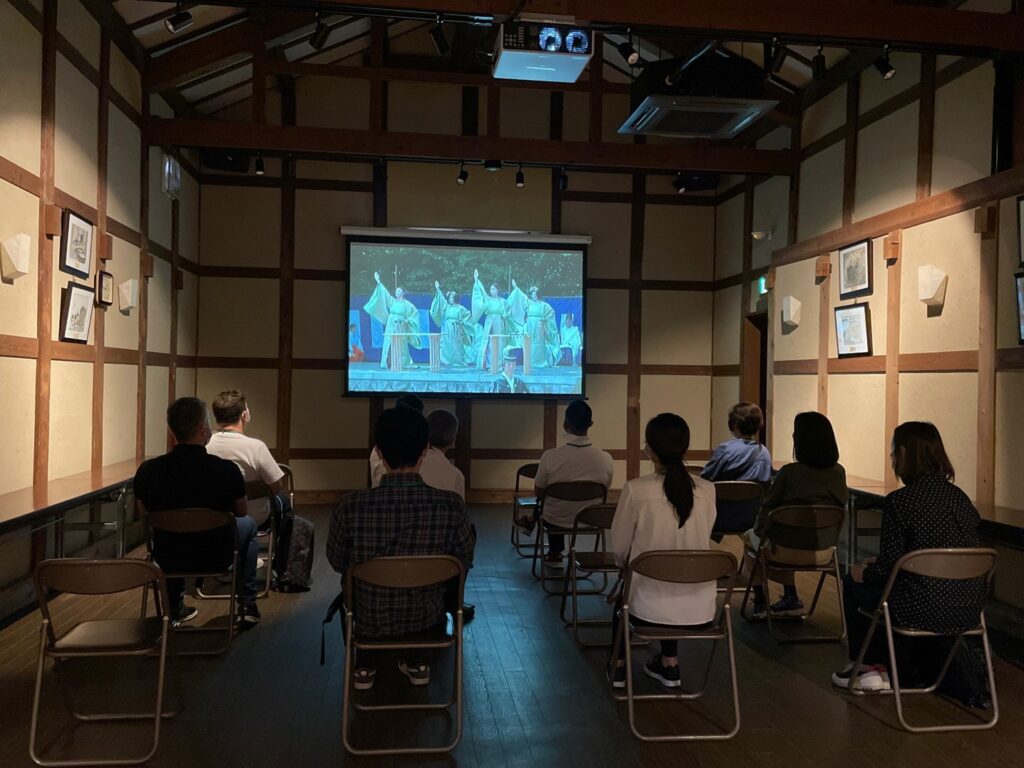 Gekkeikan's commitment to Sake quality is one of the factors that have driven the development of Sake brewing in this area. After the lectures, you can enjoy a variety of Sake that is brewed using the natural groundwater of Fushimi!
In midwinter, when Sake brewing is at its peak, the aroma produced by steamed rice and fermentation drifts around and enhances the sake atmosphere! mhmmmm!
🎬Check the video here! : Making Gekkeikan Sake
⭐ The photos above is a Sake Barrel Ceremony or 'Kagami-Biraki' in Japanese. It is a ceremony that is usually performed at celebrational events such as weddings, and openings etc. The Sake lid is broken open by a wooden mallet and the Sake inside is then served to everyone!
⭐⭐ This was a special performance that was organized specially for this tour. This ceremony is not performed at Gekkeikan regularly. However, Gekkeikan offers performances of the 'Komomaki' which is the traditional Sake Barrel Rope-Tying procedure!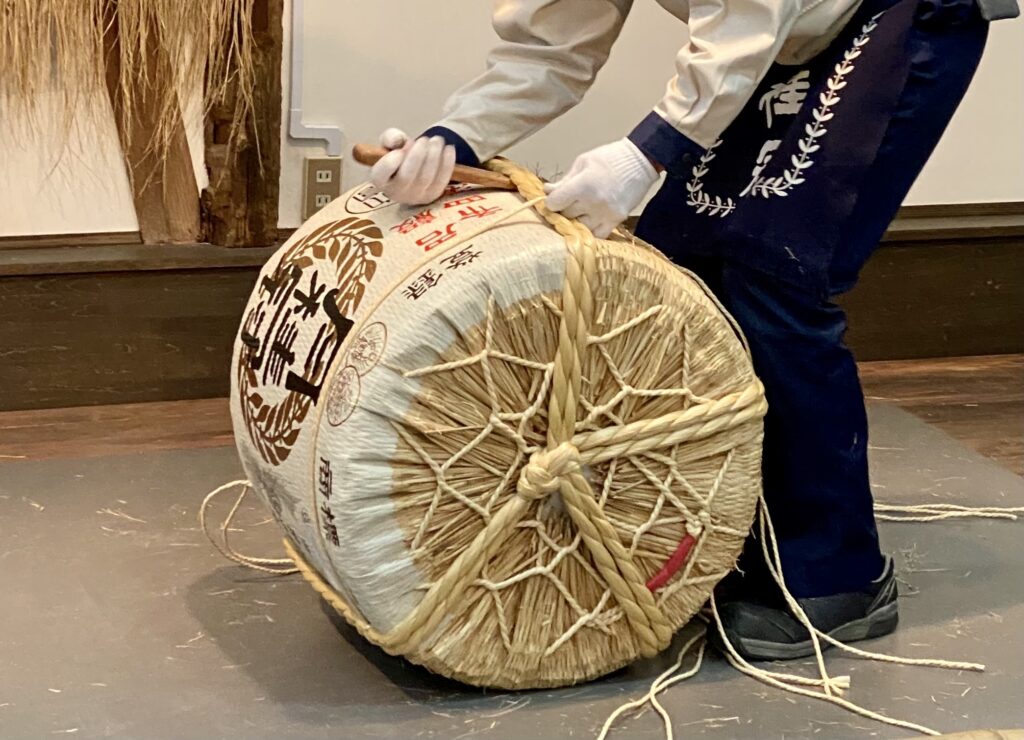 🌐Official Website: https://www.gekkeikan.co.jp/english/index.html
---
🚶
"The land of the famous water that nourished the history and culture of Fushimi."
Taking a Walk Around Fushimi Area
📍【Route】
Sake Brewery Scenery → (A) Kizakura Memorial Hall and Kizakura Kappa Country → (B)Teradaya Inn → (C)Torisei Honten (Shiragikusui) → (D) Fushimi Yume Hyakushu (shopping)
Fushimi is a place rich in high-quality underground water. The clear water that passes through the Momoyama hills becomes a water vein that breathes deep underground and appears as spring water near the foot of the mountain.
Blessed with this natural resource, it became a big factor that contributed to Fushimi becoming the Sake representative of Japan.
You can find many famous water spots that springs up all around Fushimi and see local people come to fetch it. The water quality is medium-hard and contains potassium, calcium, etc. in a well-balanced manner which meets the optimum conditions for Sake brewing.
⭐Check the link below for a guided tour around Fushimi's famous spots!
Fushimi Inari Taisha Shrine & Fushimi Jukkoku Boat Cruise
---
🍶 🍽️ 🥴
"Compare and enjoy the different tastes of Sake through food pairing."
Sake Tasting @ GOOD NATURE STATION: ERUTAN Restaurant / Bar
Good Nature Station is a facility that goes by the concept of "only believing in things that are delicious and fun". It makes use and incorporates the mindset of respecting nature into our everyday lives, which is an important part of Kyoto's culture since the ancient times!
The hotel which is located on the 4th-9th floors goes by the concept of "enjoying more of what is good for the body". Not only has the hotel been presented by The Michelin Guide, it was also awarded with the gold rank of "WELL Being Standard TM" making it the perfect hotel for people who are SDGs conscious.
Good Nature Station's ERUTAN Restaurant / Bar offers casual dining that you can enjoy all day. It is a new restaurant that aims to coexist with nature and the ancient city of Kyoto.
For this occasion, we got to experience unique original menus that were made to match with Sake. We were able to taste and try different dishes that we usually would not find such as risotto and desserts that is made from Sake lee, and Kyoto's local ingredients including Iwai sake rice.
This was a very interesting and unique fine dining experience of pairing Italian and French course dishes with Sake from 15 different breweries in Fushimi. While dining, we learned many interesting facts that were explained by Sake professionals.
The combination of the creative dishes paired with Sake was outstanding as each dish complimented each Sake, and each Sake complimented each dish, which made the taste stand out.
Lists of Sakes Used During the Food Pairing
"I loved how the dishes were made with locally produced ingredients. I was able to deepen my knowledge about Japanese Sake while experiencing it hands-on."
🌐Official Website: https://goodnaturestation.com/?wovn=en
---
Day 2
---
🧘
"Connect with Kyoto deeper through your body and your breathing."
Zazen Meditation @ Kenninji Ryosokuin Temple
Zazen meditation at Kenninji Ryosokuin Temple was a very wholesome early morning experience. The explanation from the Buddhist monk was very interesting, easy to understand, and easy to follow. We felt like we learned the important points to be able to do Zazen meditation at home if we wanted to.
The temple was beautiful with traditional Japanese gardens to enjoy and help us be at peace. This is an experience that is highly recommended and is a valuable time to slowdown, sharpen your five senses, and sit with your thoughts without judging it.
---
🍶
"Take part in Kyoto's traditional crafts that are made especially for enjoying Japanese Sake"
Making Sake & Matcha Crafts @ Rakunyu
We had the fantastic chance to experience making matcha and Sake sets here. We made our own Sake set while imagining ourselves drinking the Sake that we bought the day before.
Yoshimura Rakunyu is a place that specializes pottery crafts such as Kyoyaki and Kiyomizuyaki. Other than their specialty which are tea bowls used in tea ceremony, they also create traditional and innovative items from daily tableware to indoor tiles.
"This was a fun hands-on experience of making Matcha and Sake crafts."
🌐Official Website: https://www.rakunyu.com/ (Japanese Only)
---
⭐
The Secret to Checking The Colors of Sake
⭐ When drinking from an Ochoco, you'll see the blue circles that come in doubles. This is the secret to checking the color of the Sake by looking at how the yellow color of the Sake affects the color between the blue and the white part of the circles.
⭐ The color of Sake differs depending on the type of rice that was used during the production or how long the Sake was matured.
---
💡
Final Thoughts
"I drank so much Sake during this trip but I was surprised that I didn't get a hangover!"
---
Latest Contents

Enjoy travelling Kansai with KTIC
Tourist Information / PASS / WIFI / Day Tour
Kansai International Airport (KIX) T1
Open Everyday 9.30 – 17.30
Kyoto Tower 3F
Open Everyday 10.00 – 17.00