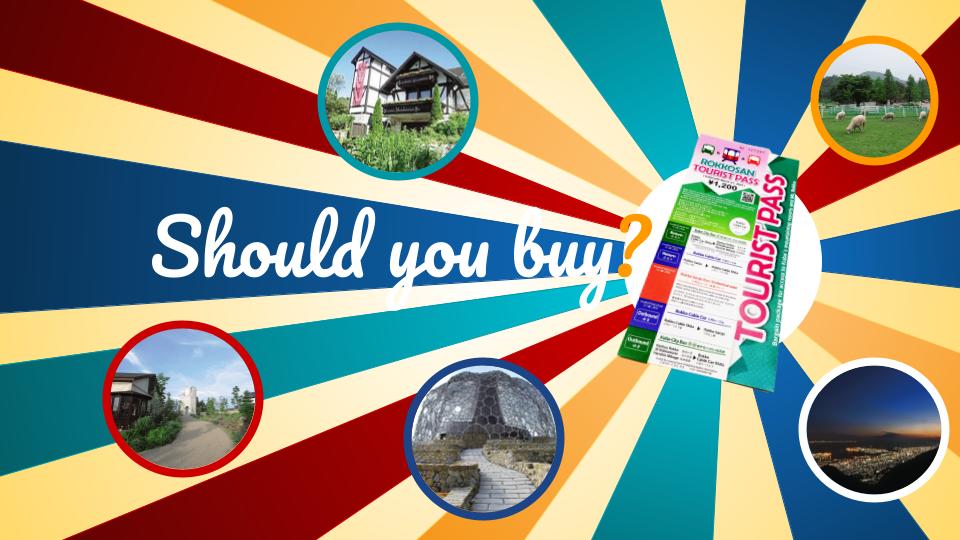 Should you buy Rokko Tourist Pass?
All info to help you decide whether you should buy Rokko Tourist Pass, is summarized into one brief blog. Plan your trip to Mt. Rokko easily and smartly.
---
What is Rokko Tourist Pass?
You might start to notice the pattern now. Each major sightseeing spot in Japan usually have its own special transportation tickets and Mt. Rokko has no exception. In fact, you should consider buying Rokko Tourist Pass if it is on your bucket list. There are many perks included which are just perfect for a trip to the mountain and help saving you money.
1,200 yen per ticket (one price)
Access to Mt. Rokko
To put simply, there are 2 major perks as (partial) unlimited transportation in the area and discounts to sightseeing spots and restaurants. However, this pass doesn't cover transportation from other areas to Mt. Rokko. You need to pay separately to come to one of the following stations first.
Coverage
Outbound Kobe City Bus (1 time)
Outbound Rokko Cable Car (1 time)

Rokko Sanjo Bus (Unlimited)

Inbound Rokko Cable Car (1 time)
Inbound Kobe City Bus (1 time)
*Each 1-time ticket will be collected after usage
Transportation
1.Kobe City Bus (1 Round Trip)
You can activate your pass from this point onwards. You will find bus stop for Kobe City Bus based on the train system you took as below.
The bus will take 15-20 mins to the cable car station depending on where you start. Also, you will need to take the same bus back to the train station on the way back. The bus stop is right in front of the cable car station.
2. Ropeway (1 Round Trip)
Main route to Mt. Rokko. It connects the 1.7 km distance between Rokko Sanjo Station and Rokko Cable Shita Station in 10 minutes. The opening of business was in Showa 7 (1932), and the current car is the third generation that appeared in the spring of Heisei 11 (1999).
There are two types of cars, classic red and vintage green; vintage green resembles old Class One model of Hanshin Electric Railway and now defunct Kobe Tram.
Similar to the bus, make sure that you keep your inbound cable car ticket for the way back. You'll have to pay separately if you lose it.
3. Rokko Sanjo Bus (Unlimited 1 Day)
Rokko Sanjo Bus is the only transportation to take you around the mountain area. The distance between each sightseeing spot is quite far, so you better use the bus. Good thing is that you can use the bus as much as you want within one day. So, feel free to explore the mountain as you'd like.
Discounts at major facilities
By showing your pass before entering each facilities, you will receive discounts as follow,
R04-Rokko International Musical Box Museum (200 Yen Off)
(Adult) 1,050 yen → 850 yen
(4-11) years 530 yen → 330 yen
R05-Rokko Alpine Botanical Garden (150 Yen Off)
(Adult) 700 yen → 550 yen
(4-11) years 350 yen → 200 yen
R09-Rokko Country House (150 Yen Off)
(Adult) 700 yen → 550 yen
(4-11) years 350 yen → 200 yen
R09-Rokko Snow Park (Winter Only) (600 Yen Off)
9.00-16.30
(Adult) 2,200 yen → 1,600 yen
(4-11) years 1,100 yen → 500 yen
16.00-21.30
(Adult) 2,700 yen → 2,100 yen
(4-11) years 1,600 yen → 1,000 yen
*Including unlimited lift ride pass
R07-Rokko-Shidera Observatory (100 Yen Off)
(Adult) 310 yen → 210 yen
(4-11) years 210 yen → 110 yen
R08-Rokko-Arima Ropeway (20% Off)
(Adult) 1,030 yen → 824 yen
(4-11) years 520 yen → 416 yen
Other Discounts
10% discount on food at all locations
R07-Rokko Garden Terrace
Discount coupon at souvenir shops
Receive coupon by showing Rokko Tourist Pass at Rokko-cable-shita Station (Ground Level)
Price Comparison
Kyoto City Bus
Adult (A)
Child (C)
JR Rokkomichi → Rokko Cable Shita sta.
Hankyu Rokko → Rokko Cable Shita sta.
Hanshin Mikage → Rokko Cable Shita sta.

¥210 (A) ¥110 (C)

Rokko Cable Car
Single / Round
Rokko Cable Shita sta. → Rokko Cable Sanjo sta.
¥600 ¥1,100 (A)
¥300 ¥550 (C)
Bus from Rokko Sanjo Bus (1 Ride)
Per ride
1. R04 Rokko International Musical Box Museum
2. R05 Alpine Botanical Garden
3. R06 Rokkosan Country House
4. R09 Rokkosan Snow Park (winter only)
5. R07 Rokko Garden Terrace
6. R07 Rokko- Sidare Observatory
7. R08 Rokko-Arima Ropeway Sancho Sta.
¥210 (A) ¥110 (C)
¥210 (A)¥110 (C)
¥240 (A)¥120 (C)
¥260 (A) ¥130 (C)
¥260 (A)¥130 (C)
¥260 (A)¥130 (C)
¥260 (A)¥130 (C)
Rokko Tourist Pass
1,200 yen per ticket (one price)
Decision to purchase
Buy if you…
Visit Mt. Rokko for 1-day trip
Visit facilities on the mountain more than 3 places
Visit Mt. Rokko and Arima Onsen on the same day
Don't buy if you…
Stay overnight at the hotel on the mountain
Plan to visit Arima Onsen later and stay overnight
Read more about guide to Mt. Rokko in details
Where to buy
Rokko Tourist Pass is available at both stores of Kansai Tourist Information Center. No advance reservation is needed
Kansai International Airport (KIX)
Terminal 1 Central Exit 1F
Open Everyday 9.30 – 17.30
Kyoto Tower 3F
Open Everyday 10.00 – 17.00
---
Latest Contents

Enjoy travelling Kansai with KTIC
Tourist Information / PASS / WIFI / Day Tour
Kansai International Airport (KIX) T1
Open Everyday 9.30 – 17.30
Kyoto Tower 3F
Open Everyday 10.00 – 17.00