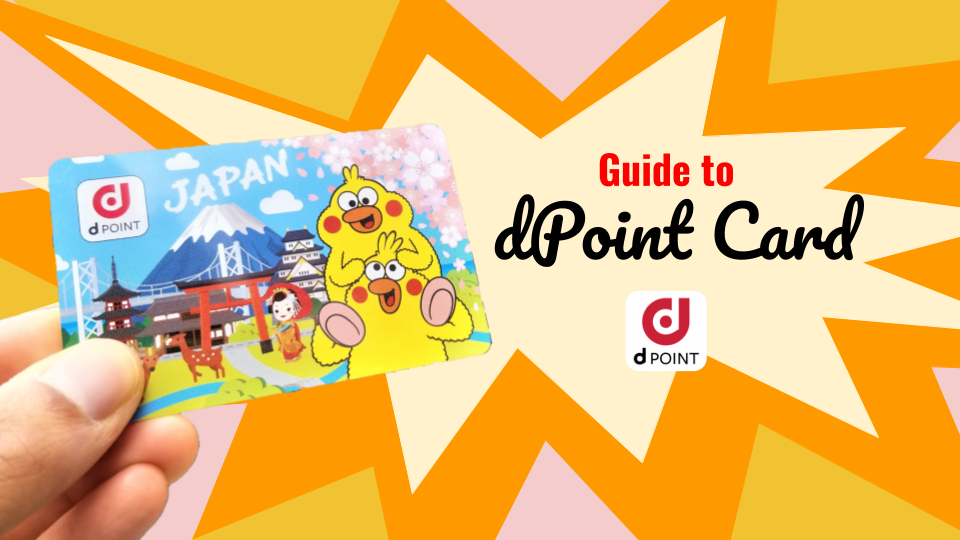 Enjoy Kansai with dPoint Card
Hi guys! today I'd like to introduce you to a card that will boost up the fun with lots of benefits, freebies and discounts you can enjoy during your next trip in Kansai. This is something that you should not miss out, "dPoint Card".
---
What is dPoint card?
To put simply, this is a point card from Docomo which is one of the well-known mobile network provides in Japan. This card is made especially for foreigners who are in Japan. You can get this card and become a membership for free.
Membership Benefits
Once registered, here are 5 things that you will get for free right away as the benefits of being a member.
Earn and use points at affiliate shops and restaurants
Get free 300 points once membership is activated
Free Docomo original gift
Discount coupons at affiliate shops and restaurants
Access to free WIFI and selected locations
Free 300 points
First of all, you will get 300 points right from the start. Basically, you can use these points as actual 300 yen to buy anything from shops, restaurants, convenient stores or supermarkets that accept dpoint payment. You will know from the dpoint logo in front of the store or cashier machine.
Moreover, when you buy something at affiliate stores and shops, just show your dPoint at the cashier. Every 100 yen is equal to 1 point collected in your card which you can use at the next payment.
300 points campaign is available until 31 march 2021
Affiliate Stores
These are some examples where you can get and use point with dPoint cards. The best part is you can use this card at any store in Japan.
Here is map where you can look for the affiliate store>
Convenient store
For me, I think convenient store chains are the easiest to find since there are everywhere in Japan. Make sure not to forget to show your card during the payment more than 200 yen.
Supermarket
If you are living in Japan and close by this supermarket chain, well you are in luck. You will be able to collect points very fast since you are going to buy your grocery quite a lot.
Chain Restaurant
If you are hungry, this card still got you covered. Here are some of the famous chain restaurants which also can be found everywhere at department stores and major train stations.
See list of other affiliate you might be interested in
Docomo original gifts
You can get 1 free original gifts from the shop you pick up dPoint card, one gift per one account. So choose your favorite one wisely.
Free WIFI hotspot & dPoint APP
Another perk of having dPoint card is that it gives you access to free WIFI from DOCOMO. You need to download dPoint Club APP on your phone and register your card in order to use free WIFI at available locations. Please see the list dWIFI spot.
Recently, dPoint club app has updated its latest function to become more easier to use for foreigners such as travel information and point tracking. This app is totally free to download and required when accessing DOCOMO free WIFI. So, we recommend you to download it before your arrival.
Where to get dPoint card
Up until this point you might want to know where you can find dPoint card. If you are coming to Kansai via Kansai International Airport, or have plan to visit Kyoto, well you are in luck! This card is available for free at Kansai Tourist Information Center KIX Terminal 1 (Central Exit 1F) and Kyoto Tower 3F. Feel free to visit us to pick up dPoint card and choose your Docomo original gift for free, also if you need any tourist information, pass or tour in Kansai.
List of other pickup spots
Frequently asked question
How to register dPoint card
Once you got the pamphlet with your dPoint card inside, you need to register and activate the card in order to receive 1 Docomo original gift, use you first 300 points and collect points.
How to register and add points
Discount coupons
Lastly, you can enjoy discounts at many affiliate stores in Japan. Please register your dPoint card to see more detail.
Food: Cold Stone Ice Cream, Ikkoku-Sakigakedo (Ramen)
Entertainment: AEON Cinema
Shopping: AOKI (Suit Shop), Blue Sky (Souvenir Shop) Takashimaya DutyFree Shop, Yonezawa (Glasses)
Beauty: Cosmetics and Medical, Nail Quick
Travel: JAL ABC (Baggage Service), Booking.com

Next time when you visit Kansai, don't forget to grab dPoint card and enjoy all the perks that you should not miss!
See you in the next blog 🙂
---
Latest Content

Enjoy travelling Kansai with KTIC
Tourist Information / PASS / WIFI / Day Tour
Kansai International Airport (KIX) T1
Open Everyday 9.30 – 17.30
Kyoto Tower 3F
Open Everyday 10.00 – 17.00